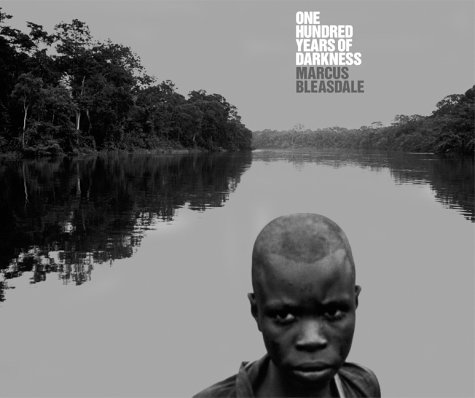 Marcus Bleasdale
with an essay by Jon Swain of London's Sunday Times. Each photograph is accompanied by a quote from the classic novel and extended captions detail life today in the former Belgian colony. This book is based on
Marcus Bleasdale
's travels throughout Congo between 2000 and 2002. 82 tri-tone photographs. 290mm wide x 245mm deep. Publisher comments Published to mark the centenary of Joseph Conrad's "Heart of Darkness" this large format book of black and white photographs of contemporary Congo combines haunting images by
Marcus Bleasdale
with an essay by Jon Swain of London's Sunday Times. Each photograph is accompanied by a quote from the classic novel and extended captions detail life in the former Belgian colony. This book is based on
Marcus Bleasdale
's travels throughout Congo between 2000 and 2002. Conrad called the exploitation by the white colonialists he found in the Congo -personified by Kurtz -the "vilest scramble for loot that ever disfigured the history of human conscience." A century on from Conrad s indictment of colonialism, the Congo continues to be the symbol of darkest Africa: a place of decay, inhumanity and endless fascination. Rusted overcrowded ferry boats still ply the Congo River, laden with a menagerie of forest animals bound for market. Pygmies still dwell in the vast and forbidding equatorial forests, as do rebels and smugglers, who still live off Congo s riches -from ivory to cambium to oil. Jailed four times in the two years he spent taking these photographs,
Marcus Bleasdale
faced daily threats and intimidation in order to capture life under Kabila s brutal regime. He is one of the few photographers to penetrate contemporary Congo's interior. Bleasdale s photographs peel away the strata of mud, water and time that overlay a century of life on the Congo River, to reveal that not very much has changed. About the author
Marcus Bleasdale
is a freelance photojournalist based in London. His work has appeared in many international publications including the Sunday Times Magazine, The New York Times Magazine and National Geographic. He was awarded the Sunday Times/Nikon Ian Parry Photojournalist of the Year award in 2000. 2002 Photo of the Year in the USA (Magazine) and the book has been awarded by Photo District News best books 2002. Bleasdale has worked throughout Europe, Africa and Asia.
Marcus Bleasdale
is represented by Independent Photographers Group, London.
Réagissez à cet article