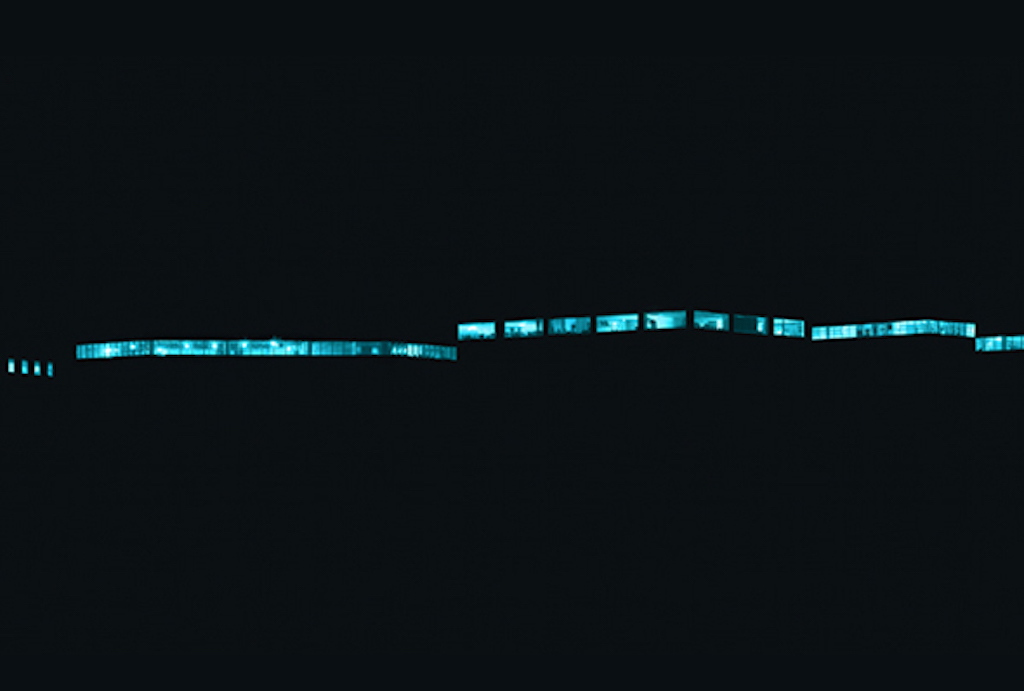 © Aude Moreau
Expositions du 13/3/2015 au 18/4/2015 Terminé
Galerie Antoine Ertaskiran 1892 rue payette montréal qc h3j 1p3 Canada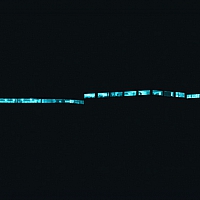 Galerie antoine ertaskiran is proud to present Aude Moreau's first solo exhibition at the gallery: La ligne bleue (The blue line), a site-specific intervention the artist intends to carry out in Manhattan. Stretching across 20 buildings located in the Financial District during nightfall, La ligne bleue traces a 65-metre high horizontal line from the interiors of the skyscrapers, that represents the rising sea level should all the ice on the planet melt. Designed as a platform to develop cultural and financial networks in order to carry out the intervention in Manhattan, the exhibition presents the project's various phases, from its conception to its first technical attempts at the CALQ offices in Montreal.
In the main room, the space is shared by various types of objects: photomontage, virtual animation, two‑dimensional and three‑dimensional models of the project, as well as a series of photographs documenting the technical tests carried out in Montreal in 2013. These tests recreate the visibility conditions that will be encountered during the intervention in Manhattan: the distance separating the Places d'Armes building and Habitat 67 is equivalent to that between Manhattan and Brooklyn. Moreover, the massive photographic work occupying the central wall of the gallery hints at the conceptual motivations behind the project. To create this image, the artist preserved the blue light emanating from the inside of the offices and eliminated the buildings and their surroundings in the obscurity of a black background, resulting in a luminous path that suggests the ghostly outline of New York's architectural framework.
Reconstruction, a long traveling shot filmed in 2012 aboard a tourist boat when the artist first noticed the Manhattan skyline, is projected in the second room of the gallery. Beginning at the World Financial Center and following along Battery Park City, this slow sequence shot captivates as it simultaneously casts doubt on the reality of the architecture caught on film.
La ligne bleue is presented in conjunction with The Political Nightfall, an exhibition organized by the Galerie de l'UQAM curated by Louise Déry. The Political Nightfall will run in 2015–2016 at the Canadian Cultural Centre in Paris, the Power Plant in Toronto, and the Casino Luxembourg – Forum d'art contemporain.
Aude Moreau lives and works in Montreal. In 2011, she received the Claudine and Stephen Bronfman Fellowship in Contemporary Art and was awarded the Powerhouse Prize from La Centrale. In 2012, she held an exhibition at the Musée d'art contemporain de Montréal as part of the Montreal/Brooklyn exchange. Her work can also be seen at the Darling Foundry; the Canadian Centre for Architecture; the Casino Luxembourg – Forum d'art contemporain; Smack Mellon (Brooklyn); and the Prague Biennale. Her works are a part of the Collection Loto-Québec of the Musée d'art contemporain de Montréal, the Prêt d'œuvres d'art collection of the Musée national des Beaux-Arts du Québec and the Art Bank of Canada.
​