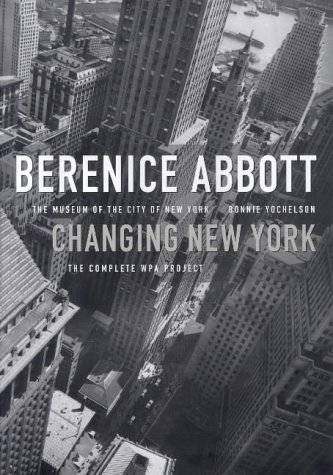 Berenice Abbott
(1898-1991) was one of this century's greatest photographers, and her New York City images have come to define 1930's New York. The response to The New Press's landmark hardcover publication of
Berenice Abbott
: Changing New York was extraordinary. In addition to receiving rave reviews, it was chosen a best book of the year by the Wall Street Journal, Business Week, and New York Newsday, and was featured in Vanity Fair, Newsweek, and the New York Daily News. A midwesterner who came to New York in 1918, Abbott moved to Paris in 1921 and worked as
Man Ray
's photographic assistant. Inspired by French photographer Atget, Abbott returned to America in 1929 to photograph New York City. With the financial support of the Works Progress Administration's Federal Art Project from 1935 to 1939, she was able to realize her ambition to document a "changing New York," a project that remains the centerpiece of her career. Now available for the first time in an affordable paperback edition,
Berenice Abbott
features more than 300 duotones, arranged geographically in eight sections tracing the photographer's New York City odyssey. It also includes 113 variant images, line drawings, and period maps, as well as an explanatory text, which explores Abbott's compositional choices, her artistic and historical preoccupations, and the history of New York. Features: - 307 duotones--the complete WPA project--more than 200 published here for the first time - 113 halftones and line drawings, including period maps, technical drawings, and alternate prints - An introductory essay on the life and work of
Berenice Abbott
- Extended annotations distilled from the never-before-accessed WPA field notes Ingram
Berenice Abbott
(1898-1991) was one of the century's greatest photographers. Her New York City images, especially the Changing New York project of 1935-39, have come to define Depression-era New York. This definitive study of Abbott's Changing New York features all 307 duotones and 113 halftones presented together for the first time, plus first-time access to the related WPA field notes. About the author Bonnie Yochelson is a consulting curator at the Museum of the City of New York. The Museum of the City of New York is a nonprofit, private educational organization established in 1923 to collect, preserve, and present original cultural materials related to the history of New York City.