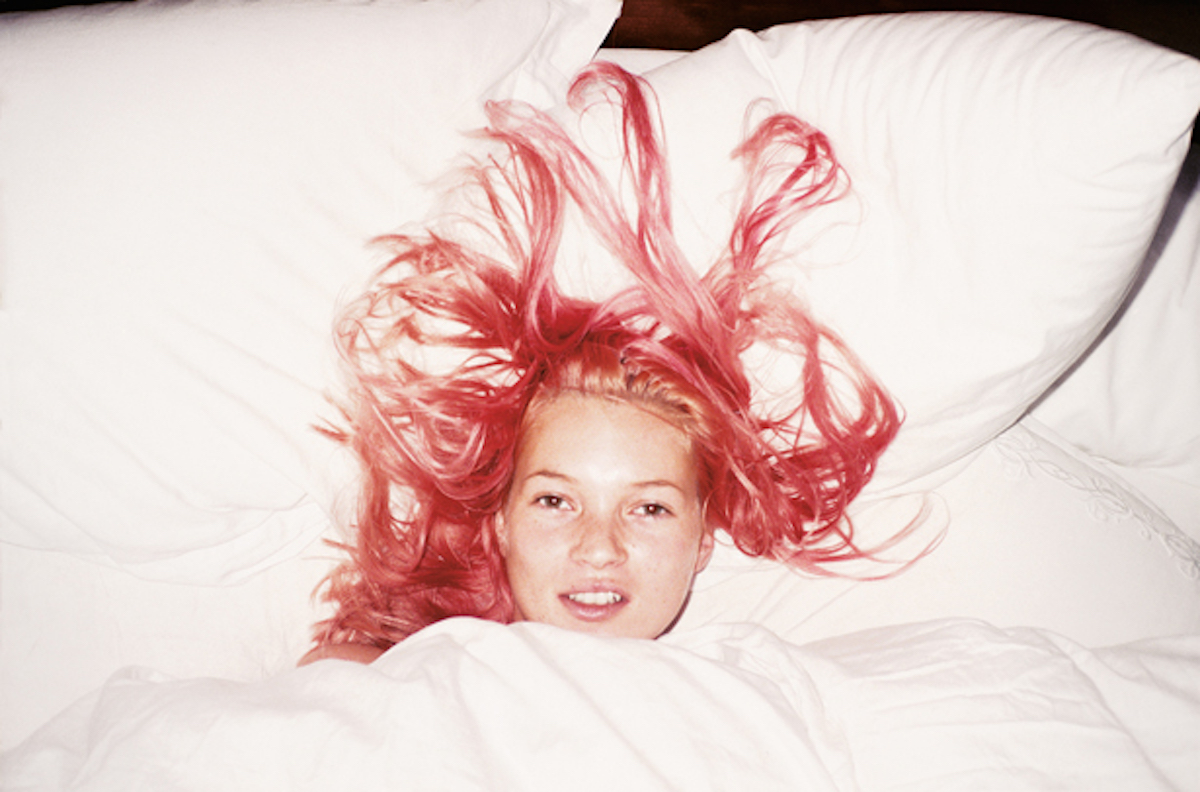 Juergen Teller, Young Pink Kate, London, 1998. C-print, framed, 45 x 55.5 cm. © Juergen Teller and Christine König Galerie.
Expositions du 30/1/2015 au 7/6/2015 Terminé
21er Haus Schweizergarten Arsenalstraße 1 1030 Vienne Autriche
More than 40 years ago, John Lennon and Yoko Ono got into bed to protest against the war. The world's most popular artist couple of that time made their honeymoon public by stating: "Make love, not war!" Simultaneously, the bed turned into a political instrument of visual art.
Due to historic and technical developments to the present day the bed fulfills different purposes: As the territory of birth, love, illness, and death and as the most anthropomorphic shape in the history of all civilizations, the bed follows the circle of life of each individual during all important life phases, with all the differences and varying levels influencing the development of a person within a culture. The exhibition Sleepless. The Bed in History and Contemporary Art is on show from 30 January to 7 June 2015 in the 21er Haus focuses on the historical as well as iconographic significance of the depiction of the bed and will include and juxtapose paintings, sculptures, drawings, photos, and video works spanning from old masters to present-day artists.
The vast majority of people are born on beds; one can even claim that the inexplicable miracle of life starts on a bed. A key work of the show is a 16th-century painting by Lavinia Fontana, who rendered a secular portrait of an infant in a cradle—supposedly the first of its kind in art history. This tradition of the display of birth in art has continued down to the present day—realized in works by Robert Gober or Sherrie Levine.
Many artists made use of the bed's idiosyncratic shape in their work, from Egon Schiele, Nobuyoshi Araki, Diane Arbus, Lucian Freud, and Yayoi Kusama to Jannis Kounellis, Antoni Tàpies, Rosemarie Trockel, Jürgen Teller, or Franz West, and Rachel Whiteread. Others, as Tracey Emin, Mona Hatoum, Damien Hirst, Jim Lambie, and Sarah Lucas demonstrate, used the bed as a readymade itself.
Further artists, who used the bed in their works include Pierre Bonnard, Agostino Carracci, Jota Castro, Artemisia Gentileschi, Nan Goldin, Maria Lassnig and Bettina Rheims.
The exhibition itself is subdivided into nine chapters: birth, love, solitude, disease, death, violence, politics, myth and anthropomorphism.