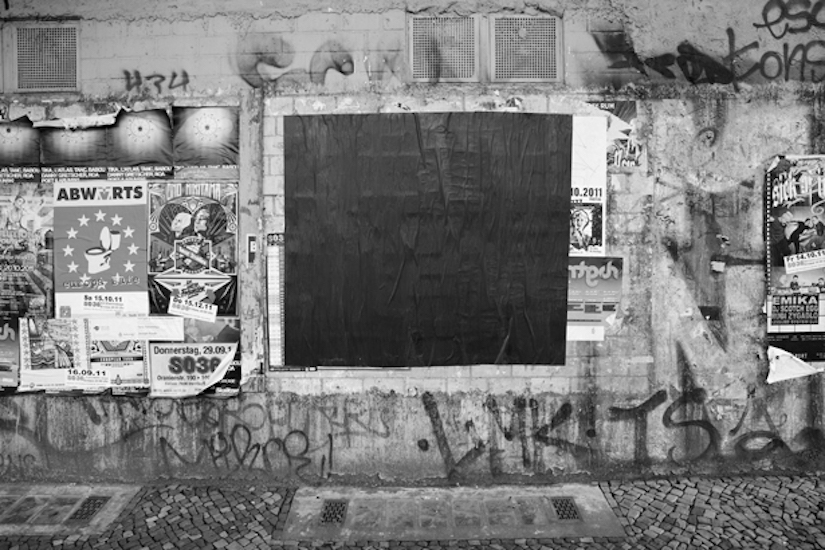 © Santiago Serra - 1000 Black Posters, 2012
Expositions du 14/1/2015 au 7/3/2015 Terminé
Galeri Zilberman Istiklal Cad. No.163 M?s?r Apartman? K.3 D.10 Istanbul Turquie
The exhibition
Say what ?
, curated by Gülsen Bal and Walter Seidl, gathers a variety of artistic stances around the question of how to relate to the terms of community and belonging in light of the fact that the debates on the conditions of global capitalism affect different countries in different ways.
Even in its most basic form, the question raised by the exhibition title revolves around countless issues of subjecthood and subject positions raised by ideas such as exceptionalism, inclusion, exclusion, participation, and agency of various types. The failure of history, coupled with a fading consciousness of personal interests, leads to representation under the umbrella of internationalism, reinforcing the familiar process that unfolds as a result of flogging the multiculturalist image of belonging to the "people of the world." When it comes to artistic practices and their ability to lend voice to such concerns, the notion of belonging appears in myriad respects that go beyond the plurality of cultural territories, manifesting itself in specific and sometimes individual case studies.
The exhibition Say What? presents a variety of artistic stances before the backdrop of significant historical and community-related contexts. The works shown bear witness to how present-day individuals have to claim a status of exceptionality in a seemingly globalised world, which unifies and separates subject positions and their possibilities with and from the issue of belonging at the same time.
http://www.galerizilberman.com/zilberman/index.asp"