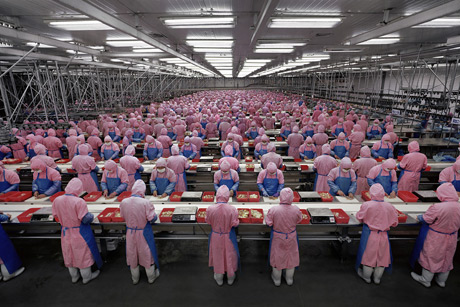 Expositions du 12/04/2006 au 18/06/2006 Terminé
Boca Raton Museum of Art 501 Plaza Real - Mizner Park Boca Raton - Florida 33432 - USA - T: 561.392.2500 - F: 561.391.6410 - E:info@bocamuseum.org - http://www.bocamuseum.org - Hours: Tue, Thurs, Fri 10am-5pm; Wed 10am-9pm; Sat & Sun 12pm-5pm. Closed Mondays & Holidays.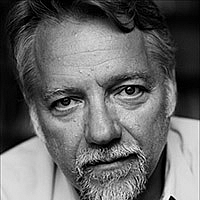 Documenting China
Edward Burtynsky
: The China Series The large
format
color photography of internationally-acclaimed Canadian photographer
Edward Burtynsky
is awe-inspiring. Exquisitely detailed and exactingly rendered, these large scale (5 x 6 feet) photographs document modern day Chinese industrialization. Drawing from his most recent trips to China, this exhibition includes Burtynsky's images of industrial factory workers, the attempts at recycling, and the abandoned manufacturing plants, showing the behind-the-scenes working of the world we hardly see, even though we come into contact with its results on a daily basis. The sheer numbers of seemingly identical workers and the mass quantities of discarded parts create images that are at once arresting and unsettling. Also included are images from the controversial Three Gorges Dam project, by far the world's most extravagant and environmentally-altering hydroelectric engineering feat. Burtynsky's images are meant, in the artist's own words, "as metaphors to the dilemma of our modern existence; they search for a dialogue between attraction and repulsion, seduction and feat."
Edward Burtynsky
: The China Series was organized by the Southeastern Center for Contemporary Art, Winston-Salem, North Carolina. Documenting China: Contemporary Photography and Social Change Hailed by The New York Times as "profound" and "heroic," Documenting China presents 57 dramatic images by seven contemporary Chinese photographers. These
raw
black-and-white and color photographs unveil the truth about China's internal struggle - a battle between modern industrialism and the traditional, agrarian past that has sustained the country for thousands of years. The work of these seven photographers - Liu Xiaodi, Jiang Jian, Zhang Xinmin, Luo Yongjin, Zhou Hai, Lu Yuanmin and Zhou Ming - offers an astonishing understanding of contemporary Asian society, while revealing the modern essence of the most populous nation on earth from an insider's point of view. The works tell the gritty, sometimes proud stories of those still struggling to blend into the urban landscape without losing sight of their old ways, and each photographer has a unique way of telling this story, whether through quick snapshots of urban and rural life, or methodically- and artistically-composed with as much emphasis placed on composition and color as on subject matter and context. Documenting China: Contemporary Photography and Social Change is organized by Bates College Museum of Art and the Smithsonian Institution Traveling Exhibitions Service, and has been made possible through the generous support of Crystal Cruises. A catalogue accompanies this exhibition.