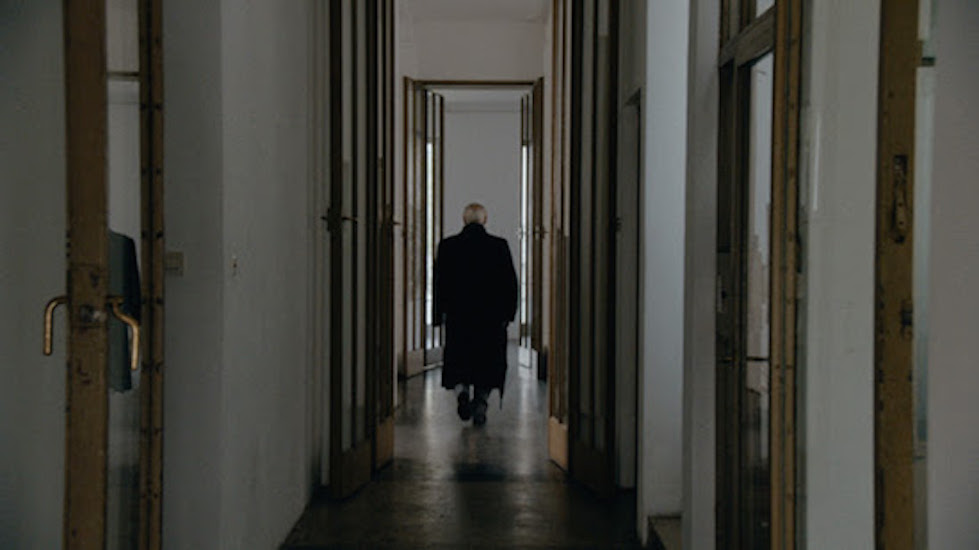 Dani Gal, Dani Gal, As from Afar (still), 2013. Color HD video film, sound, 26 minutes. © Dani Gal. Courtesy of the artist and Freymond-Guth Fine Arts, Zurich.
Expositions du 5/11/2014 au 1/2/2015 Terminé
The Jewish Museum Dani Gal: As from Afar On view through February 1, 2015 The Jewish Museum 1109 Fifth Avenue New York, NY 10128 Hours: Saturday–Tuesday 11am–5:45pm (shops closed Saturday), Wednesday closed (shops open 11am–3pm), Thursday 11am–8pm, Friday 11am–4pm T +1 212 423 3200 F +1 212 423 3232 France The Jewish Museum presents the United States premiere of As from Afar, a short video installation by Israeli-born artist Dani Gal. As from Afar explores the relationship between Simon Wiesenthal, the Jewish Holocaust survivor who devoted his life to hunting Nazis, and Albert Speer, Hitler's chief architect and armaments minister.
As from Afar is a fictionalized account of Wiesenthal and Speer's meetings and uses dialogue based on their letters. Speer first wrote to Wiesenthal in 1974, after his release from prison, in an effort to accept some responsibility for his war crimes. His public admission of his moral misconduct impressed Wiesenthal; they began a correspondence that lasted until the early 1980s. Despite their profoundly contrasting personal histories, they shared common interests—both were trained architects and successful authors. They pursued their unlikely friendship despite controversy and occasionally visited each other. Gal takes this strange relationship as a starting point for a meditation on how historical events are recalled, recorded, and distorted.
Among Gal's sources for the story of Speer and Wiesenthal is the book Simon Wiesenthal: The Life and Legends by the Israeli historian Tom Segev, which supplies much of the dialogue. Also important is the voice of the Austrian philosopher Ludwig Wittgenstein, whose notes on memory and images are spoken by a narrator.
The artist uses cinematic techniques and documentary materials to reconstruct such events, while remaining fully aware of the problematic nature of any re-creation. He is intrigued by the process of inclusion and exclusion that goes into reimagining the past, particularly the Holocaust. Poetic and contemplative, As from Afar examines perceptions and interpretations of history, exploring the way history and memory hover between fact and fiction.