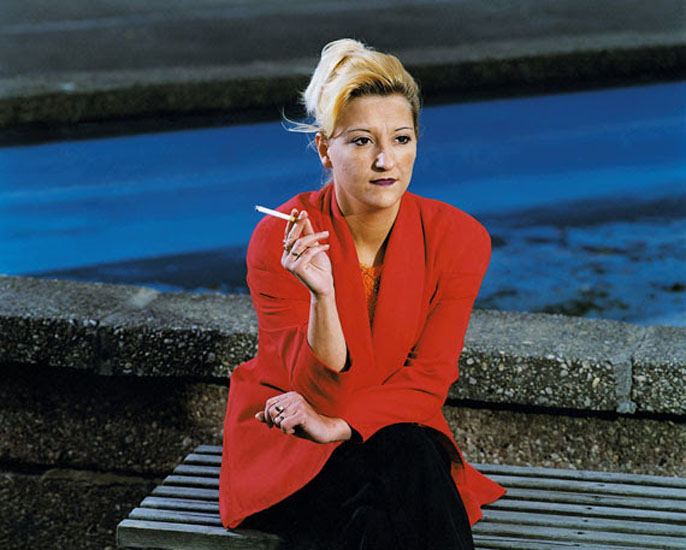 Expositions du 24/10/2014 au 5/12/2014 Terminé
Kunsthandel Jörg Maaß Rankestraße 24 10789 Berlin Allemagne The Berlin art dealer Jörg Maaß presents a solo exhibition of works by Leipzig photographer Erasmus Schröter in conjunction with the 6th European Month of Photography.
The exhibition focuses exclusively on the color images of Schröter's long term project "Komparsen" ("Extras"). For the first time, prints of the works in the series are presented in smaller formats, published exclusively and in a limited edition by Kunsthandel Jörg Maaß.
Erasmus Schröter creates a unique interplay between staged and documentary photography by using elaborate lighting to draw to the surface what is hidden and placing it center stage. He doesn't chose glamorous professional models for his series "Komparsen" but often finds average people of the Saxony provinces among the extras working in various Leipzig theaters, inviting them to participate.
His models appear wearing favorite clothes and accessories they have chosen themselves. Only the locations are determined by Schröter, who favors the undefined, disintegrating background of the old Leipzig fairgrounds for his stagings.
Thus he creates images of middle-aged women, mostly blondes. At first glance, they are supporting players, far from striking. But in his images, they take center stage just for a moment. Their eyes are strangely distant, gazing into the distance as if searching for a long lost future.
Erasmus Schröter isn't just after the depiction of individuals or the creation of personal portraits. His images go deeper. He searches for the general mood of a whole society and delivers an alert and impressive study based on details such as clothing, hair styles, accessories or small gestures.
Even his later works, created twenty years after the fall of the Berlin wall, bring back memories of the old GDR.
Erasmus Schröter, born 1956 in Leipzig, was one of the most significant representatives of the young East German photography scene. He was educated at the Leipzig HGB and, even in his earliest works, blends documentary photography with unique, artistic representation. Along with his wife, he left the GDR in 1985 and moved to Hamburg. He returned after re-unification and now lives in Leipzig again.
His most basic means of creation is light and to this day he is a firm proponent of analog photography.