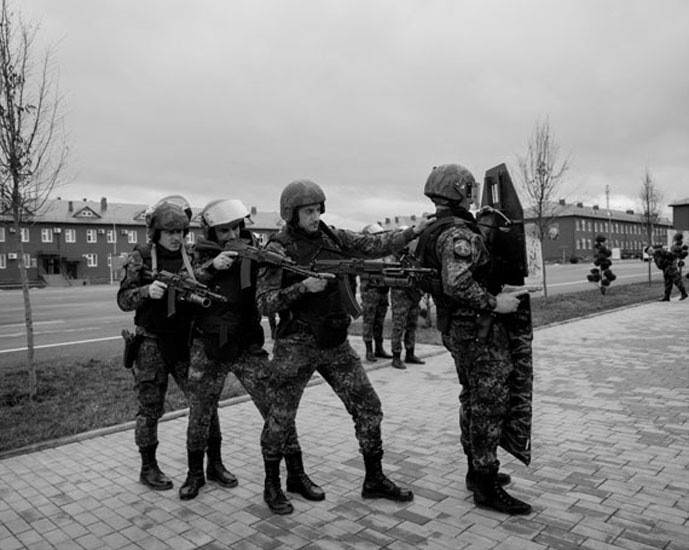 Expositions du 11/10/2014 au 3/11/2014 Terminé
Saatchi Gallery Duke of York's HQ, London, King's Road SW3 4SQ Londres Royaume-Uni The Carmignac Foundation presents Spasibo, an exhibition of photographs depicting life in Chechnya by Italian photojournalist Davide Monteleone. Through winning the 4th edition of the Carmignac Gestion Photojournalism Award, Monteleone was funded to work in Chechnya between December 2012 and April 2013.
As a result of a collaboration between the Saatchi Gallery and the Carmignac Foundation, the exhibition marks the UK launch of this major photography award and is the first time Monteleone's images of Chechnya have been seen in this country.
Monteleone's photographs investigate the social, political and economic realities of Chechnya, a country ravaged by war and extreme violence under the autocratic regime of Ramzan Kadyrov, Head of the Chechen Republic. Spasibo is the Russian word for "thank you" and can be read as an ironic gesture of gratitude to Chechnya's oppressors. Highlights of the exhibition include Rada, 14, trying on a wedding dress, as well as Monteleone's arresting image of wrestlers in a gym being watched by Vladimir Putin, Ramzan Kadyrov and Akhmad Kadyrov, whose portraits hang overhead.
The Carmignac Foundation launched the Carmignac Gestion Photojournalism Award in 2009 with the aim of supporting and celebrating photojournalism. This unique award funds an emerging photographer to visit areas of the world at the centre of geostrategic conflicts, where human rights and freedom of speech are often violated. The award is distinct from other photography prizes due to its emphatic global concern and specific geographical focus, which changes annually. Previous themes include Gaza, Pashtunistan and Zimbabwe. Iran was the chosen region for the 5th edition. The theme for the 6th award, which is currently open for entries, is Lawless areas in France.
A key aim of the award is to support the winning photojournalist by providing a global platform for their work to be seen and collected. The Carmignac Foundation collaborates with the winner throughout the entire project by financing a monograph and curating an international touring exhibition to locations including Paris, Milan, Arles, Frankfurt and, finally, London (a new touring destination for 2014). The Carmignac Foundation also commits to purchasing four photographs from the winner's portfolio, which then enter Carmignac's prestigious art collection.
Winners of the Carmignac Gestion Photojournalism Award include Kai Wiedenhöfer (Gaza – 2009), Massimo Berruti (Pashtunistan – 2010), Robin Hammond (Zimbabwe – 2011) and Newsha Tavakolian (Iran - 2013).