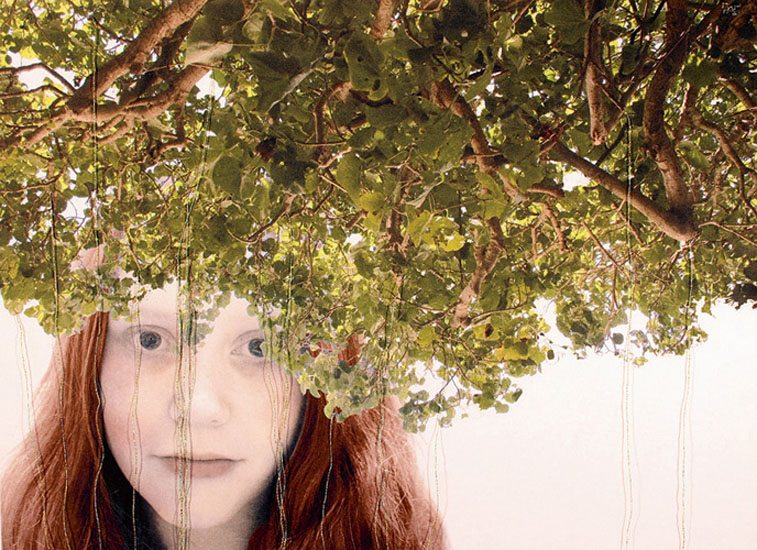 Expositions du 4/3/2014 au 22/3/2014 Terminé
NG ART Gallery Upper Level 3 Little Queen Street Chippendale NSW2008 Sydney Australie Secret - something that is kept or meant to be kept unknown or unseen by others.
Artist, Head On Photographic Portrait Prize winner and multiple-prize finalist Patricia Casey explores the notion of secrets in her up-coming solo exhibition, Little Secrets, at NG Art Gallery in Chippendale. Casey is internationally recognised having had countless solo exhibitions locally and abroad. Her works are held in significant public and private collections.
Little Secrets is a progression of Patricia Casey's interest in interior worlds and private spaces. Her subjects are caught in a moment of private reverie, veiled by elements of the natural world. The mundane is manipulated and transformed into a surreal tableau in which the viewer is invited into a state of internal reflection.
These photographic montages that make up Little Secrets are embroidered with glittering threads that create a flow of energy that vibrates from its surface and entices as to what may lie beneath these dreamlike images.
Contemplating secrets, Patricia Casey reflects, "We all have an inner core that we don't reveal, even to those we are most intimate with. Little secrets that we keep to ourselves. Mental landscapes inaccessible to others."
There are layers of complexity in her works, as beauty is contrasted with unease, we are uncertain as to whether the subjects gaze is inward or outward; they are the watched or the watching; hidden or revealed.