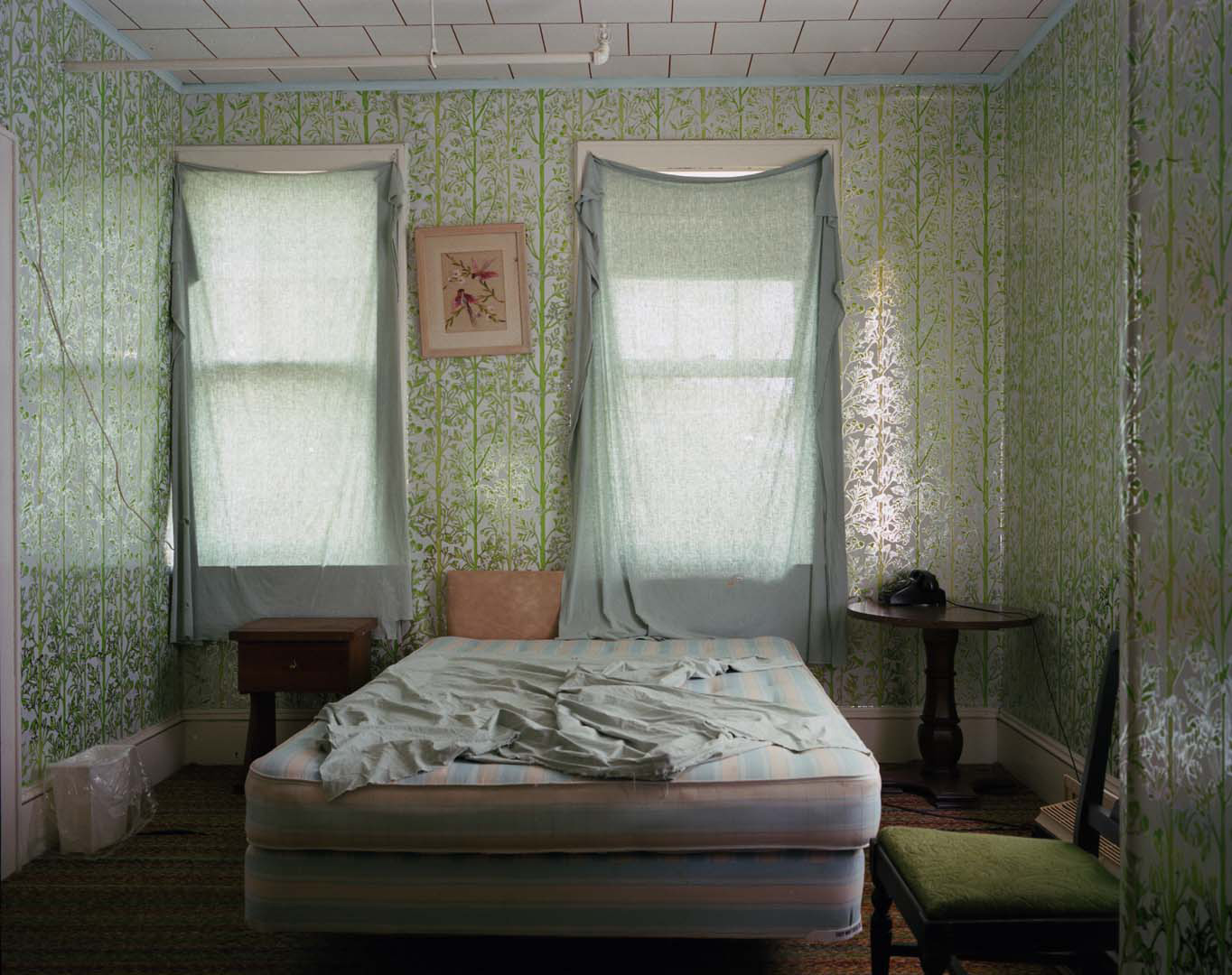 Expositions du 13/2/2014 au 19/3/2014 Terminé
Robert Mann Gallery 210 Eleventh Avenue NY 10001 New York États-Unis utch artist Wijnanda Deroo has made a career photographing spaces that others forgot. Traveling from spare Indonesian cottages to dusty haberdasheries in rural Kansas to the fated Central Park dining room of Tavern on the Green in pursuit of remarkably unremarkable interiors, Deroo tempers abandonment and decay with masterful formalist aestheticism to shape visions that oscillate between place and ether. Her images, devoid of people yet full of the vestiges of their presence, are at once intimate and haunting.
In the artist's most recent subject, Deroo's sense of sublime juxtaposition has met its match. Almost 10 years in the making and her most ambitious project to date, Wijnanda Deroo: Rijksmuseum takes on the crown jewel of Holland during the museum's decade-long renovation. The Rijksmuseum's original Amsterdam building was designed by Pierre Cuypers in 1876 with grand Gothic and Renaissance influences, and as the national museum of the Netherlands houses masterpieces such as Rembrandt's The Night Watch and Vermeer's The Milkmaid. After over 125 years of active use and sprawling additions, the museum was closed in 2004 for a massive renovation that would both modernize the building and restore its layout to Cuypers' original plan.
Beginning with the first colored drop-cloths through the final re-hanging of canvases, Deroo traveled to the Rijksmuseum several times each year to document the demolition, desolation, and reconstruction. Yet rather than merely recording the process of renovation, her images capture the ephemeral spaces created along the way. Afternoon light filters through empty glass cases and fills hallways with ambient color, classical sculptures seem to gossip amongst ladders and packing materials, and clean rectangular doorways cut empty walls of fresh paint to conjure impressions of Donald Judd's minimalist sculptures. Deroo ultimately transforms a utilitarian undertaking into a prodigious work of installation art—a private site-specific intervention, only realized through the artist's probing lens.
Wijnanda Deroo was born in the Netherlands in 1955, and has exhibited internationally since the early 1980s. Her photographs are included in numerous collections, including those at the Museum of Modern Art, New York City; The Brooklyn Museum of Art; the Bibliothèque Nationale, Paris; the Musée Nationale d'Art Moderne at the Centre Georges Pompidou, Paris; the Dutch Art Foundation, Amsterdam; and the Museum of the Jewish Diaspora, Tel Aviv. Her Rijksmuseum series was published as a monograph by nai010 Publishing in cooperation with the Rijksmusuem in 2013. The artist lives in New York and Amsterdam.
This program is supported as part of the Dutch Culture USA program by the Consulate General of the Netherlands in New York.