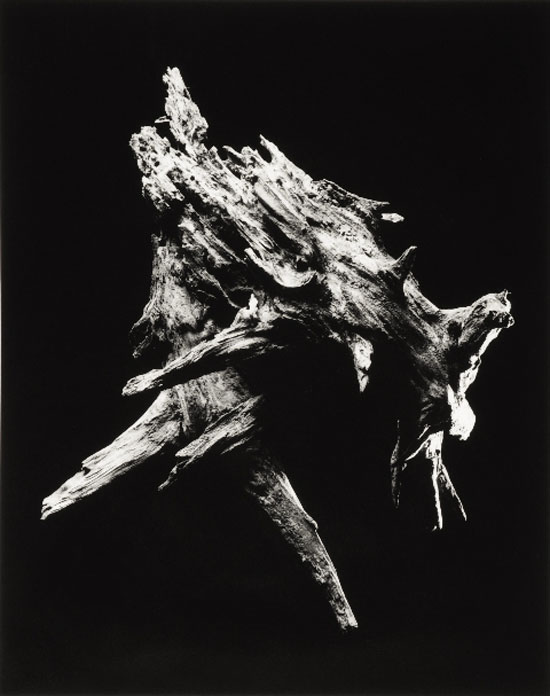 Expositions du 1/3/2014 au 5/4/2014 Terminé
Craig Krull Gallery 2525 Michigan Ave, Bergamot Station, B-3 CA90404 Santa Monica États-Unis Like a Zen master, Japanese photographer Yamamoto Masao approaches his work with an "active passiveness". He is active in his observations of Nature, but passive in his understanding that he is an inextricable part of Nature itself. In his statement, he quotes the Chinese philosopher Lao-tzu, "A great presence is hard to see. A great sound is hard to hear. A great figure has no form." Yamamoto seeks the presence of something indefinable that exists beyond the details we are able to see. Living in the forest, he photographically "harvests" what he calls "treasures breathing quietly in nature." He refers to the presence of these treasures or moments as "Shizuka", which means cleansed, pure, clear and untainted.
In his sixth exhibition at Craig Krull Gallery, Yamamoto presents black and white photographs of a single rock or branch in deep chiaroscuro. These natural forms appear to take various shapes such as a dragonhead, a falcon, a traditional Noh dancer or a hunter returning home with a deer. Recognizing spirits or creatures in natural objects is rooted in ancient animistic beliefs. From a more analytical, Western point of view, psychologist Steven Goldstein coined the term "pareidolia" in 1994 to describe our tendency to see rabbits in clouds, or the man in the moon. In Japanese culture however, human history is embedded in natural phenomena. The Heikegani is a species of crab native to Japan that bears the image of a face on its carapace. It is believed that these crabs are the reincarnation of samurai warriors defeated in an ancient sea battle. For Yamamoto, the act of making a photograph is like picking up a rock on the beach and holding the universe in your hands.
Pam Posey became interested in stones while making paintings of the plants that were growing out of little holes in her driveway. Her gaze was soon diverted to the concrete itself and the realization that it was composed of millions of tiny stones. She began to see stones as molecules that were everywhere, and understood that each stone contained the history of its own creation. This led to a series of small stone paintings. Then, in the summer of 2012, Posey spent 5 weeks at the Nes Artists Residence in Iceland, and then returned again in March of 2013. It was there that she began the Stone Dislocation project. In her travels, Posey transports stones, carrying a white quartz rock from a Greek island to a black lava field in Iceland. Her exhibition at Craig Krull Gallery contains the evidence of her geologic displacements in the form paintings and hand-drawn maps. Posey revels in the Zen irony of an act so purposeful, yet so purposeless. She is echoing Michael Heizer's Double Negative, but on a smaller, and at the same time more global, scale. In addition to displacement and replacement, her small gestures are also about re-contextualization and the wonder created when finding something out of its place.