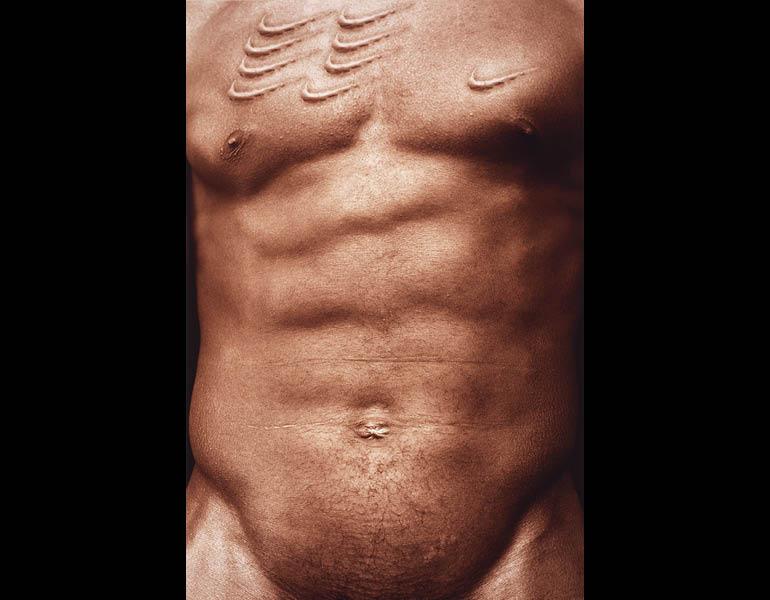 Hank Willis Thomas uses photography, video, the web, and installations to examine how history and culture are framed, who is doing the framing, and how these factors affect our views of society. One of the most thoughtful, provocative young American artists of our time, Thomas (born 1976) has already had an impressive decade-long career that includes a 2008 monograph, a fellowship from the Tribeca Film Institute, and exhibitions and acquisitions at prestigious American, European, and African museums and galleries.
This exhibition—the artist's largest museum show to date and his first in northeast Ohio—was inspired by the museum's 2012 acquisition of six of his works, all of which will be on view. The exhibition will be on view simultaneously at the Cleveland Museum of Art from October 20, 2013 to March 9, 2014 and at the Transformer Station from December 14, 2013 to March 8, 2014. During the run of the show, a third component, In Search of the Truth (The Truth Booth), will pop up at locations around Cleveland.
The museum's photography gallery will feature all 82 works of Thomas's first major series, Unbranded: Reflections in Black Corporate America, 1968–2008. By subtracting all the branding information from advertising images appropriated from four decades of Ebony magazine, Thomas hopes to encourage viewers "to think more deeply about how advertising reinforces generalizations surrounding race, gender, and cultural identity."
The Transformer Station will host a five-screen video installation, Question Bridge: Black Males. This collaborative project by Thomas, Chris Johnson, Bayeté Ross Smith, and Kamal Sinclair invites viewers to witness an intimate dialogue between black men who come from a wide range of geographic, economic, generational, educational, and social backgrounds. Through questions and answers that are pointed, poignant, humorous, painful, and revealing, these men begin to redefine black male identity in America. Also on view will be selections from several of Thomas's past series, including Branded and Strange Fruit, plus a selection of new works, and an emotionally powerful video by Thomas and Kambui Olujimi, Winter in America. The latter work employs stop-action animation and G.I. Joe figures to act out the shooting death of Thomas's cousin during a robbery. The artists, who played with similar toys themselves, have come to believe that the toys breed "a culture of violent thoughts for young boys who are invited to author violent scenarios before they can even read."
Druing the run of the exhibition, In Search of the Truth (The Truth Booth), will pop up around town. Created by Ryan Alexiev, Jim Ricks, and Thomas, it is a gigantic inflatable cartoon speech bubble with the word TRUTH on the side. It has toured Ireland and various U.S. cities, and arrived in Cleveland directly from Afghanistan, where it traveled around the country seeking the truth. Viewers are invited to enter a booth built into the bubble and complete the statement, "The truth is. . . . " before a video camera. The resulting videos may end up on the project's web site. Visit clevelandart.org/CMAtruthbooth or follow #CMAtruthbooth to learn where the Truth Booth will show up next.