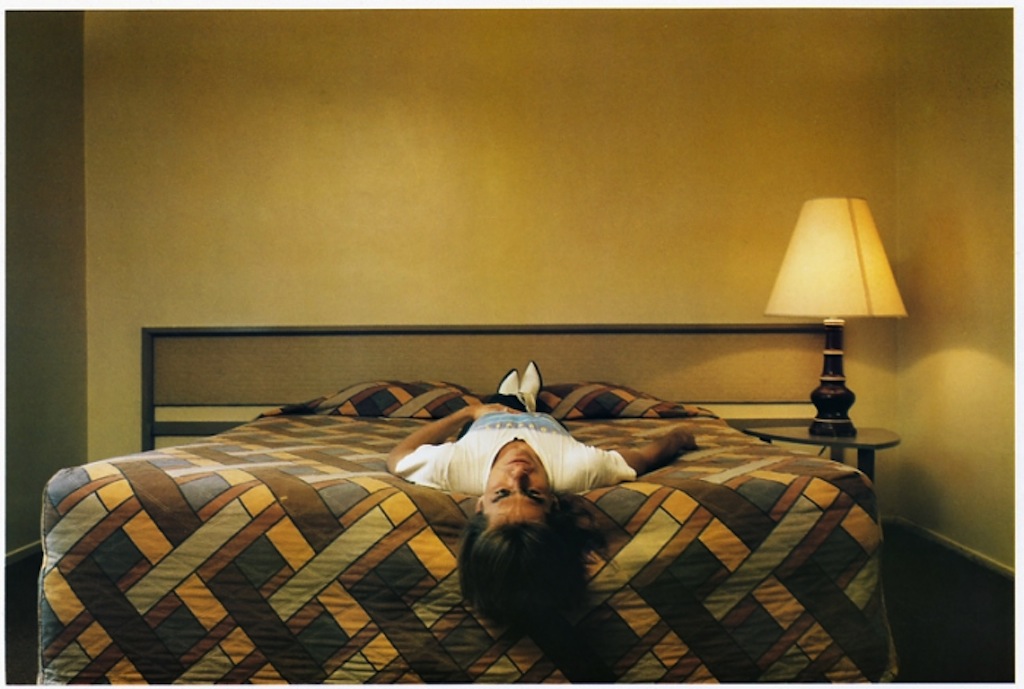 © Philip-Lorca diCorcia
Expositions du 14/02/2014 au 1/6/2014 Terminé
The Hepworth Wakefield Gallery Walk, Wakefield, WF1 5AW West Yorkshire Royaume-Uni Spanning four decades, from early photographs included in the series, A Storybook Life (1975–1999) to his ongoing project, East of Eden (2008–present), the photographs demonstrate the unique way in which diCorcia negotiates the line between fiction and and documentation. Although actual locations are often used, and the people in the photographs are themselves, rather than models or actors, the overall composition, lighting and positioning of subjects have been carefully planned in advance.
Hustlers (1990 – 92) depicts male prostitutes, each in a different carefully staged setting. The evocative titles of each photograph give the name, age, hometown and the amount diCorcia paid each man for posing for the picture. The Streetwork series (1993 – 99) shows unsuspecting passers-by photographed on the street, a theme also developed in the series Heads (2000 – 01), where single, isolated figures walking through New York's Times Square are captured as if frozen in time.
In Lucky 13 (2004) – an American phrase that describes the warding off of a losing streak – dramatically lit pole-dancers are presented in near life size photographs, suspended in time and space and caught in the act of falling. diCorcia's current series East of Eden (2008 – ongoing) draws loosely on narrative incidents from the Old Testament in images that are stylistically varied and include landscapes and staged scenes. The exhibition also encompasses the entirety of the series A Storybook Life (1975 – 99). Although there is no explicit narrative or strict chronology to this series, the 76 photographs are sequenced to suggest a network of interconnected lives and stories.
This exhibition is organised by Schirn Kunsthalle Frankfurt in collaboration with The Hepworth Wakefield.
With kind support from Sprüth Magers Berlin London and David Zwirner, New York/London.
Philip-Lorca diCorcia
Philip-Lorca diCorcia lives and works in New York and teaches at Yale University, Connecticut. He studied at the School of the Museum of Fine Arts in Boston until 1975 before receiving his Master of Fine Arts from Yale University in 1979. His first solo exhibition took place at the Museum of Modern Art in New York in 1993, followed by others at the Institute of Contemporary Art in Boston in 2007 and at the Los Angeles County Museum of Art in 2008. His work is held in numerous public collections including the Centre Georges Pompidou, Paris; Museum of Modern Art, New York; Tate, London; and the Victoria & Albert Museum, London.