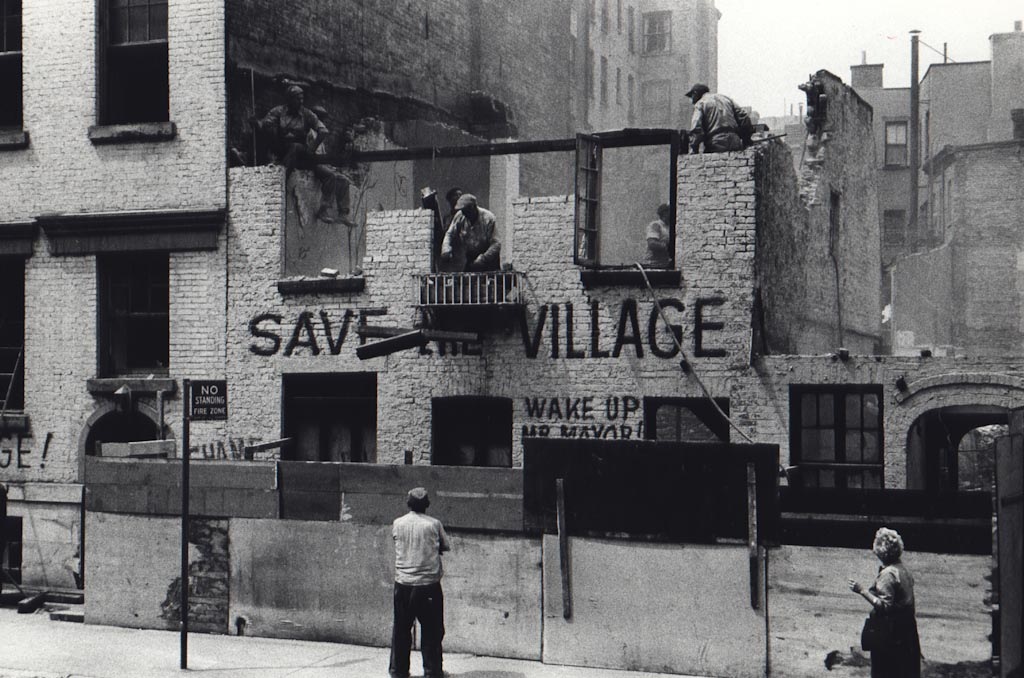 Demolition of Artist's Studio, Greenwich Avenue, May 19, 1960 © Estate of Fred W. McDarrah, courtesy Steven Kasher Gallery, New York
Expositions du 30/1/2014 au 8/3/2014 Terminé
Steven Kasher Gallery 521 West 23rd Street NY 10011 New York États-Unis Steven Kasher Gallery is proud to present Fred W. McDarrah: Save the Village. This exhibition of over 130 rare and iconic vintage prints spanning the years 1958 to 1979 seeks to demonstrate that Fred W. McDarrah was the most curious, knowledgeable, and indefatigable photographer of the New York downtown scene in the second half of the 20th century. Though always relevant to anyone interested in the culture and politics of America, McDarrah's pictures seem especially pertinent now with the recent designation of the expanded South Village Historic District by the Landmarks Preservation Commission, and the film Inside Llewyn Davis is declared Best Picture of the Year (by The New York Times). Nobody did more than Fred to save Greenwich Village in our collective visual memory.
Fred W. McDarrah (1926 - 2007) was the first picture editor and only staff photographer at The Village Voice for decades. He photographed the artists, writers, musicians, and actors who frequented the bars, theaters, art galleries, and cafes in Greenwich Village. He documented political rallies, gay rights, feminism, and the anti-war movement. In a style simple and direct McDarrah created street and studio portraits of downtown luminaries, local politicians and bohemian celebrities that were often definitive. Many of his subjects, often little known when he shot them, became cultural icons, such as Jack Kerouac, Bob Dylan, Andy Warhol, and Allen Ginsberg.
Other subjects included in the show are Willem de Kooning, Robert Rauschenberg, Jasper Johns, Barnett Newman, Alice Neel, Yayoi Kusama, John Cage, Norman Mailer, Tennessee Williams, Susan Sontag, Harold Pinter, Woody Allen, Jack Smith, both Dustin and Abbie Hoffman and Hans Hofmann, John Lennon, Yoko Ono, the Velvet Underground, Jimi Hendrix, Ed Koch, John Lindsay, and Robert Moses. (For a complete list of over 100 subjects contact the gallery).
Born in Brooklyn, McDarrah bought his first camera at the 1939 World's Fair in New York City. He served as a U.S. Army paratrooper in Occupied Japan at the end of World War II, camera usually in hand, and then earned a Journalism degree from NYU on the G.I. Bill. When a neighbor told McDarrah he was starting a newspaper to be called The Village Voice McDarrah signed on. He was associated with the paper for the rest of his life. His archive of over 35,000 vintage prints has been represented by Steven Kasher Gallery since 2001. He is survived by his wife Gloria and sons Patrick and Timothy, who now proudly carry on his legacy.
Fred W. McDarrah's photographs have been exhibited at numerous museums, including the Museum of Modern Art, New York (currently); Whitney Museum of American Art, New York; Albright–Knox Art Gallery, Buffalo; and the Centre Georges Pompidou, Paris; and are in numerous private and public collections including the National Portrait Gallery, Washington; the J. Paul Getty Museum, Los Angeles; and the San Francisco Museum of Modern Art. He was the recipient of a Guggenheim Fellowship in 1972.
McDarrah's books include The Beat Scene (1960), The Artists World (1961), Greenwich Village Guide (1963), New York, New York (1964) Museums in New York (1967), Stock Photo and Assignment Source Book (1977), Kerouac and Friends: A Beat Generation Album (1985), Gay Pride: Photos from Stonewall to Today (1994), Beat Generation Glory Days in Greenwich Village (1996), The Photo Encyclopedia (1999) and Anarchy Protest and Rebellion & The Counterculture that Changed America (2003), and Artists and Writers of the 60s and 70s (2006).