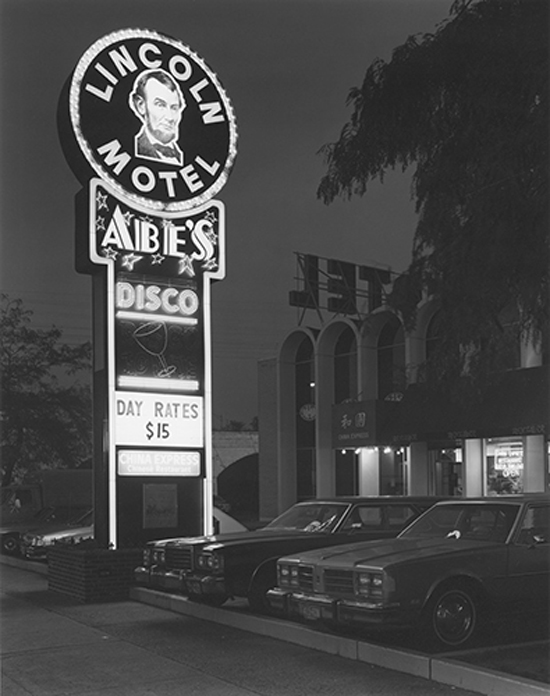 Expositions du 19/9/2013 au 13/12/2013 Terminé
University Galleries William Paterson University 300 Pompton Rd. NJ07470 Wayne États-Unis In celebration of New Jersey photographer George Tice's 75th birthday, and his 60 years in photography, the University Galleries at William Paterson University in Wayne presents the exhibition "Without Adornment: Photographs by George Tice," from September 9 through December 13, 2013. Gallery hours are Monday through Friday from 10 a.m. to 5 p.m., and on September 15 and 29, October 6 and 13, November 10, 17 and 24, and December 8 from noon to 4 p.m. Admission is free. An opening reception for the exhibition will be held on Sunday, September 22 from 2 to 4 p.m. Mark Hillringhouse, a photographer, poet, and member of the English department at Passaic County Community College, will discuss the work of George Tice on Wednesday, October 1, from 2 to 3:30 p.m.
The exhibition includes gelatin silver prints from Tice's early Paterson series (1967-1971), as well as a selection of platinum/palladium prints. Tice is primarily known for his photographs of theatres, shops, houses, apartment buildings, factories and street scenes. His pictures capture a wordless and sometimes heartbreaking record of what urban life aspires to, as well as its successes and failures.
"George Tice is always attentive to his environment," writes Stephen Hahn, associate provost and professor of English at William Paterson University. "Time is an aspect of the presentation of the environment, fixed in time and forever signifying its passage. What is commonplace to our environments—urban, suburban rural, or sylvan—becomes significant under his eye and through the lens of his camera."
Among the works included in the exhibition are Tice's iconic photographs of Paterson's Great Falls and Garret Mountain, numerous Paterson street scenes, and images from other New Jersey locations including Jersey City, Rahway, and Newark, as well as from less common photographs from Maine, Indiana, and Colorado.
Exhibited internationally, George Tice's work is represented in more than one hundred museum collections, including the Museum of Modern Art, the Metropolitan Museum of Art, the Art Institute of Chicago, the J. Paul Getty Museum, the Museum of Fine Arts, Boston and the Newark Museum. George Tice's first show in New York was at the Underground Gallery in 1965. In 1972, he had a one-man show Paterson, New Jersey at the Metropolitan Museum of Art. The International Center of Photography exhibited George Tice: Urban Landscapes in 2002.
Tice has received fellowships from the Guggenheim Foundation, the National Endowment for the Arts, the National Media Museum (UK), the New Jersey State Council on the Arts, as well as commissions from the Field Museum of Natural History, the Museum of Fine Arts, Houston, and the Museum of Modern Art.
He has published 17 books, including Fields of Peace: A Pennsylvania German Album (1998), George Tice: Selected Photographs, 1953-1999 (2001), Lincoln (1984), Hometowns, An American Pilgrimage (1988), Stone Walls, Grey Skies, A Vision of Yorkshire (1993), George Tice: Urban Landscapes (2002), Common Mementos (2005), Paterson II (2006), Ticetown (2007), and Seacoast Maine (2009). His forthcoming collection, Seldom Seen, contains one hundred photographs previously unpublished in book form.
"Without Adornment: Photographs by George Tice" will take place in conjunction with the exhibitions "Seeing Beyond the Moment: The Photographic Legacy and Gifts of George Tice" at the Newark Museum (September 18, 2013- February 2, 2014) and "George Tice: 60 Years of Photography" (September 18-November 5, 2013) at the Nailya Alexander Gallery in New York City.
The exhibition is one of three on view concurrently in the University Galleries. "Energy Lattice: Benjamin Phelan," on view in the East Gallery, presents sculptures created by the Brooklyn-based artists during his spring 2013 artist residency at the University. On view in the Court Gallery is the annual exhibition by members of the William Paterson University art faculty.