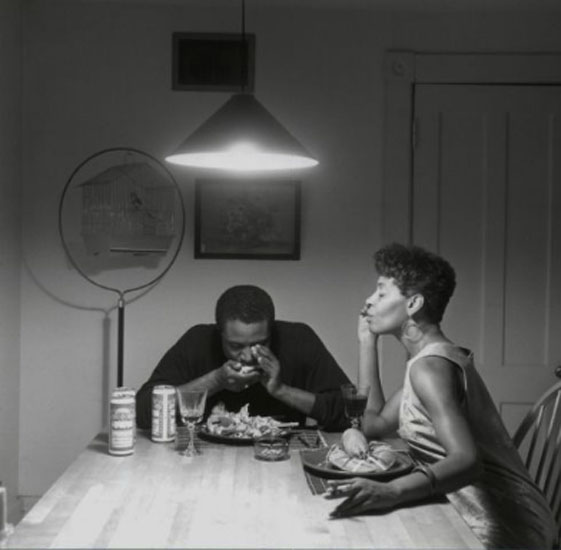 Expositions du 1/11/2013 au 1/12/2013 Terminé

Seattle Art Museum 1300 First Ave WA98101 Seattle États-Unis


This exhibition of works from SAM's permanent collection brings together a group of works by Roy deCarava, David Hammons, Carrie Mae Weems, Glenn Ligon and Rashid Johnson that quietly reflect on African American identities and histories. The works show a range of descriptive and poetic approaches, but they are united by a shared sensibility that is captured in the title, borrowed from the jazz musician Miles Davis.
The Harlem photographer Roy deCarava photographed Miles Davis and many other jazz legends in New York, but he had an equal interest in unpretentiously photographing individuals in his own neighborhood. Extending the pensive mood of deCarava's work is Money Tree, a photograph by conceptual artist David Hammons. It shows a backyard tree with a makeshift hoop, which speaks metaphorically of the dreams and desires of many young African American men. By contrast, Carrie Mae Weems charts complex narratives that touch on gender, race, sexuality, class, family and community in her staged Kitchen Table photographs.
Taken together, all of the works in this exhibition echo and expand on each other. The intertwining of history, homage and interpretation is evocatively explored by Glenn Ligon and Rashid Johnson. Ligon's excerpt from James Baldwin's novel, Stranger in the Village, is presented as black text on black surface. Ligon turns the hyper-visibility of Baldwin's outsider in a Swiss village into its opposite, making the text almost illegible. Rashid Johnson's photograph and installation movingly pay homage to boxing legend Jack Johnson, the first African American athlete to win the world heavyweight boxing championship in 1908. Johnson's career was an inspiration to many, including Miles Davis, who created his own tribute.