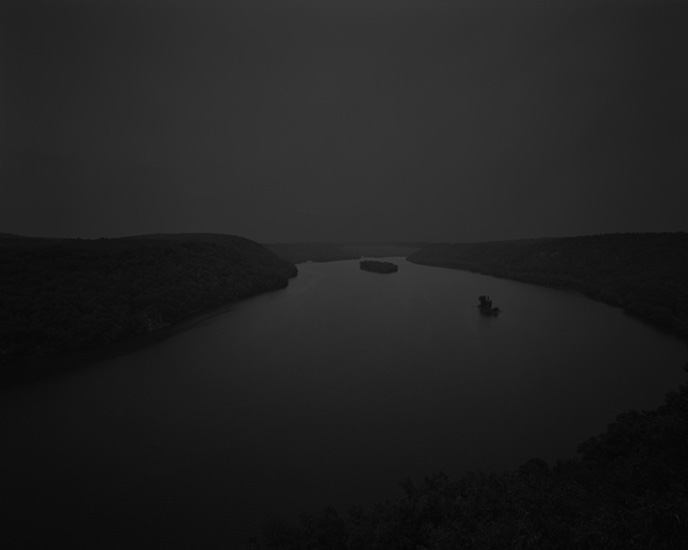 Expositions du 30/10/2013 au 12/1/2014 Terminé
Sasha Wolf Gallery 70 Orchard Street NY10002 New York États-Unis Adam Katseff's photographs reference subjects both elemental and deeply familiar: fire, land, the night sky, the empty room. Through the use of minimal, subtractive form Katseff creates images which invite the viewer's imagination to fill in what seems to be missing. In this way our experience of the work becomes at once universal and deeply personal – an exploration of the line between physical space and our psychological relationship to it. Whether an image emerges slowly from the dark or is dominated by light, these photographs convey a sense of place where past, present and future are collapsed into a single state of time. For this exhibition, In the Course of Time, four separate yet interrelated bodies of work are shown together.
Katseff's Night Landscapes use darkness to limit the visual field, inviting the viewer to compose the remainder of each image. Whether the site depicted is historic or less known each scene offers a sense of familiarity, blurring the line between image, memory and imagination. Rich detail slowly emerges from each image as our eyes adjust to the dark, and the slight glow of the horizon, a faint shimmer off the water, the hard edge of a tree branch, resolve to reward the patience of the viewer.
The exposures for the Flame series range from 30 seconds to nearly an hour, each documenting the life of a fire from a single strip of bark set ablaze. Their power is in their otherness – their casting of flame into fire-as-gas, as-water, as-earth through the collapse of passing time into a single image.
Many evenings, during the rainless summer months in Northern California, Katseff, pointed his camera straight up toward the night sky and opened the shutter, not closing it until just before sunrise. After processing the first sheets of film he was struck by the diversity within that same combination of time, location and orientation. Not only was the sky sliced by the usual scratch-like stripes made by stars, but the lights of airplanes on the flight path to SFO, the lights from Highway 101, fog rolling in from the Pacific, and the glare emanating from a nearby billboard all left their traces. This information, these visual artifacts of the night, lay compressed one on top of another in a flat plane. With their gray hues and the lack of any visible depth the images read more like line drawings on a blackboard than photographs.
Just as the landscape images emerge slowly from the dark Katseff's interior photographs are dominated by light, mitigated only by subtle gray tones. These images are made by constructing a perfectly scaled model of an interior space without furniture, doors, windows, molding or any identifying details outside of the room's proportions. The resulting photographs of the model create an idealized, minimal and surreal sense of space.