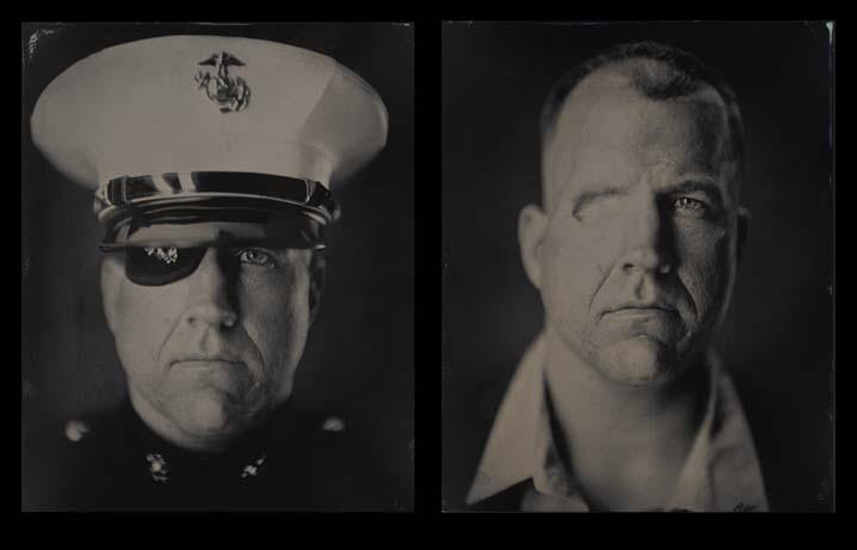 Expositions du 10/6/2013 au 29/12/2013 Terminé
Alice Austen House Museum 2 Hylan Boulevard Staten Island NY10305 New York États-Unis Tintype portraiture dates back to the Civil War and is one of the earliest photographic processes in history. Its special place in military portraiture began when Matthew Brady brought his photographic darkroom to the battlefield to document the First Battle of Bull Run in 1861. With the one-hundred-and- fiftieth anniversary of the Civil War, and the twelfth year marking the attacks on September 11th, 2001, this is a time for reflection and history.
Tintyping brings great significance to the current portrait project, War and Peace, which presents forty-eight tintype portraits of active duty military and veterans from the Army, Navy, Air Force, Coast Guard, and Marines as a kind of confessional before the camera. Men and women of various backgrounds, ages, and roles in the armed forces have been photographed in uniform and civilian attire in an exploration of war, identity, and what serving in the armed forces means. These double portraits contrast each individual and his or her role in the military against his or her identity in a contemporary world that is constantly shifting culturally and politically.
Through the photographic lens the unique medium of the tintype celebrates our individuality in the age of digital photography. As we encounter digital images on the Internet and social media, there is a growing feeling that images lose their sense of permanence or uniqueness. Photographs are no longer created by a chemical interaction between light and silver, but with pixilation and computers whose software is engineered to erase our scars and correct anything ordained to be a flaw. War and Peace makes visible the present-day faces of those in service, a cross-section of our society that we may not often have the chance to see. Through the tintype, our humanity—epic and small—becomes transfixed by the intrinsic characteristics of one of the earliest photographic processes in our history.
Melissa Cacciola studied fine art and the historic preservation of art at Columbia University and New York University. Trained by the legendary John Coffer, Cacciola specializes in tintype and nineteenth-century photographic processes. Her work can be found in the Museum of Fine Arts Houston, the Steven Kasher Gallery, as well as prominent, private collections, and has also been published by TIME Magazine, NPR, and Newsweek.
War and Peace has been exhibited at United Photo Industries in New York and the Customs House in Australia. In May 2014, the National Marine Corps Museum in Virginia will showcase the project.
War and Peace is made possible in part by a Premier grant from COAHSI/New York City Department of Cultural Affairs in Partnership with the City Council (2013).