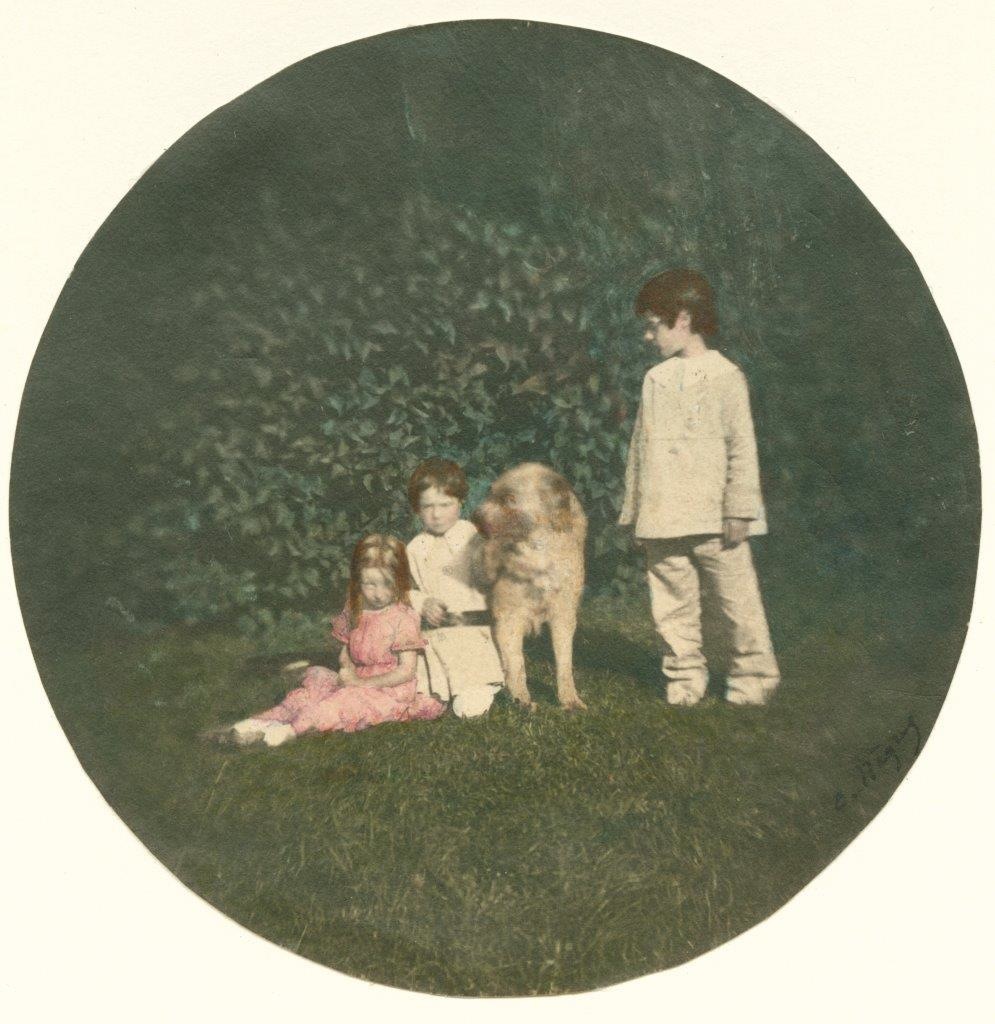 Charles Nègre The children of actress Rachel with a young girl and dog, Auteuil, probably autumn 1853 Hand colored salt print from a collodion on glass negative, 10.1 cm Hans P. Kraus Jr. Fine P
Expositions du 14/11/2013 au 17/11/2013 Terminé

Paris Photo 52/54 quai de Dion Bouton 92800 Puteaux France


November 2013, Paris– Hans P. Kraus Jr. Fine Photographs, New York, will feature the work of Charles Nègre and other 19th-century photographers at Paris Photo, 14-17 November 2013, at the Grand Palais. Nègre is primarily known for his landscapes and architectural photographs of Paris and the South of France made in the 1850s. In addition to the photographs by Nègre, work by other French photographers including Gustave Le Gray; Firmin-Eugène Le Dien; Félix Teynard; Henri Courmont; Joseph, vicomte Vigier; and Louis-Emile Durandelle will also be on view. Of particular interest will be the opportunity to view pairings of a number of these rare photographs with their negatives.
Among the Nègre work exhibited will be the newly identified, Children of actress Rachel with a young girl and dog, 1853. Rachel, known to the public by her first name alone, was the most famous French actress of her day. Visitors will be able to compare two touching portraits printed from the same negative. One is an untrimmed albumen print; the other has been colored with exquisite subtlety by Nègre, who was originally trained as a painter. This treatment appears to be unique for a Nègre photograph.
Another featured pair of photographs will be a striking salt print of Notre-Dame, Paris, c. 1853, with a paper negative that is a very close variant. The cathedral is seen as a unified work of art thanks to the unobstructed view of the cathedral's towers and portals captured by Nègre –something his contemporaries had been unable to achieve.
Louis-Emile Durandelle is best known for his photographs of the construction of the Paris Opéra, designed by Charles Garnier, who commissioned the images. While Durandelle's task was ostensibly mundane and simply documentary, his pictures of the ornament and decorations are anything but. In addition to a selection of Durandelle works featuring architectural details of the Opéra, a rare group portrait of Garnier with members of his studio will be on view.
Félix Teynard, a young French civil engineer was drawn to Egypt, and in 1851-1852, under his own auspices, he embarked upon a photographic journey along the Nile. The results were the most extensive photographic record at the time of Egyptian monuments and landscape. Upon Teynard's return to France, he compiled 160 prints into a book titled, Égypte et Nubie. On view will be two salt prints that were part of this series, but here accompanied by their paper negatives.
The exhibition will be on view at Hans P. Kraus Jr. Fine Photographs, Booth C7, at Paris Photo, 14-17 November 2013.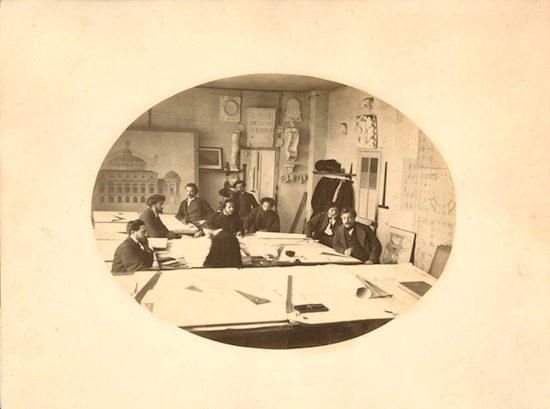 Louis-Emile Durandelle (1839-1917)
Charles Garnier in his studio during the Opéra construction, circa 1866-1869
Albumen print from a glass negative, 20.9 x 27.6 cm, trimmed oval
© Hans P. Kraus Jr. Fine Photographs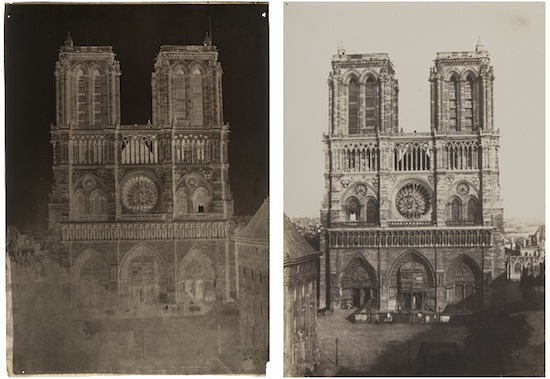 Charles Nègre (1820-1880)
Notre-Dame, Paris, waxed paper negative and salt print, circa 1853
Negative:33.8 x 23.9 cm, Print: 32.8 x 23.2 cm
Collection of Jay McDonald
© Hans P. Kraus Jr. Fine Photographs