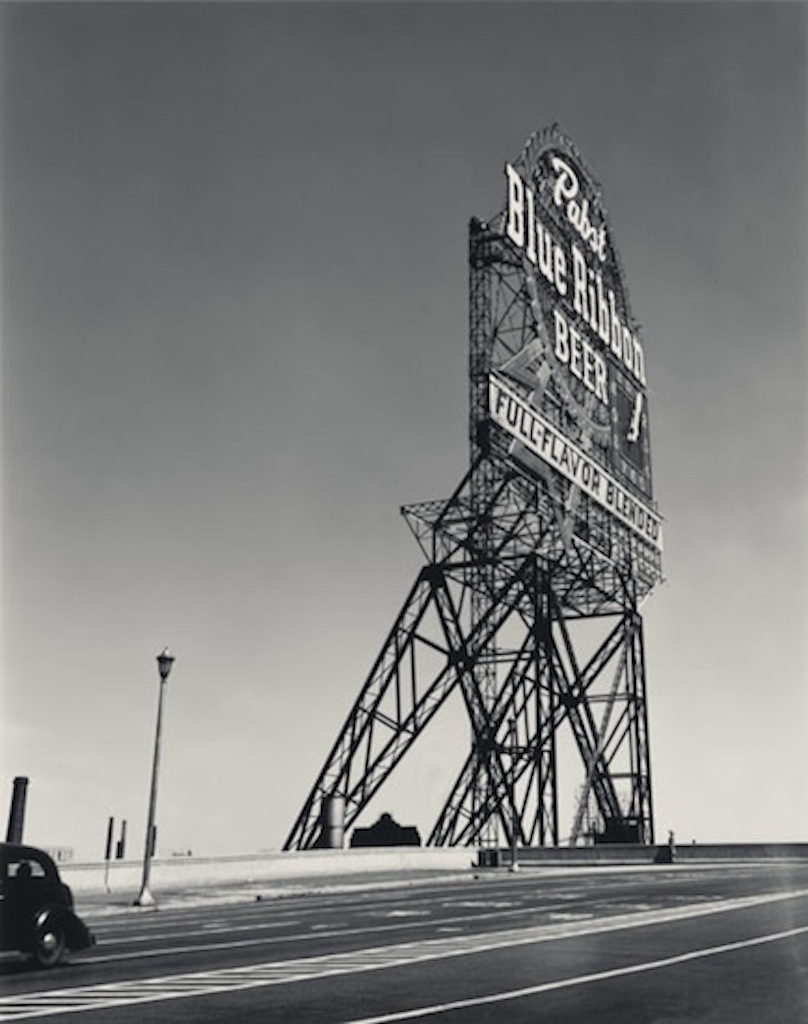 © Walker Evans: [Pabst Blue Ribbon Sign, Chicago, Illinois], 1946 Walker Evans Archive, The Metropolitan Museum of Art
Expositions du 22/6/2013 au 1/9/2013 Terminé
Huis Marseille Keizersgracht 401,The Netherlands 1016 EK Amsterdam Pays-Bas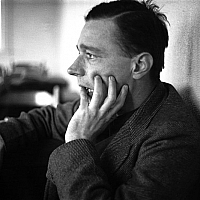 A retrospective of one of the giants of 20th century photography
An oeuvre exhibited in more detail than ever before
Curated from the Clark and Joan Worswick collection by James Crump for the Cincinnati Art Museum, Ohio.
Presented at Huis Marseille in cooperation with Die Photographische Sammlung / SK Stiftung Kultur Köln.

Walker Evans / Decade by Decade
The exhibition Walker Evans / Decade by Decade presents an outstanding retrospective of the entire oeuvre of the American photographer Walker Evans. More than 200 original photographs dating from between 1928 and 1974 provide a unique overview of the different aspects of his work. For the first time ever, all the various facets of Walker Evans' oeuvre can be seen together within the context of his entire photographic career. The exhibition was collated by James Crump, former chief curator of the Cincinatti Art Museum, from the remarkable private collection of Clark and Joan Worswick. From this collection, which throws new light onto some less well-known aspects of Walker Evans' oeuvre, James Crump has constructed an exhibition that follows the twists and turns in the photographer's life, a biography set against the backdrop of a rapidly changing America. His selection reveals the consistency of Evans' interests and of his thoroughly characteristic approach. In the book accompanying the exhibition, James Crump analyzes both the wide-ranging character of Walker Evans' photography and the international reception of his work. The 1971 exhibition curated by John Szarkowski for New York's Museum van Modern Art long delineated Evans. New and in-depth research by Clark Worswick and James Crump has complemented this interpretation with a variety of new accents and nuances.

Walker Evans: a leading figure
Walker Evans (1903–1975) is regarded as one of the leading figures of 20th-century photographic history. He developed a personal, artistic style that laid the foundations for all 20th-century documentary photography. In a graphic, forthright style that soon found many imitators, Evans documented day-to-day life in America 'with the nuance of a poet and the precision of a surgeon' (Metropolitan Museum). His own term for his work was "lyrical documentation", a description which also betrays his love of literature. It was only in 1928 that he decided to become a photographer, after having first pursued literary ambitions, and both these interests remained interwoven through his life. The exhibition opens with Walker Evans' early work in New York, photographs he made from 1927 onwards and with a palpably growing sense of self-confidence. He had spent the previous year in Paris, chiefly occupied with French literature.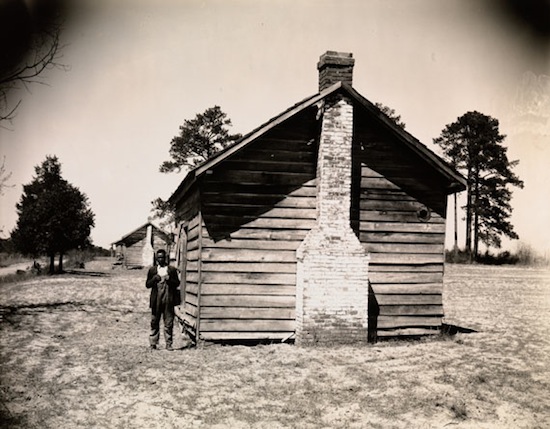 © Walker Evans: [Man Posing for Picture in Front of Wooden House], 1936
Walker Evans Archive, The Metropolitan Museum of Art
An iconic oeuvre

The terse black-and-white photographs of rural American poverty which Walker Evans made in the 1930s have since become some of the most iconic images in photographic history. His work has influenced our perception, and in particular it has shaped the way we see everyday America. Evans photographed workers on their way to the factory, subway commuters, roadside signposts, wooden churches, and village shops. For five decades his street photography yielded authentic portraits of America, and it was almost in passing that he captured significant moments in human history. 20th-century photography is deeply indebted to Evans' whole approach.
The exhibition Walker Evans / Decade by Decade breaks with the existing image we have of Evans' work. Those iconic photographs which do appear in the exhibition form a natural part of an overall picture of alternating personal and professional images. We follow Evans' early years in New York, where he mostly made portraits of artist friends and of architecture. A few years later his lens turns away from the Great Depression and towards lively New York City scenes, in a period of economic prosperity. There are also images, never seen before in public, which Walker Evans made on assignment during trips to Tahiti (1932) and to Cuba (1933), as well as a series of African sculptures and masks made for the Museum of Modern Art in New York.
The exhibition contains a number of the famous series of photographs that Evans made of subway commuters by means of a hidden camera. There are also the modest interiors that Walker Evans photographed everywhere, and which – in their absence – say so much about their occupants. Another high point of the exhibition are the photographs that arose out of Evans' interest in typography, advertising and household objects, photographs which can now be seen as one of the departure points of Pop Art.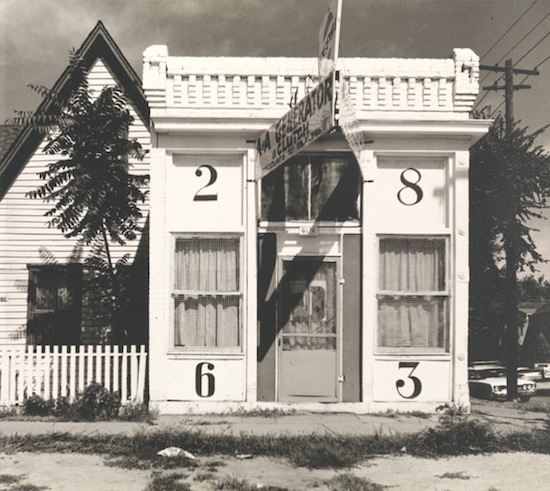 © Walker Evans : [Façade of House with Large Numbers, Denver, Colorado, August], 1967
Walker Evans Archive, The Metropolitan Museum of Art

The Fortune years
In the 1940s, 50s and 60s Walker Evans worked as Special Photographic Editor for the financial magazine Fortune. He was responsible for all the photography and also for a number of projects, including layout and copy. The interplay between text and photography throws interesting light onto Evans' artistic ideas. The original examples of Fortune on display in the exhibition also illustrate Evans' early use of colour photography, while the numerous portraits from the Fortune years give us a glimpse of Evans' personal environment and colleagues, who included the writer James Agee, the composer Samuel Barber and the author Robert Fitzgerald. The journalist and writer Caroline Blackwood and Evans' second wife Isabelle also appear. A number of journalistic assignments took Evans to the UK, and some rare photographs from these journeys have also been included.
The exhibition Walker Evans / Decade by Decade includes a part of his oeuvre whose rough, sketchy character illuminates the experimental approach of a photographer whose work would go on to lay the foundations for today's journalistic idiom. More than anything else, this remarkable exhibition makes it clear just how much Walker Evans shaped our own artistic views of modern civilization.

Opening
Clark Worswick will be present at the exhibition opening, and will give a brief introduction to the work of Walker Evans from the perspective of the collector. Clark Worswick is the author of many prize-winning books on photography, including Walker Evans: The Lost Work and Kenro Izu: Sacred Places, and had his own imprint with Alfred A. Knopf and Crown Books. Clark Worswick has also worked as a film producer and director and has been a guest curator of several photographic exhibitions and events in the US.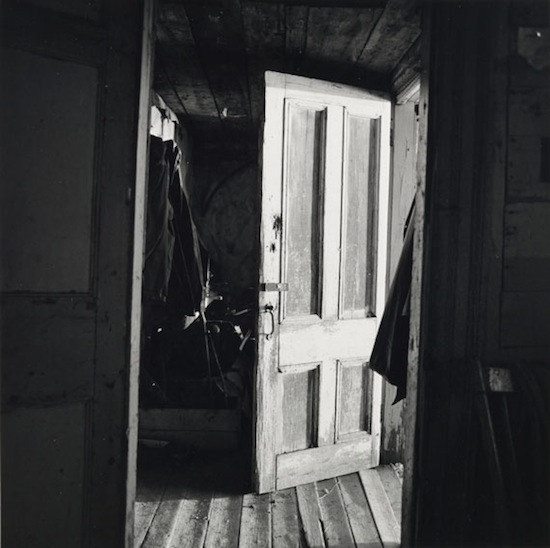 © Walker Evans: [Interior View of Robert Frank's House, Nova Scotia], 1969-71
Walker Evans Archive, The Metropolitan Museum of Art