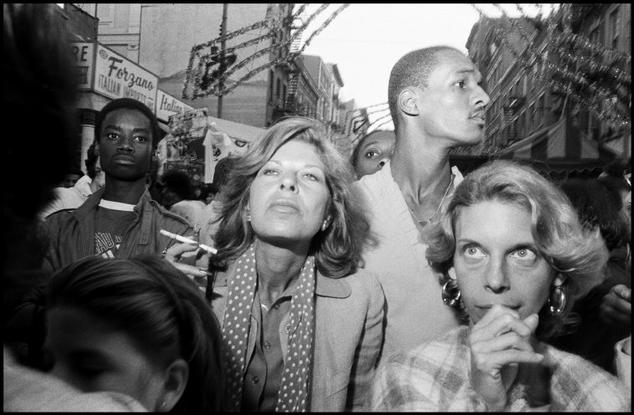 Stages du 10/12/2012 au 14/12/2012 Terminé

Magnum Photos Paris 19 Rue Hegesippe Moreau 75018 Paris France




During the Magnum New York Workshop with Bruce Gilden from December 10th to the 14th 2012, students will participate in an intimate and unique 5 day shooting workshop with Magnum Photographer Bruce Gilden with the great city of New York as its location. Participants will produce individual projects under the same constraints as a professional assignment, but with daily review and editing sessions within the group. Focusing on story formation, visual literacy, and personal vision, the Magnum New York Workshop is an immersive and intensive masterclass taught in the working atmosphere of the Magnum New York office. Prior to the workshop, each accepted applicant will be sent specific directives from Bruce Gilden to help prepare for the experience.

About the Photographer

"I'm known for taking pictures very close, and the older I get, the closer I get."

Bruce Gilden's childhood in Brooklyn endowed him with a keen eye for observing urban behaviors and customs. He studied sociology, but his interest in photography grew when he saw Michelangelo Antonioni's film Blow-Up, after which he began taking night classes in photography at the New York School of Visual Arts.

In June 1998 Gilden joined Magnum. He returned to his roots and tackled a new approach to urban spaces, specifically the streets of New York City, where he had been working since 1981. His work culminated in the publication of Facing New York (1992), and later A Beautiful Catastrophe (2005); getting ever closer to his subject, he established an expressive and theatrical style that presented the world as a vast comedy of manners.

Gilden, who has travelled and exhibited widely around the world, has received numerous awards, including the European Award for Photography, three National Endowment for the Arts fellowships, and a Japan Foundation fellowship. He lives in New York City.

The tuition for the Magnum Workshop is $1350 USD. This does not include travel, accommodations or meals. Once you complete your application, you will be directed to PayPal to pay a non refundable $100 deposit. This deposit will be applied to your final balance once you are accepted. Unaccepted students will be refunded the application fee minus a $10 processing charge. Refund policies will be emailed along with your acceptance.
Conditions de participation

For more information please contact song@magnumphotos.com