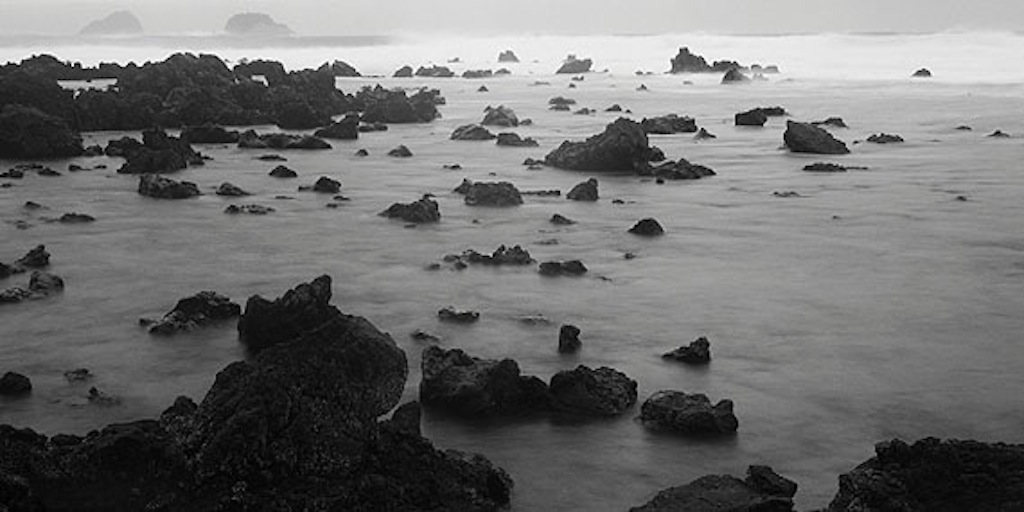 BAE, BIEN-U: sea 1a 085h, Fiber-based gelatin silver print in artist's frame, 102 x 197 cm, 2012.
Expositions du 10/11/2012 au 11/1/2013 Terminé
Aando Fine Art Tucholskystr. 35 10117 Berlin Allemagne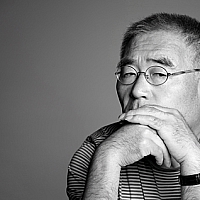 BAE, BIEN-U, who established his now acclaimed distinction for his tree-scapes, has explored his main subject, trees - especially Korean pine trees - for over two decades, and thus created a language of photographic landscape uniquely of his own. Instead of chasing the western methodology of photography, regarding the nature as a passive object, BAE interprets nature as an autonomous being gazing back at us with noble presence.
BAE BIEN-U's new series of black and white photography from the past 20 years show landscape in motion. Trees and grasses lean in the wind, steep cliffs, rocks and stones shaped by water lie bathed by sea foam and mist in the surge of waves, the horizon dissolves into the whitish-grey of the sky. The Korean term for landscape - as the Chinese and Japanese - consists of the words "wind" and "scenery". It is closely connected with the traditional, cosmological ideas of the existence of a quintessence running through all living things, the ether.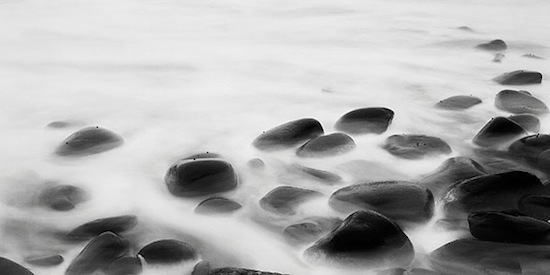 BAE, BIEN-U: sea 1a-050h, Fiber-based gelatin silver print in artist's frame, 102 x 197 cm, 1999.
The poetical sounding neologism "Windscape" is a literal translation of the term for landscape as it is used and understood with its semantic level all over East Asia. BAE, BIEN-U (*1950 in Yeosu, South Korea) was educated at the Hong-Ik University in Seoul (MFA, 1978), and since 1981 he has been Professor in Photography at the Institute of the Arts, Seoul. Regarded as key figure photo artist in Korea, BAE has influenced a generation of photographers during his many years of teaching. Shown in numerous important museums including The National Museum of Contemporary Art, Seoul, Thyssen Museum, Madrid, Bozar – Center for Fine Arts, Brussels or The Samsung Museum of Art LEEUM, Seoul, his works are also represented in the collections of the National Gallery of Victoria, Melbourne, The National Museum of Modern Art, Tokyo, and The Contemporary Arts Museum Houston, Texas among others.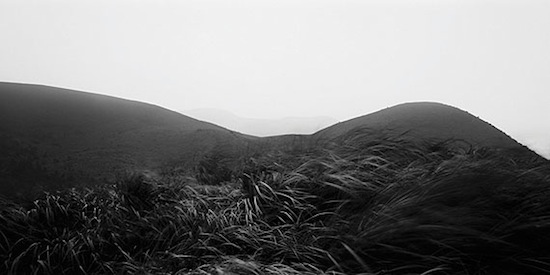 BAE, BIEN-U: om 1a 050h, Fiber-based gelatin silver print in artist's frame, 102 x 197 cm, 1999.
Photos et Vignette © Bae Bien-U.