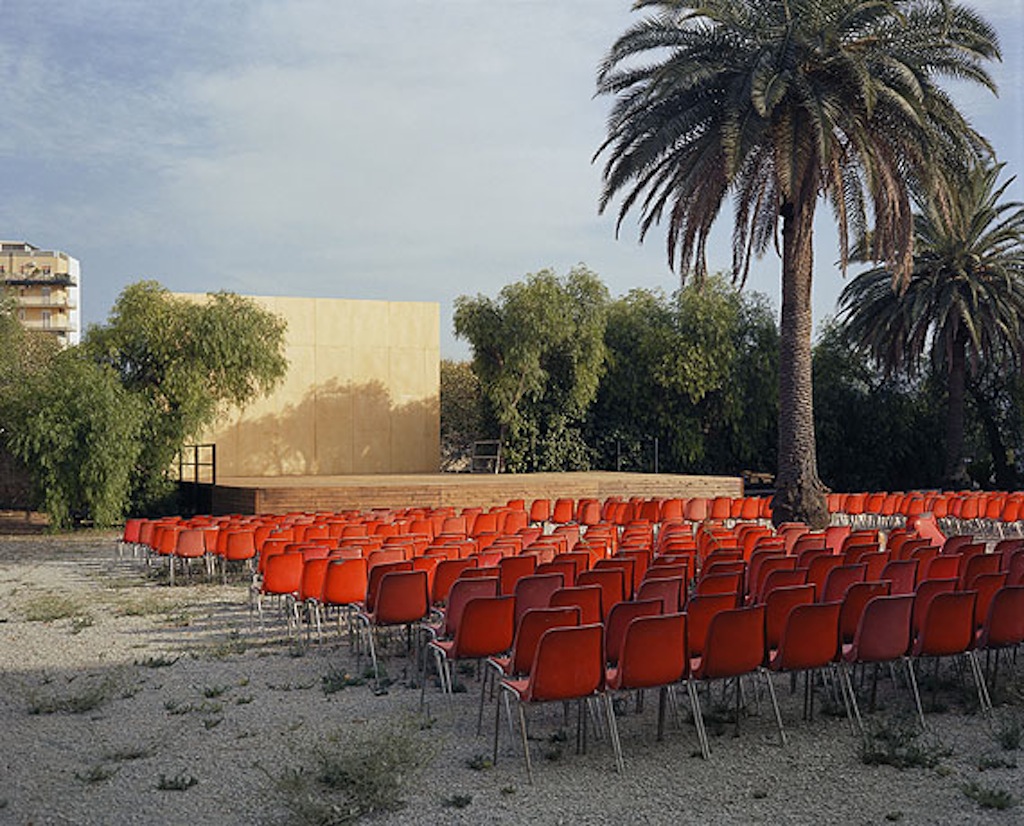 Wim Wenders, Open-Air Screen, Palermo, 2007 © Wim Wenders
Expositions du 6/10/2012 au 17/11/2012 Terminé
Galerie OstLicht Absberggasse 27 1100 Vienna Autriche WIM WENDERS
PLACES, STRANGE AND QUIET
OstLicht Gallery is pleased to announce the exhibition "Places, strange and quiet" of internationally renowned director and photographer Wim Wenders.
The selection of over forty large format photographs will be on display in Austria for the first time. The exhibition includes images from the past forty years, taken on journeys the director undertook to Australia, Armenia, Japan, Italy, the USA and to Eastern Germany. Wim Wenders' photographs could be described as a survey of the inconspicuous. They are mostly places void of people, abandoned, forgotten or unknown landscapes presented in large format prints. They exude a subtle melancholy, a poetry of the forgotten or things on the verge of disappearance.
In his photographs Wenders does not look at the well known spaces seen thousands of times. He wants to show the "invisible" and hence looks for the unknown, the seemingly marginal. On his journeys he discovers blank spots on the map and with their depiction he challenges the fantasy of the observer. He intends to use these photographs to capture places and landscapes, to return their memories to them. A rusty ferris wheel on an empty lawn in Armenia, an abandoned open air cinema in Palermo, a house in ruins in the former jewish quarter of Berlin. Wim Wenders' photographs are almost always deserted.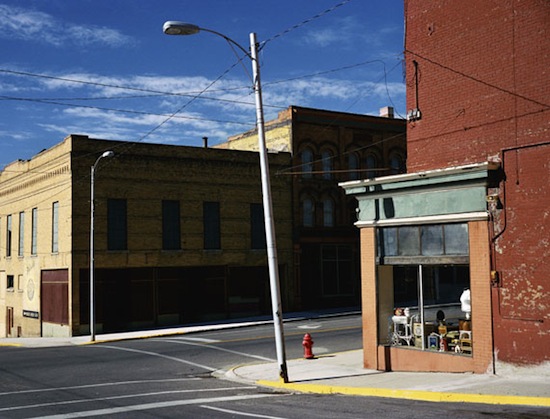 Wim Wenders, Street Corner in Butte, Montana, 2003 © Wim Wenders.
"Seeing the ferris wheel, it makes you think of couples that have taken a ride on it and smooched, sang and drank vodka. As soon as one person is in the image the whole photograph will be defined by this person. Everything that you could possibly read from the landscape, will immediately refer to this person. Places can tell us more about ourselves, if none of us are visible in them", Wenders states in an Interview with the ZEIT – and also reveals the story of the Armenian ferris wheel: "There used to be a Sowjet settlement here, including this amusement park for the occupying forces. When Armenia reached its independence, almost all Russians moved away."
"Places, strange and quiet" at OstLicht Gallery will render an impression of Wim Wenders' forays into the world, as he explores it as a photographer. "When you are on the road a lot, when you like to roam, to loose yourself, you can end up at strange places. It must be some sort of built-in radar, that often leads me to areas that are either strangely quiet or are quiet in a strange way", Wenders explains. Almost thirty years ago the artist went on his first big photographic journey. On the lookout for a suitable setting for "Paris Texas", he drove through the western US and started to take photographs. Since long photography has become an essential practice in his OEuvre.
In contrast to his work as a director he uses "quite old-fashioned", as he describes it, analogue technology in his photography: "In the analogue process my relationship to the space continues, untiI I, often weeks later, see a result… The digital photographers of today are working in a different profession altogether. They are 'image makers' and work on a new form of painting, that forces them, as I see it, to leave 'photography' behind. I am happy (alongside others) that I am still able to work in this field. This is no nostalgia, but the pure joy of depicting reality. And an attempt at working against its ongoing disappearance" says Wenders.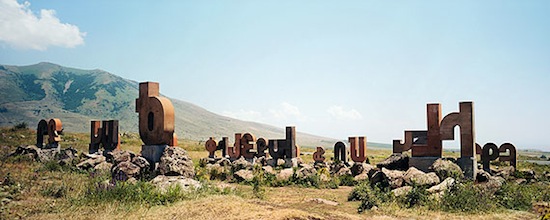 Wim Wenders, Armenian Alphabet, Armenia, 2008 © Wim Wenders
Biography
Wim Wenders was born in 1945 in Düsseldorf and raised in Düsseldorf, Koblenz and the Ruhr, where he attended a humanistic secondary school in Oberhausen.
After two years of studying medicine and philosophy and a year abroad as a painter in Paris, he attended the Hochschule für Film und Fernsehen in Munich from 1967 to 1970. In 1971 he was a founding member of the Filmverlag der Autoren, the driving force behind the "New German Cinema".
In 1975 he founded his own production company, "Road Movies", in Berlin. As one of the most influential representatives of the "New German Cinema" during the 1970s his movies received many prestigious awards and much international critical acclaim.
In 1984 he became a member of the Akademie der Künste in Berlin. He received honorary doctorates of the Sorbonne in Paris (1989), the theological faculty of the University of Fribourg (1995), the Louvain University (2005) and the faculty of architecture of the University of Catania (2010). Wim Wenders is a founding member and since 1996 residing president of the European Film Academy.
Since 2005 he is a member of the order Pour le Mérite. Currently he is holding a professorship at the Hochschule für Bildende Künste in Hamburg.
Wim Wenders has published numerous books with essays and photographs. Together with his wife, photographer Donata Wenders, he currently lives in Berlin.
Photos et Vignette © Wim Wenders.