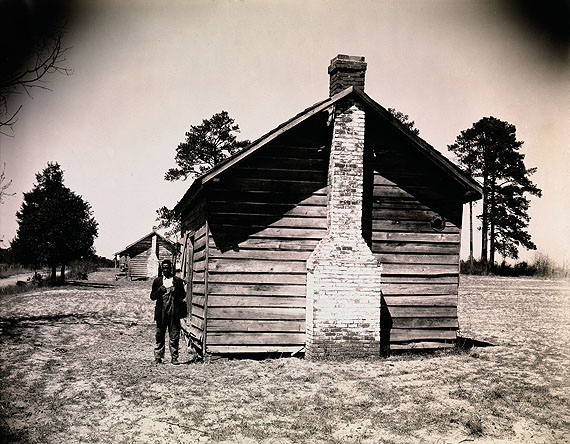 Walker Evans: Man Posing for Picture in Front of Wooden House, 1936 © Walker Evans Archive, The Metropolitan Museum of Art
Walker Evans: Decade by Decade
With this exhibition, Die Photographische Sammlung/SK Stiftung Kultur is taking the opportunity to present a major retrospective of Walker Evans's oeuvre. For the first time in Germany this unprecedented exhibition gives decade by decade an overview of the multi-faceted works based on more than two hundred original prints from between 1928-1974. James Crump, Chief Curator at the Cincinnati Art Museum, has developed a magnificent presentation from the unique private collection of Clark and Joan Worswick that sheds light on the whole of Walker Evans's productive period and important phases of his work and gives a vibrant impression of his consistent interest in specific approaches. Crump's insights are documented as well in the accompanying book with a text highlighting the comprehensive nature of Walker Evans's photography and its international reception. The historically important retrospective in 1971 at the Museum of Modern Art curated by John Szarkowski shaped the picture of Walker Evans which remained relatively unchanged for a long time. Meanwhile, and through intensive research work on different holdings of Walker Evans's photos, new aspects can be reflected upon and integrated.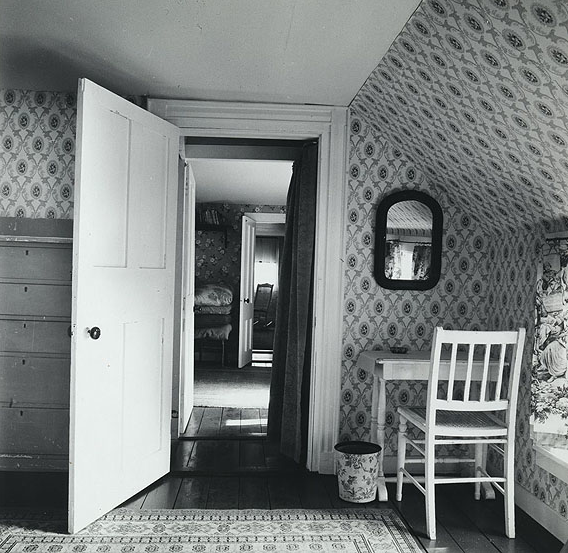 Walker Evans: Interior View of Heliker/Lahotan House, Walpole, Maine, 1962 © Walker Evans Archive, The Metropolitan Museum of Art
Walker Evans (1903–1975) is one of the great personalities in the history of 20th-century photography. His creative work has set standards for a kind of photography that has been adopted by art as the documentary style. He also referred to his work as "lyrical documentation," which if nothing else demonstrates his predilection for literature, considering that he initially pursued a career as a writer. It was in about 1928 that he changed his professional plans and gave priority to photography.
The extensive photographic oeuvre of Walker Evans has increasingly assumed model character. It continues to influence our view toward as well as of the world that surrounds us, in particular America. In five decades of his creative work, the photographer charted a uniquely authentic image of America with straight photographs, and like no one before him he has raised our awareness for identity-generating and history-charged moments, with a particular sense for the everyday and the subtle—the American vernacular.
Walker Evans - Decade by Decade seeks to break through the reception of Evans's work. If this selection of images features icons of the history of photography created by Evans, then this occurs without pathos, and they are a natural part of his succession of works. A productive alternation between personal and professional, the viewer tracks Evans's biography as well as the changing image of America over time—from the Great Depression to periods of stabilization and bustling everyday life: from the 1920s early impressions of his New York neighborhood; portraits of his friends and comrades that allow drawing conclusions about his complex cultural surroundings; followed in the 1930s by studies of 19th-century architecture that address the evolved lifestyle culture; series of pictures from Tahiti and Cuba; African sculptures and masks, commissioned by the New York Museum of Modern Art; numerous photographs taken in the 1930s in the rural South that contrast with the lifestyle of the city dwellers and passers-by in, for example, New York. Besides street views, American memorials, window displays from retail stores far away from big business, the show includes examples of his important subway photographs, which were taken with a hidden camera. Time and again modestly arranged interiors tell stories about the life of their occupants and automatically bring to mind a remark Evans once made: "I do like to suggest people by absence." Magical, captivating photographs grow out of Evans's interest in typography, advertising, and mass-produced articles, which can be seen as a preview of what was soon to develop into Pop Art and its assemblages.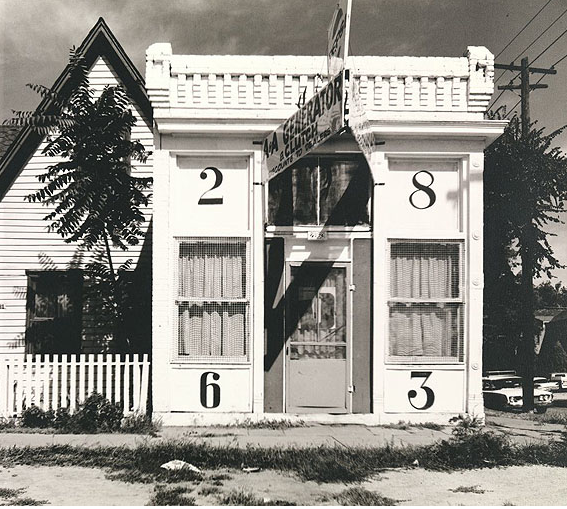 Walker Evans: Façade of House with Large Numbers, Denver, Colorado, August, 1967 © Walker Evans Archive, The Metropolitan Museum of Art
Decade by Decade shifts attention to many of the photographer's unknown motifs, including those produced in the 1940s, 1950s, and 1960s created in connection with Fortune magazine, for which Evans worked as Special Photographic Editor between 1945 and 1965. Rarely seen are a group of pictures he took on several trips to London e.g. in 1958 on commission for Architectural Forum, and also during stays at Robert Frank's home in Nova Scotia at the beginning of the 1970s. The last photographic chapter contains color Polaroids (1973/74) of condensed views, be they road markings or signs on buildings, both concrete as well as abstract and revolutionary at once. They point the way ahead to color photography which Walker Evans used, as the Fortune magazines in the showcase document, since the 1940s, yet he regarded it critically. This new form of photography was to be further developed in the oeuvres of William Christenberry, William Eggleston, or Stephen Shore. It was not only to them that Walker Evans's photographs must have seemed like a breath of fresh air. To this very day, artistic photography continues to be inspired by Evans's view of civilization and its traces and continues to discover new, plausible modes of transfer.
The exhibition will also be shown at the Landesgalerie Linz am Oberösterreichischen Landesmuseum, 27/02 – 26/05/2013, and Huis Marseille, Amsterdam, 22/06 – 15/09/2013.
A new, bilingual edition of the catalogue Walker Evans: Decade by Decade, has been published by Hatje Cantz in conjunction with the exhibition.
(Price: €49.80)