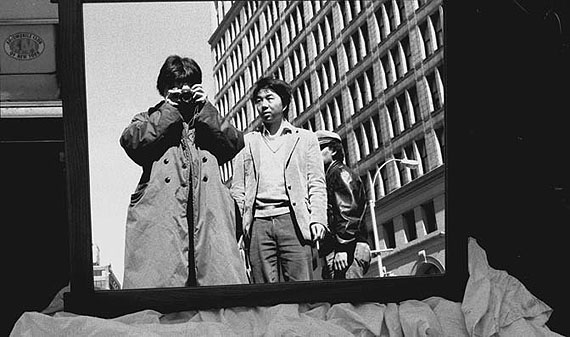 Ai Weiwei, Mirror, 1987 © Ai Weiwei Courtesy Ai Weiwei Studio
AI WEIWEI | NEW YORK 1983–1993

After exhibitions at Martin-Gropius-Bau Berlin and at Moscow Multimedia Art Museum, the Ernst Múzeum in Budapest/Hungary is showing photographs from the period 1983 to 1993 spent by Chinese artist Ai Weiwei in New York. More than 10,000 photos emerged during this time. Ai acted as curator selecting what will be exhibited here. For the young Ai, born in 1957, this extended period of stay in the USA was very influential on the style of his future artistic works. After being in New York, Ai first of all returned to China as his father, the very famous author Ai Qing whose poems every Chinese schoolchild learns by heart, was on his deathbed.

Today, Ai Weiwei is one of the most famous Chinese artists of contemporary times. While living in New York, he became friends with Allen Ginsberg. Many artists who are now famous in China visited him there and Ai photographed them. He became familiar with the works of Joseph Beuys, whose ideas on Social Plastic are recognisable in Ai's work today. Andy Warhol was also an influence.

Ai was not yet famous back then in New York, living in a tiny apartment in the East Village. He was an active member of the Chinese community of artists and intellectuals in the area's avant-garde scene. In the 1980s, New York was a place of freedom from the repression that artists from China had experienced in their home country. After the death of Mao Zedong in 1976, the situation became a little more relaxed for China's artists, but the country was, and continues to be, governed by rigid notions of what art should be like and about whom art is to serve.

Ai captured life in the New York of the eighties with his camera. The result is a series of unique documents bearing witness to an artistically and politically exciting period seen through the eyes of an artist from China. And the viewer can already recognise the beginnings of Ai Weiwei's concept art in these early photographs. The subjects are varied like life in New York – photos of street fights in Tompkins Square Park, transvestites at the Wigstock Festival, portraits of Chinese and American artists, intellectuals and friends.

The photos lay around forgotten for many years. Thousands of not yet developed negatives remained hidden from view in old cardboard boxes. In 1993, following Ai Weiwei's return to China, he told the Chinese artist Rong Rong about them and it is thanks to him that Ai agreed to an exhibition at the Three Shadows Photography Art Centre in Beijing in the year 2009. In the summer of 2010, a first publication appeared in China with the support of Christophe W. Mao and funded by the Mattawin Company.

Ai has always understood his art as political: concept art, performance, photography – the breadth of the forms of his artistic expression has helped to make him China's most important artist. Duchamp, Dadaism, Social Sculpture and Andy Warhol have influenced him. His blog has been turned into a successful book in Europe and America. His exhibitions in the USA, Europe and Asia are legendary. He became popular in Germany through his participation in documenta 12 in the year 2007. His work is represented in the most important museums in the world: the Tate Modern in London, the Museum of Modern Art in New York, the State Museums in Berlin as well as museums in San Francisco and in Los Angeles.
This exhibition is a cooperation between Ai Weiwei Studio,
ALEXANDER OCHS GALLERIES BERLIN | BEIJING and Mücsarnok Kunsthalle Budapest.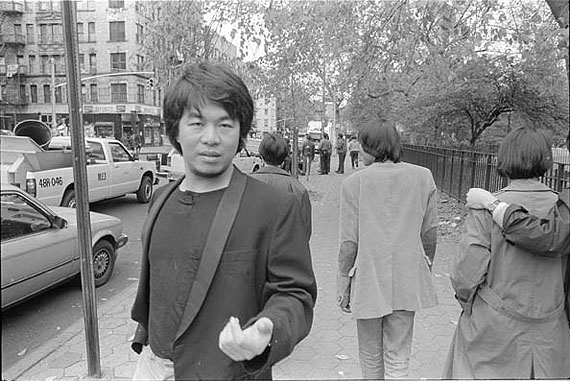 Ai Weiwei, Outside Tompkins Square Park, 1986 © Ai Weiwei Courtesy Ai Weiwei Studio
Photo et Vignette © Ai Weiwei