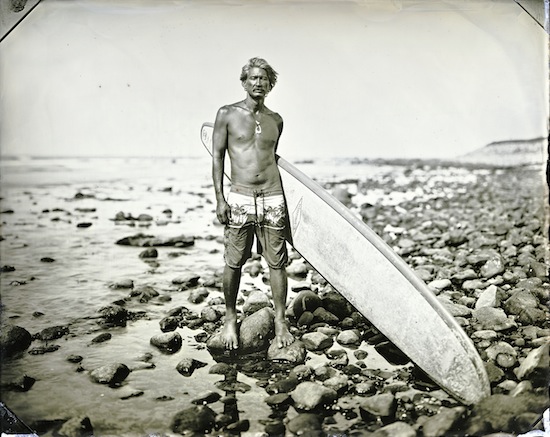 Hawaiian Ed #6 (08.08.04), 2008 - Unique Tintype - 8 x 10 inches © Joni Sternbach
Expositions du 17/5/2012 au 10/8/2012 Terminé
Rick Wester Fine Art 526 W. 26th Street, Suite 417 NY 10001 New York États-Unis Rick Wester Fine Art is very pleased to announce our first exhibition of photographs by Joni Sternbach, selected from her series « SurfLand », a project started in 2006 and punctuated by the PhotoLucida publication of the same name in 2009. « SurfLand, Revisited, 2006-2011 » is its first showing in New York City and brings together images from the monograph with more recent works.
Sternbach has dedicated much of the past six years making portraits of surfers and their community employing the archaic, elaborate and fascinating wet-plate collodion process commonly known as tintype. Redolent of the Civil War era when the process was first developed, the images are ghostly and vibrant, ancient and modern, sturdy yet precious. Produced directly on the plates themselves, they are unique objects, adding to the aura of rarity they exude. Her subjects pose with their boards, taking on a totemic, primal tool-like quality, as if their lives are supremely reliant on them.
With their atmosphere of beach and sun and the laid back lifestyle of her subjects, it is tempting to mistake « SurfLand » for a strange brand of snapshot. Yet it is precisely in the ease with which Sternbach collects her evidence and in the abundance of detail that her vision is found. Perhaps taking her cue from the surfers she befriends, the images from SurfLand belie the exact balance, skill and daring it takes to effortlessly ride the wave of photographic invention.
« SurfLand » has been exhibited broadly in museums and university galleries, most recently at the Southeastern Museum of Photography and the book is no longer available from the publisher. A limited number of copies, including slipcased, limited edition copies signed by the photographer will be available.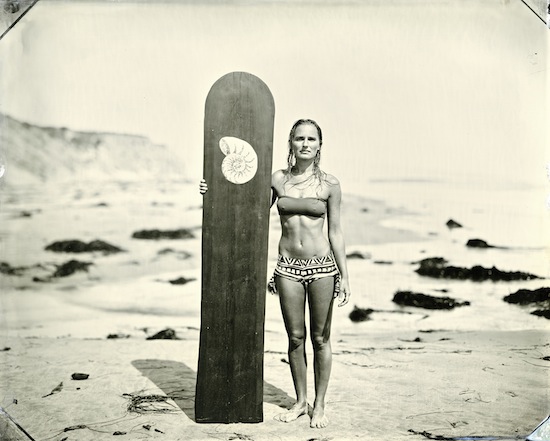 Blakeney #2 (11.09.30), 2011 - Unique Tintype - 8 x 10 inches © Joni Sternbach
Photo et vignette © Joni Sternbach