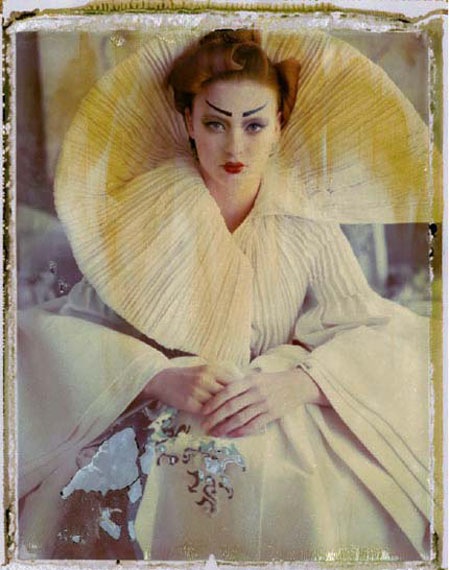 © Cathleen Naundorf, La fille en plâtre IV (version 1), Dior by John Galliano, Les ateliers du Style, Paris, 2009
For this year's summer exhibition Bernheimer Fine Art Photography will be showing Haute Couture – The Polaroids of Cathleen Naundorf at their gallery in Briennerstrasse 7, Munich.

On display will be a collection of about 40 Polaroid photographs, most of them exhibited here for the first time.

Cathleen Naundorf's photographs feature unique haute couture designs by leading fashion designers such as Chanel, Dior, Valentino, Lacroix, Armani and Gaultier, worn by young, unfamiliar models. The famous couturiers granted the german freelance photographer exclusive entrée to their exceptional collections, as well as free access to their most precious garments. As well as displaying the skill of the fashion designers, the artist is also interested in investigating the people behind the poses and portraying their bodies which are constantly exposed to glamour. These are captured with the help of the entire spectrum of classical settings: "From full-figure to three-quarter turned, shown frontally in classical contrapposto, the body alignment parallel to the picture-plane, whether at rest or frozen in an unfinished movement, the beautiful female figures appear like mutes in a tableau vivant."[1]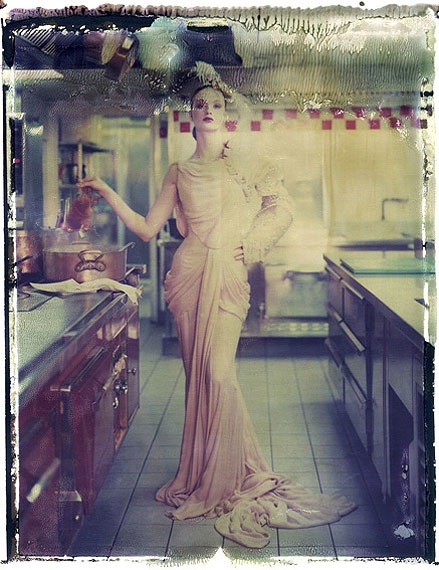 © Cathleen Naundorf, My little Darling, Dior


The exhibited photographs were taken in theatrical room settings: the studio of Jean Paul Gaultier , the former apartment of Coco Chanel in rue Cambon, the Théâtre du Trianon and the modern commercial kitchen of the Hôtel Plaza Athénée. The majestic Grand Palais and the Musée Rodin with its sensuous marble sculptures by Auguste Rodin also provided spectacular mises-en-scène. These stage-like settings were arranged with great care by the artist herself and form an essential thematic part of the compositions, carrying their own dreamlike and timeless character.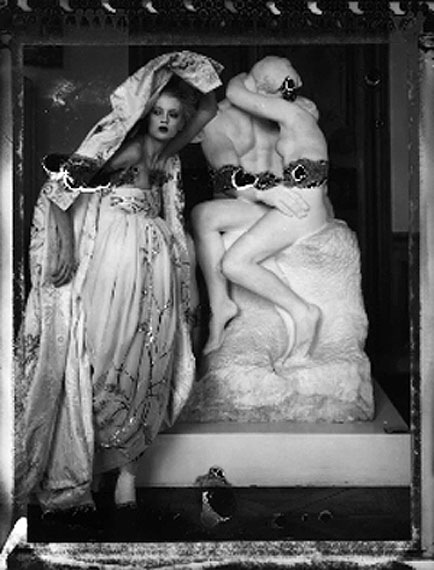 © Cathleen Naundorf, Camille, Dior by John Galliano, Musée Rodin, Paris, 2010


Cathleen Naundorf photographs her interior scenes using an analogue large-format camera (of the Deardorff or Plaubel type), which, since the1990s she has used in a rare combination with Polaroid films, which are hard to source these days. Her personal claim to the uniqueness of her carefully composed and orchestrated fashion photographs derives from the one-off character of the great Parisian Haute Couture designer gowns, which became the epitome of fashion during the second half of the last century. Chatleen Naundorf expressly eschews digital editing; the contrast and colours of her photographs derive entirely from her applied technique. The method that she has chosen has the effect of blurring the images sporadically, highlighting their atmospheric as opposed to documentary character. This produces fashion photographs which have a day-dreamlike quality: timeless images, in which the models appear to dissolve in a blaze of colour. Cathleen Naundorf's style of photography combines poetry and meditation with theatrical presentations of Haute Couture, taking account of the traditional lines of classic glamour photography, which she captures especially well in her black/white photographs. With their highly individual pictorial language, the works of Cathleen Naundorf are unique in the world of fashion photography.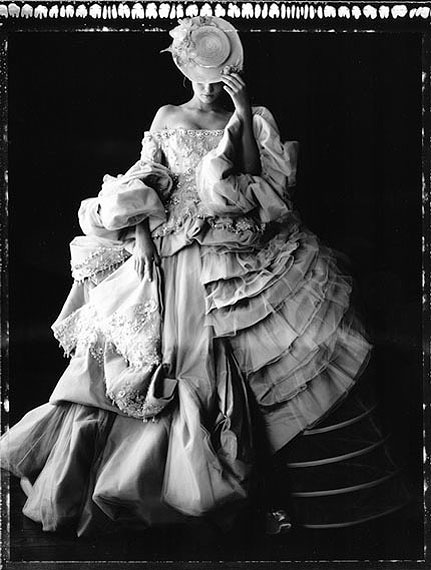 © Cathleen Naundorf, Madame au Châtelet, Dior by John Galliano, Atelier d'artiste rue Caulaincourt, Paris, 2007


Like her mentor Horst P. Horst, Cathleen Naundorf originates from the small town of Weissenfels an der Saale, where she was born in 1968. In 1991 she successfully completed her studies specialising in graphics, painting and photography at the Technical College of Design in Munich, before working as a photo assistant in New York, Singapore and Paris. For many years Naundorf was employed as a travel photojournalist, during which she shot detailed documentaries of remote regions and ethno-exotic societies, such as Mongolia, Siberia, Yakutia, the Gobi desert and Brazil, which have been reproduced in eight publications by well known publishing houses. At the end of the 90s, the artist was commissioned by the Süddeutsche Zeitung to rpovide backstage photo spreads during the Paris Haute Couture fashion shows. Since 1998 the artist has lived and worked in the fashion metropolis Paris. In Germany Cathleen Naundorf is exclusively represented by the Bernheimer Gallery.
A book linked to the exhibition is published by Prestel Verlag
Vignette : © Cathleen Naundorf, La fille en plâtre IV (version 1), Dior by John Galliano, Les ateliers du Style, Paris, 2009