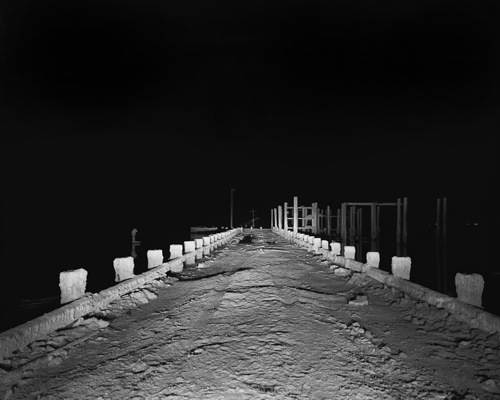 © Scott b. Davis
Scott B. Davis studied photography at the University of New Mexico and currently holds the position of Director of Exhibitions at MoPA in San Diego, CA. He has mounted solo exhibitions at San Diego Museum of Art, CA; Etherton Gallery, Tucson, AZ; Michael Dawson Gallery, Los Angeles, CA; Shapiro Gallery, San Francisco, CA; and the University of New Mexico, Albuquerque, NM and the California Center for the Arts, Escondido, CA. Moreover, his work has been included in exhibitions at George Eastman House, Rochester, NY; Riverside Art Museum, Riverside, CA; Kiyosato Museum of Photographiic Arts, Kiyosato, Japan; and, Center for Photographic Art, Carmel, CA, among others. Davis' work has been acquired for the permanent collections of the J..Paul Getty Museum, San Diego CA; the California Museum of Photography, George Eastman House, Kiyosato Museum of Photographic Arts, Museum of Photographic Arts (San Diego), Nelson-Atkins Museum of Art, and the Santa Barbara Museum of Art as well as private collections. Furthermore, critical attention has been given to his work by The New York Times, The New Yorker, The Village Voice, View Camera, Image (The Magazine of George Eastman House), Camerawork, and various others.


« All great and beautiful work has come of first gazing without shrinking into the darkness. » (John Ruskin)

Edward Abbey once wrote « You can't study the darkness by flooding it with light. » The photography of Scott B. Davis is charged with the same notion. Originally from Maryland, Davis emulated the westward journey of Charles Fletcher Lummis and was bewitched by the spirit of the desert and its magical transformation at day's end. Studying photography at the University of New Mexico, he discovered his passion and his destiny. Davis remains fascinated by the desert landscapes and towns of California with his new work concentrating on subjects closer to his home in San Diego. In this place, where the infinite vista of day is reduced, at night, to an intimate theatre, he revisits the theme of his successful 2008 exhibition, Land of Sunshine in his current exhibition Black Sun. Always evolving, Davis' work pushes the boundaries of photographic composition - darkness becomes both tool and subject and we are forced to interpret the work without traditional visual cues. Vignettes, lit simply by street lamp or headlight, compel unremarkable objects to assume a mysterious otherness when emancipated from the glare of the harsh desert sun.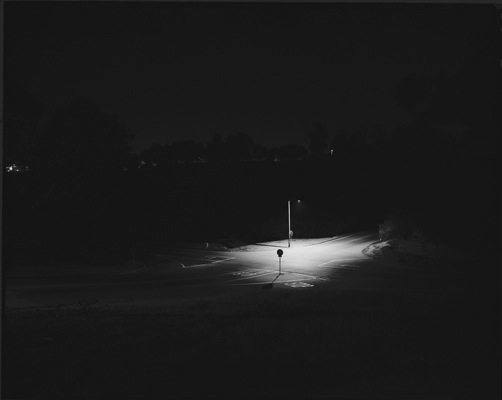 © Scott b. Davis

Absolute restraint governs his work as he allows the merest hint of illumination to rime the edge of a tree or building. As every day objects become transformed under his subtle lens, Davis allows our imaginations to create the narrative. Intersection, San Diego presents an iconic image of California with a desert crossroads bathed in an amorphous pool of light, waiting, as if sentient, for something to happen - a stage waiting for its performers. In Tract home, La Jolla, the eye is immediately drawn to the unidentifiable glow on the horizon rather than the foreground structure. However, we are drawn back to the dilapidated dwelling, perched, like a portentous sentinel, over an unsuspecting city.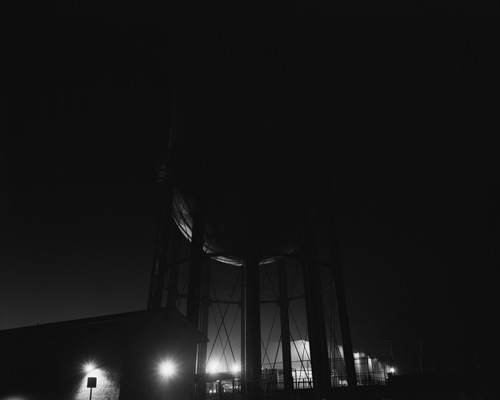 © Scott b. Davis

Using experimental techniques reminiscent of Harry Callahan, Davis manipulates the light in Water tower, San Diego. The spherical chamber presents an otherworldly display as a sliver of reflected light frosts its metal edges presenting an earthbound eclipse, while the heavy support structures become anchors binding a floating black sun. Similarly, in Sedan, Rice, California, the jetsam of humanity takes on the appearance of a cabinet of curiosities as an abandoned car is captured beneath the gentle glow of his unique perspective. Referencing his previous work Imperial highway, Ocotillo, California (2007), Pier, Salton Sean Navy Test Base leads us on a journey. As darkness shrouds the world beyond, the starkly lit, salt and dirt encrusted jetty beckons us forward into inky nothingness. Devoid of the sinister quality often associated with the dark, Davis' enigmatic work resonates with a moody solitude that invites introspection.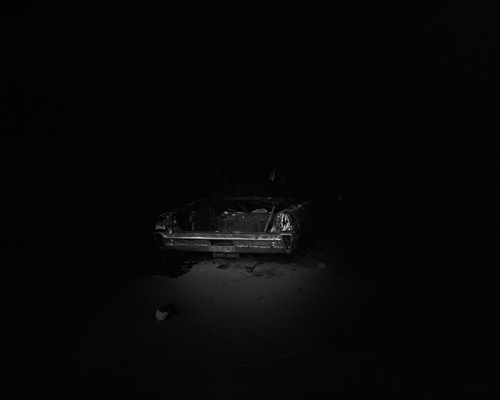 © Scott b. Davis

The artistry of his work lies not only in the way Davis employs darkness and light but also in the craftsmanship evident in the production of his photographs. He uses the platinum palladium process - a painstaking and laborious monochrome process popular in the early 20th century. It requires a negative the same size as the final print and hand coating of the photographic paper with light sensitive platinum and palladium metal solutions. Davis works slowly and meticulously with a 16x20 large format camera and develops and prints each piece by hand, affording him the utmost control over the clarity and quality of the ultimate image. The resultant effect is a saturation of dense shadows from which emerge his delicately dramatic contemporary scenes.

Davis eschews reality and cloaks his work with sense of mysterious anonymity. While a photograph generally tends to chronicle what is, Black Sun takes us on a clandestine journey into what could be - if we are perceptive enough to glean it.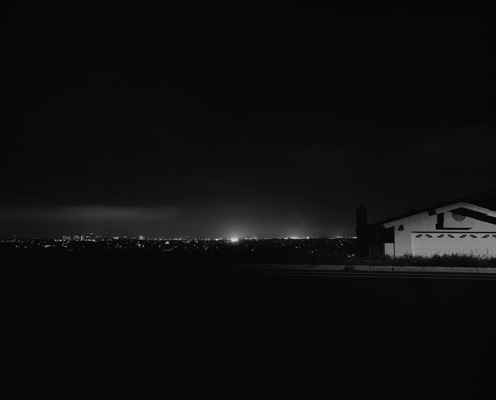 © Scott b. Davis
Photos et vignette © Scott b. Davis