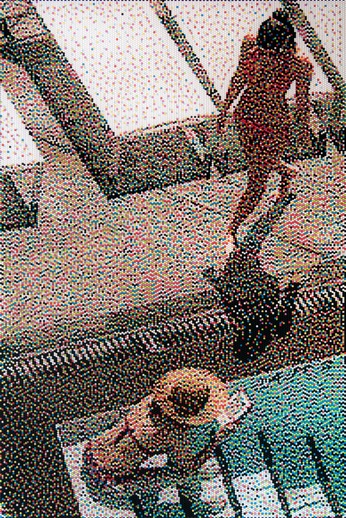 © William Betts "untitled 12:44 pm I", 2010 acrylic paint on reverse drilled acrylic mirror, custom metal hanging rods / Acryl auf rückseitigem amngeschraubten Acrylspiegel, an Metallstift hängende
Expositions du 22/6/2012 au 1/9/2012 Terminé
Galerie Stefan Röpke St. Apern-Straße 17-21 50667 Cologne Allemagne
In the 15th century, Leonardo da Vinci had drawn up a great many scientific and engineering proposals, most of which had never been actualized until centuries later. In retrospect, we attribute the beginnings of many modern day inventions, from the helicopter and submarine to the machine gun, to da Vinci's engineering and scientific genius. But if we took ourselves back to times previous to the actual creation of these machines, what we have are beautiful drawings of fantastical and experimental ideas; the wild imaginations of scientific possibilities put to paper by the masterful hand of a great artist. Whether or not these objects were ever realized, it is the artistic application of his sense of wonder and the depth of his curiosity that we continue to be awed by.

This exhibition is inspired by the intersection of art and science that da Vinci's "inventions" epitomize, presenting works by a few of the many artists today that apply scientific and technological perspectives to their creative process. Included in the exhibition are works by William Betts, Edward Burtynsky, Rob Carter, Aleksandar Duravcevic, Sharon Harper and Julie Oppermann.

WILLIAM BETTS
These paintings by William Betts are created by advanced linear-motion technological machinery driven by software programs that the artist designs himself. Behind a mirror, the composition of paints filling precisely drilled holes creates the pixilated imagery that is the signature of Betts' work; a visual experience that we can immediately connect to technology. Although the traditional "hand" of painting related to the brush and paint are completely removed in these works, the creative act of painting is brought to new levels, one that explores the intersection of the digital world and traditional painting. William Betts was born and raised in New York City, and he currently lives and works in Houston, Texas.

EDWARD BURTYNSKY
The large-scale photographs of Edward Burtynsky, while maintaining aspects of the sublime related to traditional landscape painting and photography, also focus on environmental concerns and the changing topographies that result in growing industry and human intervention. "Nickel-Tailings #34 & #35" are among the most iconic images from the seminal body of work that brought Burtynsky's work to broader international recognition; both the cover image of his first monograph, "Manufactured Landscapes" and a centerpiece of his first major retrospective at the Brooklyn Museum in 2005. Edward Burtynsky currently lives and works in Toronto, Canada.

Edward Burtynsky
"Nickel Tailing #34 and #35, Sudbury, Ontario" (diptych), 1996
C-Print
each 48 x 60 inches / je 121,9 x 152,4 cm
Edition 5/6


ROB CARTER
Rob Carter uses photography, stop-motion animation, and time-lapse video to spotlight buildings and their shifting political and historical significance. Architectural themes and histories are invented or modified using physically cut-up and digitally manipulated photographic images of specific buildings, towns and landscapes. "Faith in Seed" is a work still in progress and partial product of a current installation project at Art in General that intertwines science and history related to agriculture, industrialism and nature into a multi-media art form. Corresponding pigment prints are on view along the works-in-progress, while the final edited version of the video piece will be presented at the end of the year as part of his solo-exhibition at the gallery. Rob Carter was born Worcester, United Kingdom and lives and works in Brooklyn, NY.

ALEKSANDAR DURAVCEVIC
The early drawings of Aleksandar Duravcevic were made shortly after he had just left medical school. Made more for the desire to draw (to put material to paper) than to document, the subject matter was an easy subject matter for him to choose, as it was one he could render without much thought, concentrating more on the gestures and marks that he could make with a certain amount of automatism, or in a way, abstractly. The accuracy of these drawings are impressive especially that they were drawn without the intention of accuracy at all. But when one appreciates them as the "abstracted" drawings that they were intended to be, the expressive gestures and beautiful marks and compositions reveal the mastery with which Duravcevic handles his materials. Aleksandar Duravcevic was born in Montenegro and currently lives and works in Brooklyn, New York.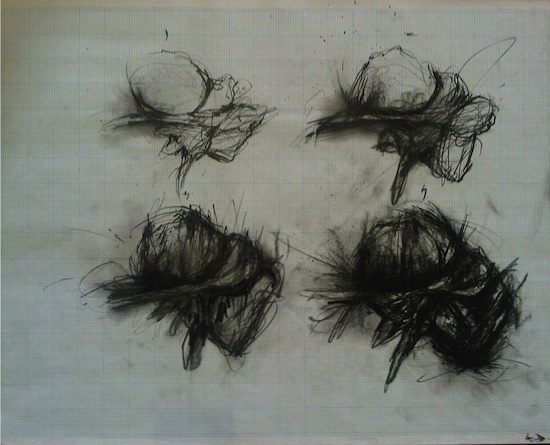 Aleksandar Duravcevic
untitled, 1996/1997
drwaing / Zeichnung
18 x 22,4 inches / 45,7 x 56,9 cm


SHARON HARPER
The images within the body of work, Moon Studies and Star Scratches, are not available to the eye until they are fixed on some photographic material. Traditional realms of the sublime—vast night skies here—are the subjects examined and transformed within the camera. What's left behind on film suggests traces from experience. The camera itself is a metaphor for the pervasive presence of technology within the landscape. It mediates our interaction with the natural world. It also generates new perceptual possibilities for re-interpreting experience of the sublime. Sharon Harper currently lives and works in Cambridge, Massachsetts.

JULIE OPPERMANN
Julie Oppermann's recent series of paintings explore the contemporary idea of interference in relation to how information is disseminated, transmitted, and ultimately perceived, using painted moiré patterns created by overlapping multiple layers of nearly identical line patterns. Drawing from her background in Neuroscience, interest in perception and cognition, and study in Color Theory, her brightly-colored, scintillating systematic and rule-based process is matched by her impulsive and intuitive approach, resulting in uncanny, often unsettling decisions that set up compelling tensions within the work. For this exhibition, Oppermann explores the potentials of her painting process in architectural space, painting directly on the walls of the gallery. Julie Oppermann lives in New York City and is currently attending a residency program in Berlin.