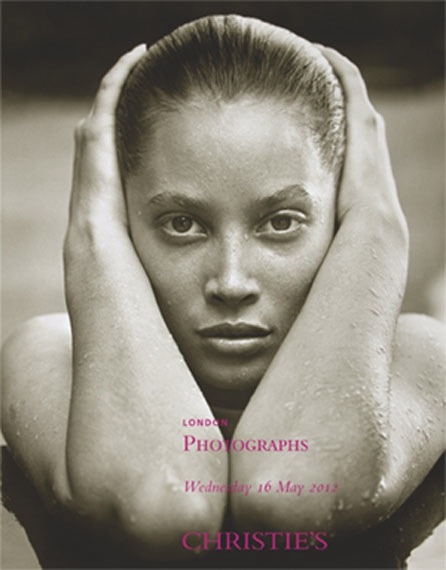 Christie's
Ventes du 16/5/2012 au 16/5/2012 Terminé
Christie's London King Street 8 King Street, St. James's SW1Y 6QT London France
Christie's Photographs sale on Wednesday 16 May features over 100 works with estimates ranging from £3,000 to £120,000.
The sale brings the story of photography closer to the present with some of the most recognisable contemporary practitioners: a diptych by Andreas Gursky, who currently holds the auction record for the medium, entitled Schiesser, Diptych, 1991 (estimate: £80,000–120,000); Hiroshi Sugimoto's Guggenheim Museum, New York, 1997 (estimate: £70,000–90,000) and Helmut Newton's large format Self-Portrait with Wife and Models 'Vogue' Studios, Paris 1980, measuring 139.7 x 144.8 cm (estimate: £70,000–90,000).
This is an opportunity to acquire some of the most important works of the history of photography, with works by 19th century masters, and a strong focus on post-war and fashion photography, led by the work of Irving Penn, Helmut Newton and Peter Beard. The incredible roll call of subjects captured includes Picasso, Greta Garbo, Andy Warhol, Francis Bacon, Marilyn Monroe, Christy Turlington, Naomi Campbell and Barack Obama.

Lot 106
 PETER BEARD (b. 1938) 
Ingrid Lindstrom and Karen Blixen by Thomas Dinesen, 1921 (found 1968), for 'Longing for Darkness', 1975 
gelatin sliver with affixed chromogenic print
18 1/2 x 12 1/2in. (47 x 31.7cm.)
£15,000 - £20,000
Important and rare post-war works include a photograph by Constantin Brancusi from the series Bird in Space, 1923, (estimate: £6,000–8,000), which depicts one of the most expensive sculptures ever sold at auction (Christie's New York, 2005). The sale also features an exceptional group of works by Irving Penn, which span iconic portraits to fashion photography, with a rare to the market, vintage print of Lionel Le Grand for Christian Dior, Kerchief – Glove (Dior) Paris, 1950 (estimate: £15,000–20,000). An outstanding group photographs by Helmut Newton include one of his large format works, On the 10th Floor of the Hilton, Paris 1976 (108.2 x 71.7 cm), which predates any editioning of his work (estimate: £30,000–50,000). Always highly sought after, these photographs come to the market at a time when Newton's major retrospective is being held at the Grand Palais in Paris.
Another stellar example of post-war photography is the gelatin silver triptych by Richard Avedon, Andy Warhol and Members of the Factory, New York City, 1959 (estimate: £25,000–35,000). This piece not only represents the eccentric extravagance of Warhol's studio, but also marks the year in which the artist adopted a multi-panel technique that, in this case, suggests a reading of the group as a frieze of classical figures.
Lot 20
 RICHARD AVEDON (1923-2004)
 Andy Warhol and members of the Factory, New York City, 10-30-59
gelatin sliver triptych, flush mounted on linen
image: each 7.1/2 x 9.5/8in. (19 x 24.4cm.)
overall 29 1/4 x 9 5/8in. (74.3 x 24.4cm.)
£25,000 - £35,000
THE CLASSICS : 
Christie's will also present an array of classic images. Nude Study, circa 1925–28, a rare to the market, superb glass plate negative by Frantisek Drtikol presents collectors with a one-off opportunity (estimate: £6,000–8,000); Large Tusker, circa 110-115 pounder, Near Kattremula…, 1965, by Peter Beard – which characterises the artist's study of African wildlife with vigorous applications of blood (estimate: £20,000–30,000); West Porch, Lichfield, 1858, by Roger Fenton is one of the earliest photographs in this sale, having been printed and published in limited number by Francis Frith shortly after Fenton abandoned photography (estimate: £4,000–6,000); and one of the most important lots of the sale : Guggenheim Museum, New York 1997, a stunning abstraction of 20th century architecture by Hiroshi Sugimoto, from the edition of five(estimate: £70,000–90,000).
Lot 19 
FRANTISEK DRTIKOL (1883-1961) 
Nude study, circa 1925 – 1928
glass-plate negative
91/4 x 11 7/8in. (23.8 x 29.8cm.)
£6,000 - £8,000
CONTEMPORARY :
 The contemporary photographs include Xteriors XIII, 2000-07 by Desirée Dolron (estimate: £40,000–60,000) the second Artist's Proof from an edition of two, Orchid I, 2007, by David Bailey (estimate: £6,000–8,000); and The Birth Of Venus, 2009, by David LaChapelle, in his museum format size (241.3 x 182.9 cm), which is numbered two out of an edition of three (estimate: £30,000–50,000).

FASHION : 
Showcasing iconic images and groundbreaking campaigns, the fashion section features: Fashion Studies, Milan, 1997, one of the three polaroids by Helmut Newton, providing collectors with a particularly rare opportunity to acquire 3 polaroids from the same sitting (estimate: £10,000–15,000); Naomi Campbell, Deauville, Vogue, 1988, by Peter Lindbergh (estimate: £8,000–12,000); Harlequin Dress, 1950, by Irving Penn (estimate: £70,000–90,000); Smoke and Veil, Paris 'Vogue', 1958, by William Klein (estimate: £6,000–8,000).

Lot 45 
Irving Penn (1917-2009)
 Harlequin Dress (Lisa Fonssagrives-Penn), New York, 1950
gelatin silver print
19 1/2 x 18 1/2in. (49.7 x 47cm.)
£70,000- £90,000
FAMOUS FACES :
 Among the stellar roll call of famous faces on offer in this auction outlined on page 1, highlights include: Naomi Campbell, Tatler, Paris, 2005, by David LaChapelle, which is number one of an edition of three. (estimate: £25,000–35,000); Christy Turlington, Hollywood, 1988, by Herb Ritts (estimate: £8,000–12,000); Barack Obama, 2004, by Martin Schoeller (estimate: £6,000–8,000); Francis Bacon in His Studio, 1960, by Cecil Beaton (estimate: £3,000–5,000); and Andy Warhol, Edie Sedgwick and Chuck Wein, 1965, by Burt Glinn (estimate: £3,000–5,000).

Lot 43 HORST P. HORST (1906-1999) Zoli Models, 1985 platinum-palladium print, printed later 16 3/4 x 15 1/2in. (42.5 x 39.2cm) .£8,000 - £12,000