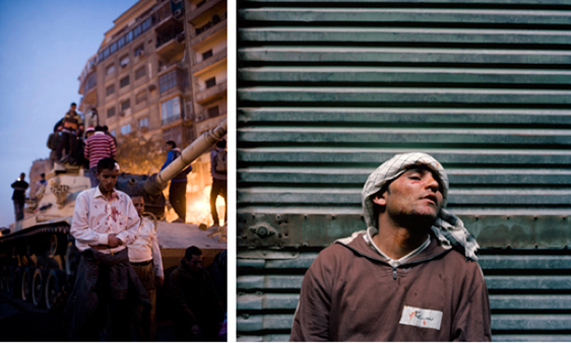 Guy Martin / Ivor Prickett / © Panos Pictures
Expositions du 9/02/2012 au 10/03/2012 Terminé

Foto8 Ltd 1 Honduras Street EC1Y 0TH London Royaume-Uni


One year on from the uprising in Egypt that led to the resignation of Hosni Mubarak, Foto8 presents an exhibition of photography documenting the unrest in Cairo's Tahrir Square during February 2011.


Inspired by the events in Tunisia, the people of Egypt who opposed the 30-year reign of Mubarak took to the streets and demanded a regime change. What started as a peaceful protest quickly grew violent – clashes between pro- and anti-Mubarak protesters led to the death of an estimated 840 people. Yet the protesters' aims were finally realised when Mubarak stepped down on 11 February.

Guy Martin and Ivor Prickett were among the hundreds of photographers and journalists who were documenting the historic events in Tahrir Square. Their work captures not only the chaotic scenes of violence, but the jubilation of victory and the quiet moments of contemplation after the storm.

Egypt's political situation is, one year on, far from certain. And as part of this exhibition we ask renowned journalists and commentators to contribute their opinions on what they feel have been the biggest repercussions after these events in Egypt and around the rest of North Africa and the Middle East. The comments will form a crucial part of the exhibition, bringing to question the future of democracy in Egypt.


Guy Martin and Ivor Prickett are both represented by Panos Pictures.
Guy Martin / Ivor Prickett / © Panos Pictures