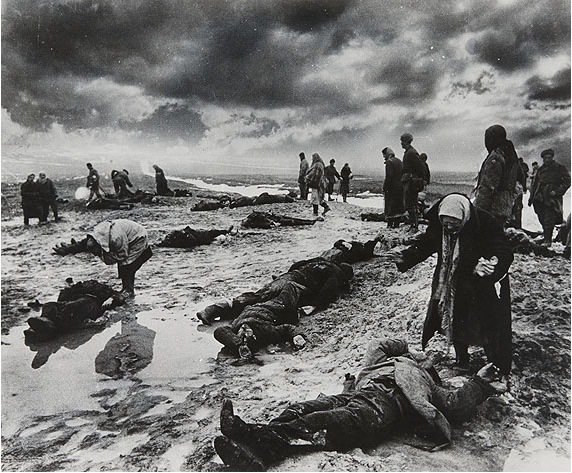 © Dmitry Baltermants, GRIEF, 1942 Vintage gelatin silver print
DIEHL starts its "Flaneur" selection with 42 works of the Soviet photo journalist Dmitry Baltermants. Best known for his pictures of the Soviet battlefield during World War II.

During World War II, Baltermants covered major battles for Izvestia and for the Red Army newspaper Na Razgrom Vraga. He fought and photographed in Ukraine, Poland, and Germany, reaching Berlin in 1945. Many of his most famous images (like Attack, Grief, On the Roads of War) were published only after the war. Nevertheless, Baltermants emerged from the war with the reputation as one of the brilliant young war photographers. He started working for Ogonyok, popular illustrated magazine, and through his work the Baltermants name became quite well known. He traveled across the Soviet Union as well as abroad. He photographed Mao Tse Tung during Khrushchev's visit to China and Fidel Castro when he traveled to Cuba with Brezhnev. During the course of his career, Baltermants photographed every Soviet leader from Stalin to Gorbachev.
Baltermants considered himself an expert in staged photography. His perfect compositions, expert use of color gained him praise from both the authorities and Soviet public. His first personal exhibition abroad was in London in 1964 (the same year he became Ogonyok's picture editor) and in New York in 1965. He served as the president of the photography department at the Society of Friendship with Foreign Nations and represented the Soviet Union at various international photo events. He had a commemorative exhibition at International Center of Photography in New York.