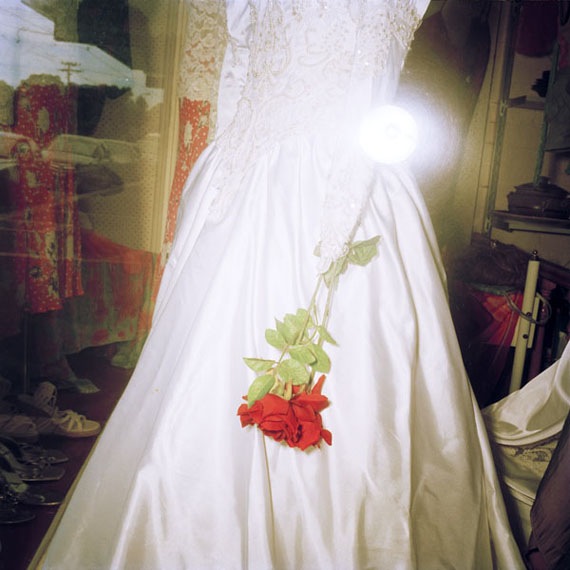 © GLENN SLOGGETT Amputee Op-Shop Bride, 2009
Expositions du 1/2/2012 au 25/2/2012 Terminé
Stills Gallery 36 Gosbell Street, Paddington NSW 2021 Sydney Australie Glenn Sloggett looks at how the grand themes of life, death, success and failure are realised in the ordinary language of the suburbs. His artworks embrace the unlovable and he finds beauty in what many would see as repellant. His images - a travelogue of broken-down and piss-stained suburbia - show an affection and respect for his subjects. There are no people in these photographs and they are almost forensic in their banality, yet there is also a beauty in these subtle colour images, which exposes both the frailty and the persistence of hope.

Throughout his work he taps into the painful clarity of the moment where the lover realises that the beloved just doesn't like them that much. They have absolutely no chance. The photographs are images of diseased flowers, a waiting dog, graffiti, bright plastic flowers with bright plastic brooms, armless mannequins, cars with tarpaulins on them hitched up on blocks and grinning eager looking skeletons in second hand stores. Each image tells us about how the lover sees themselves, at that moment, as somehow discarded and repellent. Sloggett also captures the way the outside world responds to signs of a broken hearted self-pity with a sort of bashful cringe.

Sloggett has exhibited extensively both in Australia and internationally. In 2008, he won the prestigious Josephine Ulrick & Win Schubert Photography Award and was the recipient of the Albury City Regional Art Gallery Artist Residency. Group exhibitions include Art Cologne 2007; The 9th Mois de la Photo in Montreal, 2005; New Australiana, an Australian Centre for Photography touring exhibition, and Photographica Australis at ARCO 2002 in Madrid curated by Alasdair Foster, Director of the Australian Centre for Photography. Photographica Australis was shown at the Singapore Art Museum from August - November 2003, and represented Australia in the 11th Asian Art Biennale, held in Bangladesh in 2004. The ACP also toured a solo exhibition of Slogget's work entitled Cheaper & Deeper from 2002-2007. In 2001, Glenn won the inaugural John and Margaret Baker Memorial Fellowship for an emerging photographer, Albury Regional Art Gallery. His artworks are held in the collections of Art Gallery of NSW, Gold Coast City Art Gallery and Albury Regional Gallery.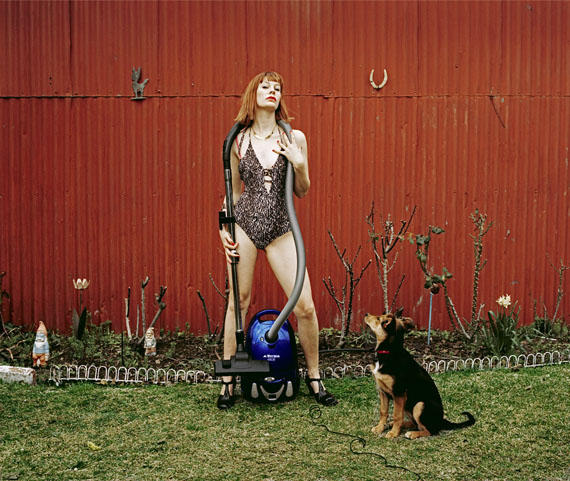 LINSEY GOSPER
Domestic Python, 2011
Linsey Gosper's series of photographic self-portraits, features an array of female personas based on conventional versions of femininity. Using humour and gentle subversion, her works explore alternative views of 'woman', providing a more contradictory, fluid, and liberating understanding of the construct.

The portraits are set in an ordinary backyard, with a green lawn, corrugated iron shed, garden gnomes and roses. It is not the place we'd expect to encounter these transgressive characters. Amongst this domestic setting Gosper's personas act up various roles - femme fatale, virgin, gold-digger. They brandish the tools of domesticity – mops, vacuums, garden hoses, but we can't understand these characters as merely domestic. In Domestic Python for instance, Gosper takes symbolism into her own hands. Instead of a snake, symbol of power and sexuality, she has a vacuum cleaner coiled snake-like around her neck, thus providing the drudgery of housework with an erotic charge and disturbing any easy assumptions.

Photographic self-portraiture has been used by artists such as Cindy Sherman and Claude Cahun as a tool for feminist enquiry and empowerment. In the same vein, Gosper creates and controls the way her 'women' are depicted and consumed. With the shutter release cord clearly visible in the photographs, Gosper wants us to remember she is in control.

Linsey Gosper is a Melbourne based artist and curator working predominately with photography and installation. In broad terms, her practice investigates the construction of identity and of the construction of the image itself. Linsey recently curated Contemporary Landscapes at the Colour Factory Gallery in Fitzroy, where she is currently the gallery manager. She has a Master of Fine Art from the Victorian College of Art, University of Melbourne and has exhibited extensively at artist run, regional and commercial galleries in Australia. Her work is in the University of Newcastle collection and private collections.
Vignette : © GLENN SLOGGETT, Amputee Op-Shop Bride, 2009