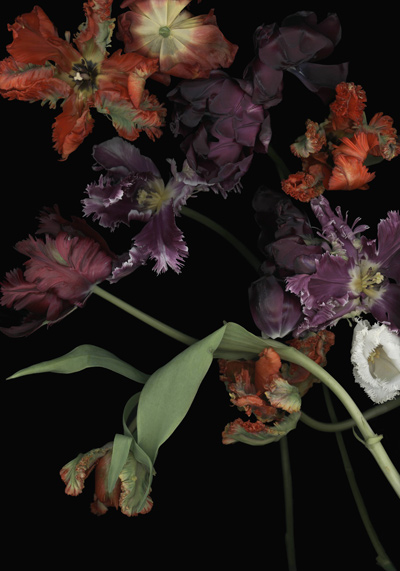 © Luzia Simons, Stockage 113, 2011
Expositions du 4/2/2012 au 17/3/2012 Terminé

Alexander Ochs Private Schillerstraße 15 D-10625 Berlin Allemagne


uzia Simons was born in 1953 in Quixadá, Brazil and lives in Berlin. She first studied history until 1978 and then Fine Arts at the Sorbonne University in Paris from 1984 to 1986.

In Luzia Simons work, the floral still life takes on a multi-layered cultural and socio-political statement. For one, the artist studies the history of the tulip, which became an important symbol of identification in both the Orient and the Occident. Taken from this historical context, the tulip becomes a metaphor for cross-cultural identity, social mobility and globalization for Luzia Simons.

Today many people encounter life similar to how the tulip came to Europe from Asia, changed through cultivation, and then returned in a new form: they travel, change and are rooted in more than one place at the same time. This results in having more than one place to call home and having new structures blending with old ones. A complex, international self-image develops, which gives the concept of 'identity' a whole new meaning. With the 'nomad' tulip, the artist questions the roots of the individual in modern times. What makes us feel at home, what creates an identity?

Her flower photographs are not traditional photographs. Luzia Simons arranges her flowers on her modified scanner, which allows for microscopically exact reproductions of the flowers where they lay directly on the glass. Where there are no points of contact with and a greater distance from the glass, the results remain an abstract blur. The mostly large-format paintings are predominantly characterized by their extraordinary colour and spatial depth.

In addition to these scanograms Luzia Simons also makes large-scale, site-specific installations. Her works can be found worldwide in many private and public collections.'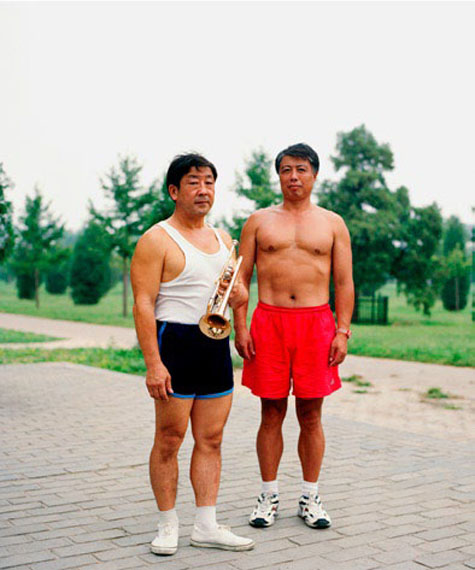 Kexin Zang, Geräteturner Nr. 2, 2006

The Chinese artist, Kexin Zang invites us on a journey to Terra Incognita: where we enter unknown territory, a zone which allows us to be in two different places at the same time - in the east and west – as well as in two time periods: in the present and in the distant past. It is here that we encounter the works of the artist, Kexin Zang, who combines scientific research with sophisticated forms of artistic expression.
In 'Go Weast', we see the portraits of 'The Over-Semi-Hundreds.'

Those over 50-years of age, who meet every morning in Beijing's parks and facilities to do their exercises, are the happiest people in China. Like most of Kexin Zangs works, in 'Locations' image and text are equally important elements of composition. 'Locations' is based on a sentence from the aesthetics of Chinese ink painting, 'The most beautiful landscapes are in your heart.'.


Vignette : © Luzia Simons, Stockage 113, 2011