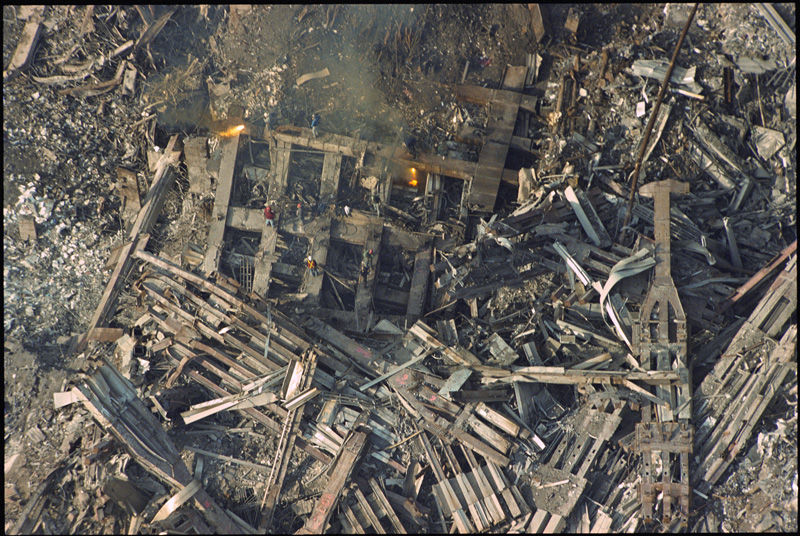 Gregg Brown, [Iron workers cut the remaining structure of the North Tower, 12/16/2001], from Above Ground Zero. © Gregg Brown
Expositions du 9/9/2011 au 8/1/2012 Terminé

ICP (International Center of Photography) 1133 Avenue of the Americas at 43rd Street New York États-Unis


In commemoration of the tenth anniversary of the September 11, 2001 attacks, the International Center of Photography is collaborating with the National September 11 Memorial Museum on Remembering 9/11, a major exhibition of photography and video that addresses the issues of memory and recovery from disaster and explores how New Yorkers and volunteers from across the U.S. responded to this inconceivable tragedy.
«The work in Remembering 9/11 documents a wealth of different experiences and offers various perspectives on the tragedy and its aftermath. It is the first time some of the work will be exhibited and accessible to the public. Only a handful of Gregg Brown's extraordinary aerial views of the WTC site, which were commissioned by government agencies right after the attacks, has been seen by general viewers. And Francesc Torres' installation will be a unique opportunity to see the WTC artifacts that were housed in Hangar 17,» said ICP Curator Carol Squiers, who co-organized the exhibition. «For years, Hangar 17 has been a repository for stories of loss, courage, heroism, and resiliency that have been told through the recovered WTC steel beams and damaged vehicles,» said Joe Daniels, President and CEO, National September 11 Memorial & Museum. «A year from this year's opening of the 9/11 Memorial, the world will be able to experience these historic artifacts in the 9/11 Memorial Museum. Our collaboration with ICP offers a window onto the Museum exhibitions we are planning.»
Focusing on how firefighters, transit workers, police officers, construction workers, artists, photographers, and World Trade Center neighbors worked together in the aftermath of the attacks, the exhibition will include five parts: Memory Remains: 9/11 Artifacts at Hangar 17, a major installation by Frances Torres; photographs from Eugene Richards' Stepping Through the Ashes; a five-channel video installation, cedarliberty, by Elena del Rivero and Leslie McCleave; Above Ground Zero, photographs and proof sheets by Gregg Brown; and excerpts from Here is new york: a democracy of photographs.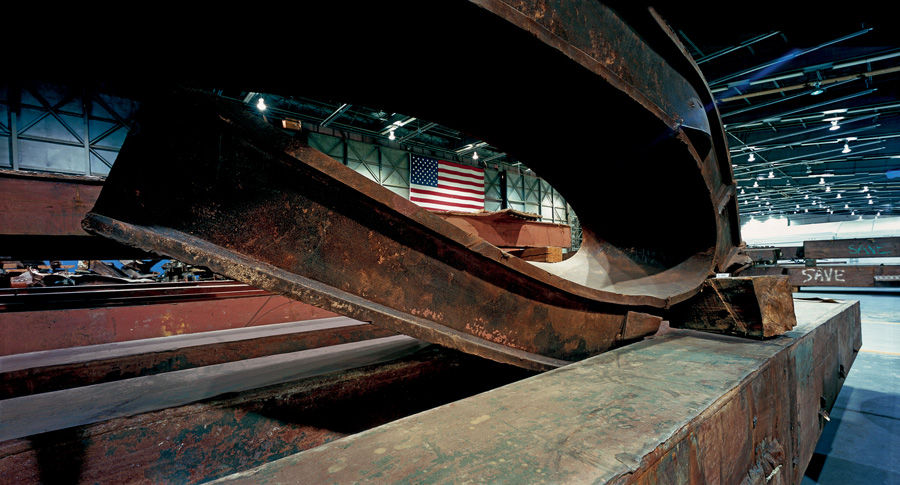 Francesc Torres, Folded Steel Column, 2009. © Francesc Torres
The exhibition is organized by ICP Curator Carol Squiers and ICP Associate Curator Kristen Lubben.
VIgnette : Gregg Brown, [Iron workers cut the remaining structure of the North Tower, 12/16/2001], from Above Ground Zero. © Gregg Brown