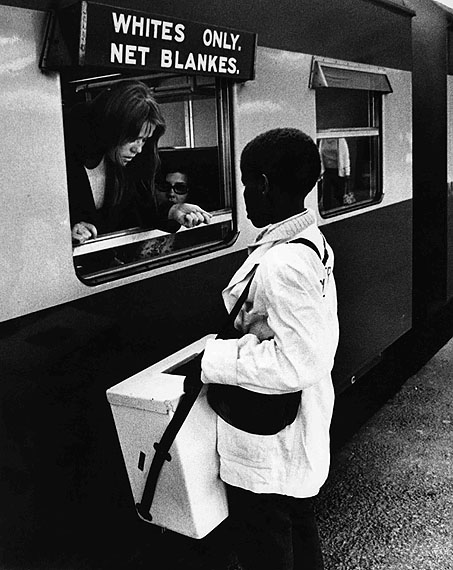 Abisag Tüllmann: Whites only, Cape Town, Südafrika, 1971; © bpk / Abisag Tüllmann, Berlin.
Expositions du 17/6/2011 au 18/9/2011 Terminé
Kunstbibliothek Sammlung Fotografie - Museum für Fotografie Kulturforum Potsdamer Platz Matthäikirchplatz 6, 10785 Berlin Allemagne Abisag Tüllmann is one of the most important German photographers of the second half of the twentieth century. Since 1958, her photographs appeared in all major newspapers and periodicals and were also displayed in books and exhibitions. As a photojournalist and theatre photographer she maintained a close focus on the political, social and aesthetic-artistic changes of her times. Topics such as social marginalisation, homelessness and the vulnerability of human existence always remained at the centre of her strong commitment as an individual and photographer.
By way of a brilliant début, Abisag Tüllmann sketched an intensive portrayal of her adopted home city of Frankfurt in the photo book Großstadt published in 1963. In the following years she created an oeuvre of photographic documentation of the protagonists and events of the protests of 1968, of the philosophers of the Frankfurt School, and of the artistic and theatre world both at home and abroad. These activities, as well as her portrayals of politicians and economic leaders, established Abisag Tüllmann's role as a chronicler of contemporary history. This is particularly emphasised by her coverage of foreign events such as the post-colonial developments in Algeria, Rhodesia / Zimbabwe, South Africa and of the conflict between Israel and Palestine.
Her second key activity was in the field of theatre photography. She was commissioned by distinguished theatre companies both from drama and musical theatre at home and abroad. As early as at the beginning of the 1960s, first photographs recorded the activities at the student theatre company neue bühne and at the theatre festival Experimenta in Frankfurt. At the heart of this lifelong occupation was the artistic collaboration with Claus Peymann, whose productions Tüllmann was to photographically accompany for almost 30 years.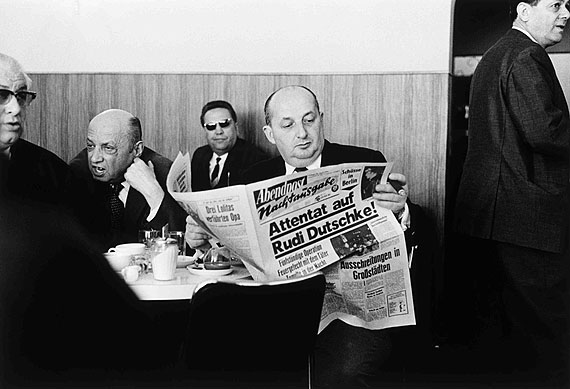 Abisag Tüllmann: At the Terrace Café, Frankfurt / M., 1968; © bpk / Abisag Tüllmann, Berlin
Vignettte : Abisag Tüllmann: Whites only, Cape Town, Südafrika, 1971; © bpk / Abisag Tüllmann, Berlin.