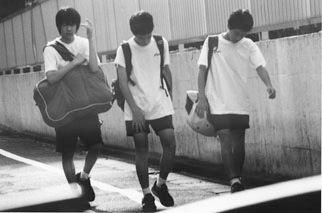 © Nobuyoshi Araki
Expositions du 22/7/2011 au 25/9/2011 Terminé
Rat Hole Gallery B1 5-5-3 Minami Aoyama Tokyo Minato-Ku Japon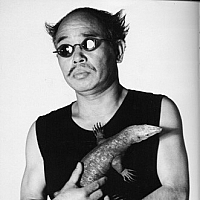 Rat Hole Gallery is pleased to present an exhibition of Nobuyoshi Araki's recent work entitled Higan on view from July 22 until September 25. The exhibition marks Araki's sixth solo exhibition at Rat Hole Gallery and features over 450 works, including black and white photographs of the city streets of Tokyo seen from a taxi window, color photographs taken just after the Great East Japan Earthquake, and the artist's latest work "Rakuen", a series of photographs featuring exotic flowers and monster figurines.
The over 400 black and white cabinet size prints to be displayed on the walls of the gallery in a grid format, feature images by Araki taken from the passenger seat of a taxi while riding around Tokyo during the summer months of 2010. This period, which saw record-breaking high temperatures, coincided with when the artist was undergoing intensive treatment for prostrate cancer. Throughout his career, Araki has continued to take photographs from car windows, known as his "Kurumado" series. What is unique to this body of work however, is that the photographs are taken with a 200mm telescopic lens, and Araki captures people amidst an urban landscape with a sense of loss, as if he is looking at his subjects from higan (meaning "the other shore," or, in Buddhism, nirvana) or even as if he is seeing this "other world."
The exhibition also features approximately 40 works taken by the artist after the earthquake and tsunami disaster which struck Japan on March 11, as well as 10 large-scale prints from his "Rakuen" ("Paradise") series. Both bodies of work reflect Araki's emotional outlook in an era of post-disaster Japan, that "This mortal world itself is higan. That is to say that the entirety of photography is higan." Expressed in "Rakuen", which features flowers of vivid and lustrous colors along with monster figurines and dolls that live on Araki's balcony or in his home, is the artist's belief that "Even in higan, a paradise exists."
All of the photographs in the exhibition have been taken after the death of Araki's beloved pet cat Chiro who passed away last spring. Embedded in each and every image is Araki's personal sentiment towards "a time of loss," and with a raw consciousness of "life within death" as well as a sense of nostalgia, Araki creates a sentimental picture of how the world of higan appears through his camera lens.