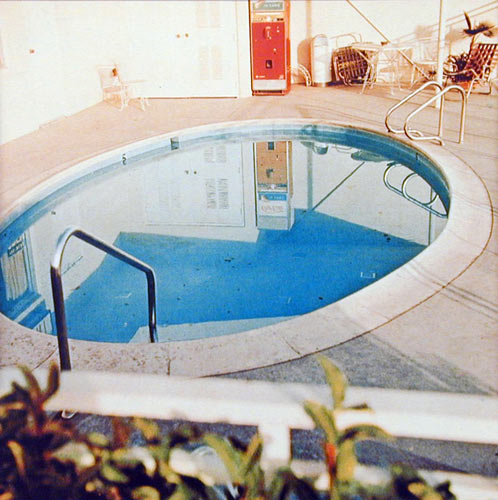 Expositions du 11/11/2005 au 23/12/2005 Terminé

Yancey Richardson Gallery 535 West 22nd Street 10011 New York États-Unis


FOR IMMEDIATE RELEASE Extended Through September 17, 2005 On View: Photographing the Museum The Yancey Richardson Gallery is pleased to announce the extension of our current exhibition On View: Photographing the Museum, a group exhibition of photographs and video that explores the ways in which artists have engaged the museum as a subject, an inspiration and a studio. The exhibition will run through September 17th and includes the work of Thomas Struth, Hiroshi Sugimoto, Candida Hˆfer, Diane Arbus, Richard Misrach, Tim Davis, Terry Evans, Jodie Vicenta Jacobson, Ken Josephson, Lisa Kereszi, Chad Kleitsch, Karen Knorr, David Hilliard, Andrew Moore, Abelardo Morrell, Matthew Pillsbury, Lynn Saville, Elliott Erwitt, and Doug Hall. September 22 – November 5, 2005 Ed Ruscha Pools, Parking Lots, Gas Stations and Sunset Strip This exhibition will feature Ruscha's four most seminal and influential series of photographs, made between 1962 and 1968, and originally released only in the form of inexpensively-produced conceptually-based artist's books.Describing himself as a "reporter" of "facts", Ruscha photographed in a straightforward uninflected style, emphasizing the emptiness and banality of his subjects: gas stations along Route 66, uninhabited pools, urban parking lots seen from a helicopter, and the facades of the Sunset Strip taken with a camera attached to his car.In 1989 Ruscha began to revisit his earlier work, producing several limited edition portfolios of his photographs, each of which differs from the book that preceded it.Presented in their entirety, the four portfolios comprise fifty-five photographs, which reflect Ruscha's interest in serial imagery, in topography and mapping, in car culture and in the signature Los Angeles landscapes of pools and urban sprawl. Considered one of the most significant contemporary American artists, Ruscha was the subject of recent solo exhibitions at the Whitney Museum of American Art, the Royal Academy London, the National Gallery of Berlin and the Museum of Contemporary Art, Los Angeles. Opening in 2006, the Jeu de Paume in Paris will present the exhibition Ed Ruscha: Photographer. Ruscha currently represents the United States in the 2005 Venice Biennale. Project Gallery: Eduardo del Valle and Mirta GÛmez The Cuban-born Miami-based team of del Valle and GÛmez has worked collaboratively for thirty years, receiving international acclaim for their photographs of subjects in a state of flux.Our exhibition is drawn from an extensive series of photographs on the continuity of form of the vernacular single room dwellings in the Yucatan Peninsula, Mexico.With humor and affection, GÛmez and del Valle playfully capture the persistence of an ideal, that of home, and its various permutations in a rapidly changing world.This simple ancient structure reappears in forms as diverse as cemetery statuary, a comical topiary, a child's construction of sticks, a downed kite and a painted Christmas ball. Del Valle and GÛmez were recently featured in the inaugural installation of the Museum of Modern Art Photography collection.They are recipients of Guggenheim and NEA Fellowships and their work is held in the collections of The Museum of Modern Art, the San Francisco Museum of Modern Art and the Brooklyn Museum.Their monograph From the Ground Up was published by Nazraeli Press in 2004. November 11 – December 23, 2005 David Hilliard In his third exhibition with the gallery, Hilliard will present a new body of work, which continues his constructed photographic narratives.In this work Hilliard explores the passages of life from infancy to youth, through adolescence to old age and finally, to death. Striking a balance between autobiography and fiction, Hilliard reveals the emotional, psychological and sexual dynamics of relationships and explores notions of power, fantasy and longing. Hilliard received an MFA from Yale and is the recipient of numerous awards including a John Simon Guggenheim Fellowship and a Fulbright Grant.His work is represented in major public collections including the Whitney Museum of American Art, the Los Angeles County Museum of Art and the Fogg Museum. Hilliard's first monograph was published in 2005 by Aperture. Project Gallery Mary Ellen Mark - Falkland Road Mary Ellen Mark's intimate and shocking photographs of the brothels of Falkland Road, Bombay, form a fascinating portrait of an exotic and hermetic world.Photographed in 1978 and 1979, this extraordinary project was previously exhibited only once in the United States. Mark's painterly tableaux of prostitutes, madams and clients are remarkable for their intimacy and emotional power and for the visceral brilliance of their jewel-like color. Originally published as a monograph in 1981 and highly sought after as a collector's item, Falkland Road is being re-released in a new edition by Steidl Books.This exhibition is presented in conjunction with a simultaneous exhibition at the Marianne Boesky Gallery. One of America's foremost documentary photographers, Mary Ellen Mark has published fourteen books.She is the recipient of many awards including a John Simon Guggenheim Fellowship, three fellowships from the National Endowment for the Arts, a Walter Annenberg Grant and the Hasselblad Foundation Grant among others.Photographs by Mark have been exhibited in museums internationally and her work is held in the collections of over forty major museums worldwide including the J. Paul Getty Museum, the Whitney Museum of American Art, the Tokyo Metropolitan Museum of Photography, the Ludwig Museum, the San Francisco Museum of Modern Art and the National Gallery of Australia.