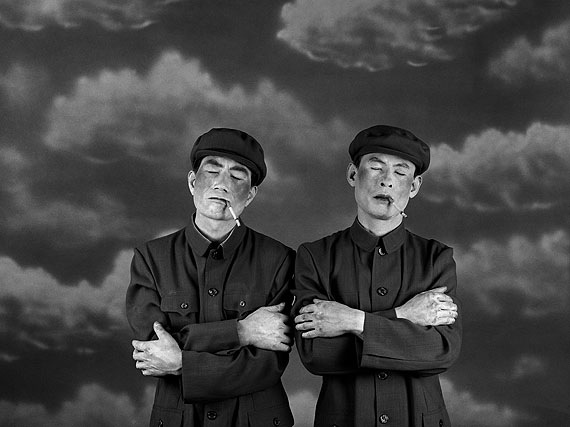 Expositions du 14/05/2011 au 26/06/2011 Terminé
m97 Gallery No. 97 Moganshan Road 2F 200060 Shanghai Chine m97 Gallery Shanghai is pleased to present WANG NINGDE's completed photography series Some Days. The exhibition begins on May 14, 2011, and m97 Gallery will hold an opening reception for the artist on Saturday May 14 from 4:00 to 6:00pm in the gallery. Signed copies of the new 96-page Some Days hardcover monograph will be available in the gallery.
Created over the course of the past ten years from 1999 through 2009, Wang Ningde's Some Days series is some of the most iconic bodies of work to come out of the Chinese contemporary photography scene in the last decade. With the atmosphere of a silent film, Wang Ningde's anachronistic characters - from school children to families to Communist soldiers – exist in a staged setting each with their eyes closed in a seemingly timeless, placeless limbo, resembling something similar to a recurring daydream. In creating these photographs, Wang Ningde is not recreating the past, but examining the process of interpreting memory through the photographic image. Wang Ningde's Some Days series has been exhibited at and collected by numerous public and private institutions worldwide.
Originally working briefly as a news photographer in his native Guangdong, Wang Ningde's photographic works are a departure from the underpinnings of documentary news photography. Photographing his Some Days subjects in Guangzhou, Beijing, Inner Mongonlia and Shenyang, these black and white photographs more resemble rescued fragments of layered childhood memories, fear, and reverie, reconstructed in the serene trappings of an anonymous historical past.
As an artist, Wang Ningde attempts to decipher and answer the unanswerable, peeling back the layers of memory and social façade, to probe and expose the more complicated and perhaps disconcerting elements of a personal past or collective pysche. The characters and caricatures photographed in Some Days can at once be taken both lightly and also with great gravity and seeming consequence. Stark shadowy figures, eyes shut, dreaming or in despair, vulnerable, disturbed, it seems these characters are from an unsettled history, or from an uncertain future. Are these characters feeling love or lust, friendship or fearfulness, hostility or the comforts of family and home?
Born in 1972 in Guangdong, China, Wang Ningde studied photography at the Lu Xun Academy of Fine Arts in Shenyang and now lives and works in Beijing. This exhibition marks the first time the whole "Some Days" series of works have been shown together in China.
Vignette © Wang Ningde. Courtesy of m97 Gallery.