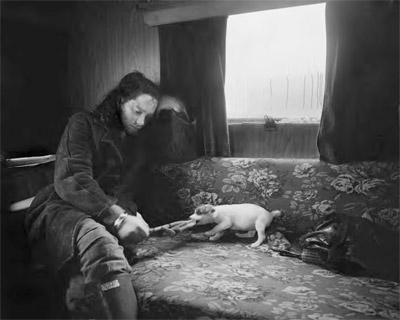 © Chris Killip
Expositions du 1/04/2011 au 15/05/2011 Terminé
Museum für Photographie Braunschweig Helmstedter Straße 1 38102 Braunschweig Allemagne The Museum of Photographie in Braunschweig is the first to present Chris Killip's documentary series Seacoal as a monographic show. This exhibition follows the concept of the institute to discuss a documentary photography classic each year.
Between 1983 and 1984, Chris Killip spent 14 months in a caravan at Lynemouth, at North Eastern Cast of England. The inhabitants of a camp collected seacoal at the beach to sell it illegally. They were suspicious first but the photographer managed to gain their trust and portrayed their archaic work and lives in shabby camper vans. In his photos the persons and families of the Coal Camp turn into familiar characters - an aspect which links this kind of documentary work to Walker Evans Let Us Now Praise Famous Men series of 1936.
Only 17 photographs of this extensive work have been published so far, some were exhibited in Another Country in 1985 at Serpentine Gallery in London together with fellow artist Graham Smith. Another Country was an important statement within the critical view on the Thatcher era, one last highlight in the tradition of black&white photography in Britain. At the same time younger artists like Martin Parr, Paul Graham or later Nick Waplington were using colour films. Furthermore other photographs got published in Killips famous In Flagrante. Some turned into Icons of 1980s photography which pursued a humanistic tradition in radical as well as elegiac pictures.
The exhibition in Braunschweig will be the only venue in Germany. On this occasion a photo book is published at Steidl Verlag, Göttingen. Afterwards the show travels to Scotland, France and Switzerland.
Chris Killip (born 1946) is one of the most important British photographers working documentary-wise. In his long-term projects in the Northern part of England he mainly deals with everyday life of the British working class. He was born on the Isle of Man where he realised an early series of portraits of residents of the island. Killip was one of the founders and curator of Side Gallery in Newcastle in 1977. He received the Henri-Cartier-Bresson-Prize in 1989. Since 1991 he is teaching Visual and Environmental Studies at Harvard University in Cambridge, Massachusetts.