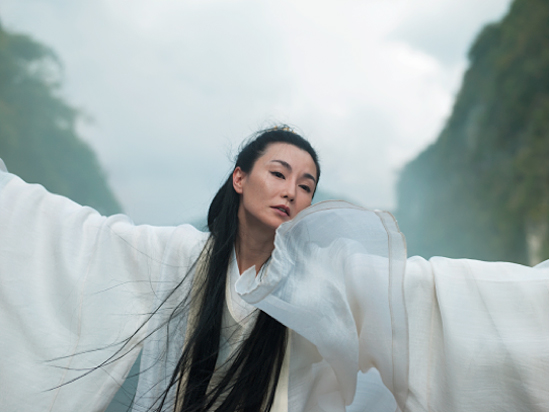 Isaac Julien, "Maiden of Silence (Ten Thousand Waves)," 2010. Endura Ultra photograph, 180 x 240 cm. Courtesy of the artist and Victoria Miro Gallery, London.
Expositions du 29/04/2011 au 17/07/2011 Terminé
Atelier Hermès Séoul 3rd Floor, Maison Hermès Dosan Park 630-26 Shinsa-dong, Gangnam-gu Séoul Corée du Sud With the support of Fondation d'entreprise Hermès, Atelier Hermès (3rd Floor, Maison Hermès Dosan Park) presents Isaac Julien's solo exhibition, Ten Thousand Waves, from April 29th to July 17th.
Ten Thousand Waves, the first exhibition of Atelier Hermès' 2011 programme, is also Isaac Julien's first solo exhibition in Korea. Julien, a world-renowned British artist, has mainly worked in film and video, and has already opened up a new dimension in video installation. Some of his work has been seen in Korea in recent years: Baltimore at the Busan Biennale 2004 and Western Union: Small Boats at the Gwangju Biennale 2008.
Julien's new 3-channel video installation Ten Thousand Waves is based on the 55-minute film of the same title that the artist worked on for four years. While it was presented as a 9-channel video installation at its world premiere at the Sydney Biennale 2010 as well as at exhibitions in Shanghai, Miami, and London, for this occasion the work has been specially rearranged as a three-screen version, to accommodate the specific space of Atelier Hermès. Mostly shot in China, Ten Thousand Waves is an artist's film that features well-known actresses such as Maggie Cheung and Zhao Tao, the impressive heroine in Jia Zhangke's 24 City. The young video artist Yang Fudong, the poet Wang Ping, and the venerable Chinese calligrapher Gong Fagen also appear on screen. In particular, Wang traveled between London and China, establishing a dialogue with Julien from the preparatory stage and created poems that are featured as voice-overs in the film.
The brief storyline of Ten Thousand Waves has three layers. The first is a Chinese legend about the goddess Mazu (1) (played by Maggie Cheung) who has a special power to guide shipwrecked sailors safely to shore. Here Julien transposes the goddess into contemporary China, where Mazu bends space and time, flying between the buzzing rush hour of Shanghai and a landscape with a calm bamboo forest and stony mountains. The second layer concerns an accident that happened recently to a group of 23 Chinese illegal immigrant workers who were gathering cockles at the seashore in England in the spring of 2005. Unaware of the seasonal high tide, they were suddenly swept away to their deaths; even their guardian Mazu was unable to save them. The third layer is based on the specific situation of early twentieth-century Shanghai, when the city was dominated by Western powers. During this time, the 1930s, Shanghai flourished as a center of the film industry. The Goddess (1934), which was produced during this period, portrays the tragic life of a woman who had no choice but to prostitute herself in order to make a living to support her children. Julien remakes the film (in which Zhao Tao plays its heroine) to evoke the atmosphere of Shanghai in the 1930s. As these three layers interweave, Ten Thousand Waves crosses the boundaries of past and present, fiction and reality, and feature film and documentary.
Scrupulously, like a surgeon wielding a scalpel, Julien dissects the film's sequences, scenes, and shots to synthesize them as a contemporary art installation of great complexity. The background sound, meticulously inserted not only as the main narration but also as additional explanation or monologue, enriches the enthralling video installation. The narrative structure intermingling Chinese culture and history as well as modern catastrophes is in keeping with Isaac's life-long subject matter. Immigrant workers rooted in post-colonialism and economic globalization were featured in his earlier work Western Union. Deliberately connecting aesthetic, social, and psychological dimensions, Julien's video installation invites the audience to experience a corporeal perception similar to floating. As viewers drift through the video projection space they confront the grave question of Western-centric cultural globalization.
In addition to the video installation work this exhibition includes four large-format photographic works derived from the film: Hotel, Maiden of Silence, Red Chamber Room, and Mazu Turning.