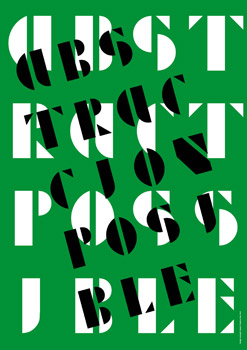 Expositions du 24/2/2011 au 31/7/2011 Terminé

Museo Tamayo Renewed Paseo de la Reforma y Gandhi s/n Bosque de Chapultepec 11580 México Mexique


This spring, Museo Tamayo opens four new exhibitions belonging to three major curatorial series, giving continuity to its 2010-2012 program.
The second iteration of the ambitious multi-venue project Abstract Possible: The Tamayo Take, conceived by Stockholm-based curator Maria Lind, is presented as part of the series Minor Histories Larger Worlds, which, from the perspective of contemporary art, gathers and revaluates moments, ideas, characters and works from the past that have been placed at the margin or left outside of the official narratives of History. Within this context, the group show Abstract Possible reconsiders certain crucial aspects of the phenomena of abstraction as manifested in contemporary art. The works in Abstract Possible explore and complicate three main strands of abstraction: formal abstraction, economic abstraction and withdrawal.
Participating artists: Doug Ashford, Claire Barclay, José León Cerrillo, Matias Faldbakken, Claudia Fernández, Goldin+Senneby, Liam Gillick, Wade Guyton, Gunilla Klingberg, David Maljkovi?, Mai-Thu Perret, Seth Price, Walid Raad, Emily Roysdon, Salón, Bojan Šar?evi?, Ultra-red and Anton Vidokle.
As part of Activating the Collection series, Uruguayan artist Alejandro Cesarco and Museo Tamayo curator Juan Carlos Pereda, studied part of an archive of photographs taken by the museum's founder, artist Rufino Tamayo. As a result, the exhibition One without the Other. Travel Photography and Films of Rufino Tamayo / A Portrait of his Curator brings together 320 photographs in four different slide shows and nineteen Super 8 films transferred to 16 mm that bear witness of the trips that Rufino and Olga Tamayo undertook between 1950 and 1980. By confronting this visual material that had been developed but never made public to a series of writings on the artist's paintings, the show thus presents two independent narratives—that of the painter's traveling eye parallel to his canvas, and that of the curator who dedicates a life to a single artist—which crisscross and nourish one another.
As part of the Special Projects series, Monika Sosnowska presents The Fire Escape, curated by Magnolia de la Garza. This large scale sculpture responds to an invitation by Museo Tamayo to create a temporary piece for its central courtyard. Sosnowska's intervention is inspired by the fire escape stairways of New York City buildings, which she striped from their utilitarian sense, turning them into dysfunctional elements that prompt the question of at what point does architecture transform into sculpture. To produce this piece, the artist collaborated with a local workshop in order to achieve the plasticity and stability of the sculpture. During the process, a stairway was built respecting the original material, structure and scale, but its structure was molded into an impossible situation.
In addition Roman Ondák presents The Exhibition Vanished without a Trace, a solo show curated by Magalí Arriola, which consists of a series of performances that will take place at different times and spaces of Museo Tamayo. The works in the exhibition unveil the processes of production and consumption of the artwork and its symbolic value by dealing with topics such as the institution's boundaries, the visitors' expectations and their involvement in the museum's structure by means of their participation in the work's creative process. By orchestrating a series of short-lived situations in which daily routines dissolve within the institution's everyday life, the show seeks to involve spectators in such a way that their experience of the works brings into play the margins and gaps of the institutional space.
Acknowledgments
Museo Tamayo thanks its corporate sponsors, Fundación Colección Jumex and Grupo Habita. The exhibition Abstract Possible: The Tamayo Take received additional support from IASPIS, Sweden, OCA, Norway, The US Embassy and the Embassy of Sweden.

One without the Other.
Travel Photography and Films of Rufino Tamayo /
A Portrait of his Curator
24 February–5 June 2011
Abstract Possible: The Tamayo Take
26 March–7 August 2011
Monika Sosnowska | The Fire Escape
9 April–7 August 2011
Roman Ondák | The Exhibition Vanished
without a Trace
9 April–31 July 2011

Réagissez à cet article