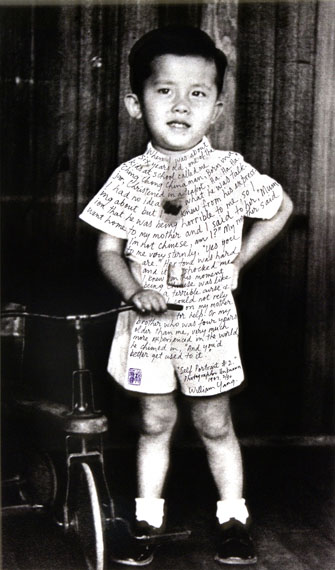 Self Portrait #2, 2007
Expositions du 2/2/2011 au 26/2/2011 Terminé
Stills Gallery 36 Gosbell Street, Paddington NSW 2021 Sydney Australie William Yang is one of Australia's greatest storytellers. The fact that his stories are image based makes them all the more powerful and unique. He is a fine and prolific photographer as well as a renowned theatre performer. His very personal stories describe the experience of being Chinese in an Australia that was not always hospitable to people of different appearances or of a different sexual persuasion. He says his mother wanted desperately to fit in, wanting her children to be more Australian than Australians. As a result Yang claimed his Chinese heritage and celebrated Sydney's gay culture of which he was part.
This exhibition will present many of Yang's rich and celebratory images of the gay community in Australia's most international city from the seventies to the present. They reveal a world of personal and sexual expression. Many are black and white documentary images of cultural events such as Mardi Gras and the Sleaze Ball. Others are colour portraits of men Yang has photographed in a mutually enjoyed performance for his lens. "Photographing attractive men," he says, "is one of the guilty pleasures of my old age, though they generally only like me for my camera."
Alter Ego, Bondi, 2000

Yang is also a fine landscape photographer, something less known than his association with portraiture and documentation of people and their activities. Yang won second prize in the recent Plein Air Parliamentary Prize with an exquisite colour landscape of the burnt country in the Blue Mountains. He has always been interested in a sense of place and the beauty of the natural world.
A centrepiece to the exhibition will be a new series of self portraits covering the span of Yang's life. Shown in a smaller selection at GOMA Brisbane as part of The China Project these delightful images tell us more than we already know about the nature of Yang's bold journey embracing his identity as an Australian citizen and a contemplation of life's milestones. All these works have a written commentary, which has become a hallmark of Yang's later works. The tone is always gently wry with a delightful mix of humour and seriousness.
The title is taken from the saying "Something old, something new, something borrowed, something blue" which refers to the bride's accoutrements. It refers to the custom of wearing a particular mix of things for good luck. When showing work, Yang tends to draw on his large collection of images, so that photos range over long periods of time to illustrate life's themes.
Yang is a delicate and unexpected presenter, offering others a reminder that life is for living in whatever way you choose as long as you accept and honour yourself.