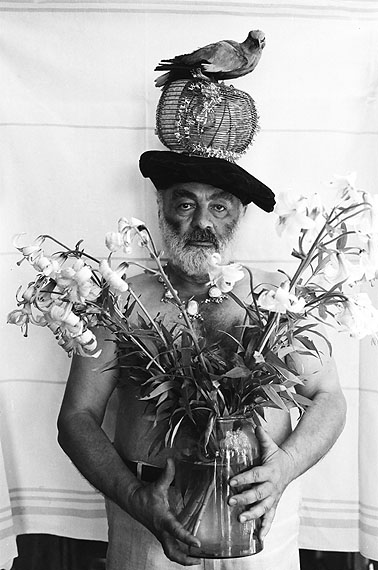 Yuri Mechitov
Expositions du 16/2/2011 au 24/3/2011 Terminé
Pobeda Gallery Red October Chocolate factory - Bolotnaya naberezhnaya 3 b. 4 119072 Moscow Russie
"Face to Face" — the first exhibition of Georgian photography ever to take place in Moscow. It includes works of 6 authors: Guia Chkhatarashvili, Beso Uznadze, David Meskhi, Guram Tsibakhashvili, Irina Abzhandadze and Yuri Mechitov.

Curator of the project Nestan Nizharadze was born and raised in Tbilisi. Educated as a journalist, Nestan curated numerous projects (such as Michael Kenna's exhibitions in Tbilisi, georgian photography retrospective in Kiev, contemporary Georgian photography exhibition in France), founded Tbilisi Photography House. She is the editor-in-chief and the publisher of "PHOTO" magazine.

More than 60 works of the photographers of different generations and schools will recreate the many-sided face of the so-called "New Wave" in modern Georgian photography. Judging by the amount and artistic quality of the photographic output, one can say without exaggeration that the last 15 years are among the most significant and interesting periods in the history of georgian photography.
Black and white documentary series "Ushguli" (1990-2000), made by Guia Chkhatarashvili in the highlands of Svaneti, conceptual and nostalgic "Notes" (1997-2001) by Guram Tsibakhashvili, portraits of Sergei Parajanov, a famous movie director, by Yuri Mechitov(1978-1990), documentary and conceptual "Victim" series (2000) by Irina Abzhandadze, and two series "Don't Wake Me"(2010) and "When Earth Seems to be Light" (2006-2009) by young authors Beso Uznadze and David Meskhi — all these works compose the "Face to Face" project.

"The exhibition will allow the Moscow public to face the contemporary Georgian photography and all the things that couldn't leave Georgian photographers indifferent in various times and spaces... And these things are the life itself. Life, accompanied by pain and joy, meetings and partings, changes, loneliness and silence. And scream, which is inevitable sometimes. Thinking of the words of Joseph Brodsky — look around once again, whilst it does not become a photo… one can say that the exhibition of Georgian photographers is a possibility to look at what has already become a photo."
(project curator — Nestan Nizharadze)