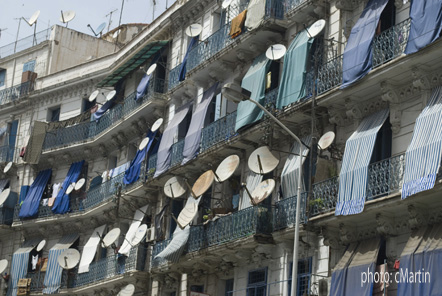 © Charles Martin
Expositions du 01/04/2011 au 29/04/2011 Terminé
Bronx Community College New York États-Unis
African Transitions: Reflections and Change 1980-2010, visually explores through photography diverse images and perspectives of African countries over the last 30 years. The work in this exhibition reflects the aesthetic and creative visions and observations of seasoned documentary and commercial photographers who have traversed Africa since 1980. During this same period Africa experienced significant social, political, health, and military events and changes that continue to impact the world well into the 21st century.
A portrait emerges from the exhibit of a new Africa wrestling with substantial structural change and challenge while attempting to maintain a footing in the evolving socio-political global order. The works and exhibit represent this dynamic period encompassing Africa's last 30 years of historical occurrence.
The photographers are Eugene Adams, Khuumba Ama, Larry Brown, Sam Elijah, Jean-Pierre Hautecoeur, Charles Martin and Jazz Rainey.
The exhibition is coordinated by Eugene Adams, Director of Bronx Community College Collaborative Education Programs and Dr. Charles Martin, Associate Professor (and former Chair), Comparative Literature, Queens College.