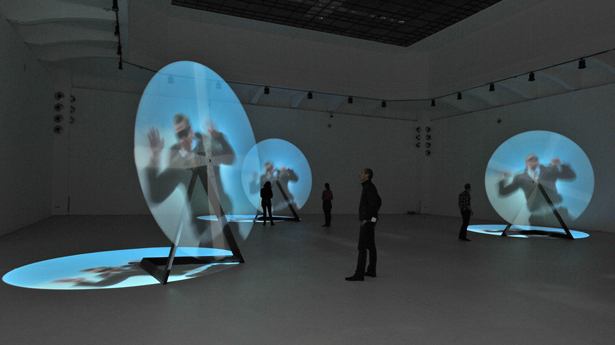 Exhibition view, MAK 2010. © Wolfgang Woessner / MAK.
Expositions du 1/4/2011 au 1/5/2011 Terminé
MAK Exhibition Hall Weiskirchnerstraße 3 1010 Vienna Autriche A spectacular installation dealing with the theme of flying and falling between success and failure, at the very edge of that which is possible, stands at the center of the exhibition Eva Schlegel. "In Between" at the MAK Exhibition Hall. This installation represents an attempt to capture visually that which is fleeting, but will nonetheless be in the truest sense palpable and audible, confronting the viewer directly with projected images, image disturbances and wind sounds, and taking up the entire airspace (of the MAK). This personal showing devoted to the multifaceted artist, who has attracted much notice in Austria and abroad, brings together new works created specifically for the MAK with a retrospective of earlier works.
Schlegel has been fascinated both by the act of overcoming gravity and by the quality of detachedness as a metaphor for the risk of unsecured falling or even crashing. This fascination holds regardless of whether they are images of clouds, films of ephemeral forms which move within weightlessness and, even so, seem threatening as they pass above us, or photographic documentary material of floating human beings. The work "In Between" consists of three airplane propellers with a diameter of 3.8 meters each; the propellers are somewhat removed from the floor and thus appear to float. These serve as backdrops for the projection of Schlegel's films, moving images of human beings flying and free-falling, weather balloons floating upwards, and related physical phenomena such as Newton's falling apple or the flight of birds.
Also on display will be an amorphous sculpture consisting of giant white weather balloons. The balloons, with a diameter of two meters each, will float close together up at the ceiling of the room. Visitors will find themselves situated directly beneath the installation, with which they will be interactively connected. Thus, for a brief time, they themselves will become participants in the artwork: a camera will film entering visitors, whose images will first be projected onto the floor before floating about the room and eventually vanishing.
Furthermore, a series of blurred portraits will address images of women in our media-dominated world. An additional, separate exhibition room will be dedicated to the artist's works using lead, demonstrating Schlegel's extensive involvement with this idiosyncratic metal. Finally, a cube made of lead will be put up to serve as a shroud for the pornographic Lacquer Series. Dealing with physical materials and their opposite, the ephemeral, represents an important point of departure for Schlegel's oeuvre. Her experimentation with contradictory states (presence/absence, focus/blurriness, exterior/interior, stasis/motion) serves to make the observer aware of the fact that he or she is engaged in observation. Even back in the mid-1980s, the artist attracted attention with her perceptive irritations in the form of numerous interior designs and "construction site art" works using materials such as glass and mirrors. The "false trails" of the only ostensibly legible, as well as the blurred portraits' refusal to convey personalities via specific superficial traits, show with just what intensity Schlegel explores the frontiers of portrayal and communication. Ever since the 1990s, the artist has been producing photo series with clouds. Recently, she began transferring cloud-images onto lead plates via silkscreen. This heavy medium forms a contrast with the ephemerality of clouds and thus provides a counterweight to weightlessness.
Eva Schlegel, who was born in Hall in Tirol in 1960, lives and works in Vienna. From 1979 to 1985, she studied at the Academy of Applied Arts Vienna (today's University of Applied Arts) with Oswald Oberhuber. Schlegel went on to hold a professorship for art and photography at the Academy of Fine Arts Vienna from 1997 to 2006, and she is now to serve as commissioner of the Austrian Pavilion at the 54th Venice Biennale in 2011.