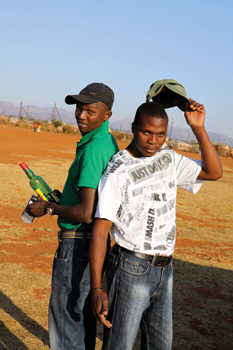 Moshekwa Langa, "Nicho and John," 2010. Photograph.
Moshekwa Langa's art is amongst the most difficult to pigeonhole. "People can't reconcile my idiosyncratic views with their own desire to classify me", he says, but his work, meandering along contradictory trajectories, often tempts the viewer to arrive at false conclusions. In many ways, Langa's work mirrors the artist's life and his activities as they oscillate between Johannesburg and Europe, between nostalgia for his rural South African home and his life as an expatriate in Europe.
During Langa's early successful forays into exhibition-making, foreigners often confronted him with rather conventional questions—questions that appeared to be prompted by clichéd or romanticized assumptions about the artist's background as a black South African without formal artistic training. But then Langa pursued a two-year residency at the famous Rijksakademie For Visual Arts in Amsterdam. By now, he has exhibited his work all over the world and has spawned a considerable following in South Africa, the members of which mainly belong to a generation that came of age after the demise of apartheid. It is self-evident that Langa's work is infused with issues like national identity, political participation and the construction of identity as such. But at the same time his artistic practice deftly avoids and subverts the stereotypical expectations that confront an artist working in the 'postcolonial condition'.
Not confined to one particular medium, Langa's work consists of gouaches, collages, photographs, expansive installations, and videos. They all reference the larger worlds of art, politics, and popular culture: just like Langa layers diverse materials, he piles up meanings and references that are often cryptic and ambivalent, yet resonant. With his drawings and gouaches, he demonstrates his definition of creativity as the freedom to make links, the freedom to connect heterogeneous elements. Using methods of abstract expression, free association and stream of consciousness, the artist allows work to be created, as it were. The viewing experience of Moshekwa Langa's untranslatable visualisations is sensuous and seductive.
The project Moshekwa Langa developed for Kunsthalle Bern deals with loss. It features reworked drawings, gouaches and collages originally created in South Africa. The works on exhibition are suffused with memories of Langa's loved ones and they index the experience and subsequent coming to terms with an accident—they are manifestations of 'Trauerarbeit', to use Freud's term. They can be described as poetic and sentimental, but above all vulnerable, because they suggest a deep engagement of the artist with his personal life, and, at the same time, serve as a reminder that meaning is slippery.
Moshekwa Langa was born in 1975 and featured at the latest Sao Paulo Biennial and the 2009 and 2003 Venice Biennials. He held solo-exhibitions at the Renaissance Society at the University of Chicago, the Centre d'Art Contemporain in Geneva, the South African National Gallery in Cape Town, the Kunstverein Düsseldorf, Modern Art Oxford, and many others. Recently his work was included in exhibitions at the Museum Of Modern Art Oslo, The Studio Museum Harlem New York, Wiels Contemporary Art Centre Brussels, Mori Art Museum Tokyo, and the International Centre for Photography New York.
The Idea of Africa (re-invented) # 2:
Cheikh Anta Diop
In conjunction with Moshekwa Langa's solo-show, Kunsthalle Bern presents the documentary exhibition The Idea of Africa (re-invented) # 2 focussing on Senegalese historian, anthropologist, physicist and politician Cheikh Anta Diop (29 December 1923 in Thieytou, Diourbel Region–7 February 1986 in Dakar). Diop studied the human race's origins and pre-colonial African culture and is regarded as an important figure in the development of the Afrocentric viewpoint, in particular for his controversial theory that the Ancient Egyptians were Black Africans. Research for this exhibition has been conducted by Mohammed Ndiaye-Kingué and Vanessa Van Obberghen.
Informational newspapers will accompany both exhibitions.
Moshekwa Langa's exhibition is supported by The Mondriaan Foundation, Amsterdam
Kunsthalle Bern is supported by the City of Bern and the Burgergemeinde Bern