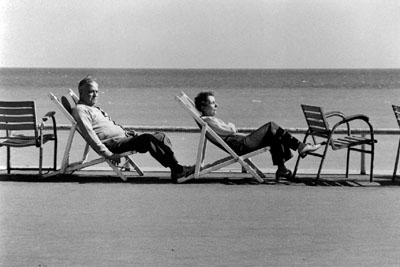 Cannes, France 1975
Expositions du 16/2/2011 au 19/3/2011 Terminé

Atlas Gallery 49, Dorset Street W1U 7NF London Royaume-Uni


Elliott Erwitt, featuring his popular photographic comic strips. Erwitt's photo-sequences are presented as little sketches, almost like stills from a film, depicting episodes and anecdotes of daily life, as they unfold, in front of his camera and inviting the viewer's imagination to embellish the scenes with personal details. Here, more than ever, we see Erwitt as the ironist, revealing things in the human condition and the commonplace that evoke humour and playfulness.
The black and white prints made up of between two to sometimes as many as twenty separate frames, capture non-events, seemingly insignificant happenings shot in spare moments on or between assignments across the globe. Part of their brilliance lies in the apparent ease of execution. Their snapshot approach and apparent simplicity seem at odds with the underlying subtle ironies of life. They cannot be staged or re-created because they have been caught, not manufactured. Erwitt relies on his acute perception and quick reflexes to capture juxtapositions ranging from the sardonic to the whimsical. The fascination with momentum and narrative is also of interest in relation to Erwitt's lesser-known work as a film-maker. In the 1970s, he devoted much of his energy towards movies. His feature films and documentaries include "Arthur Penn: the Director" (1970) and the prize-winning "Glassmakers of Herat, Afghanistan" (1977), and he produced numerous comedy films in the 1980s.
Born in 1928 to Russian parents in Paris, Erwitt spent his childhood in Italy before emigrating to the United States. He developed an interest in photography as a teenager in Hollywood, and worked in a commercial darkroom in his spare time before experimenting with photography at college. In 1948 he moved to New York where he took film classes, subsequently travelling to Italy and France in 1949. Drafted for military service in 1951, he undertook various photographic duties while serving in a unit of the Army Signal Corps in Germany and France. He joined Magnum in 1953 at the invitation of Robert Capa.
Erwitt has always worked in a range of genres, from classic photojournalism, capturing key historic events such as Nikita Khrushchev and Richard Nixon in Moscow ("The Kitchen Debate"), 1954, and Fidel Castro alongside Che Guevara in Havana, 1964, to iconic portraits of Hollywood film stars, most notably Marilyn Monroe (featured in the exhibition), in the 1950s. Concurrently, he has created more personal documentary, observational work such as the Sequences, more often than not including one of his favourite subjects, dogs. Although based in NYC, Erwitt now in his 80s continues to travel widely and produce both personal and commercial work. Recent books include Rome and The Art of Andre S. Solidor in 2009, and his exhibitions Dog Dogs and his Retrospective are currently touring widely.