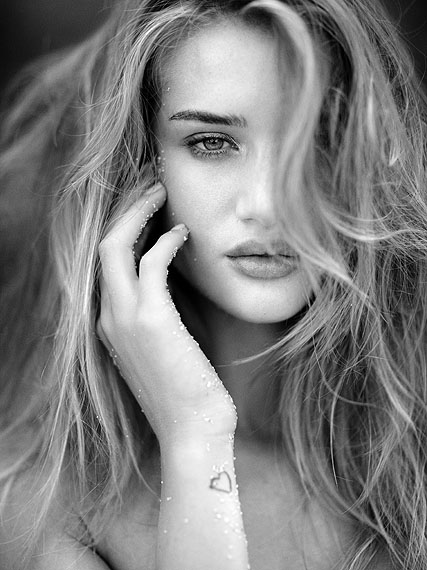 RUSSELL JAMES ROSIE Necker Island, 2010
Expositions du 2/4/2011 au 7/5/2011 Terminé
Camera Work Gallery Kantstraße 149 10623 Berlin Allemagne Never before seen nude photographs of the most beautiful women in the world from the series »V2« will be complemented by pictures from his art project »Nomad – Two Worlds« as well as by other icons, as, for example, appealing pictures from the backstage area of the legendary Victoria's Secret show.
Russell James' photographs of the eight beautiful women Brooklyn Decker, Miranda Kerr, Candice Swanepoel, Erin Heatherton, Emanuela de Paula, Jarah Mariano, Rosie Huntington-Whiteley, and Lindsay Ellingson, entitled »V2«, were taken on the picturesque island »Necker Island« and were combined in a book accompanying the exhibition. CAMERA WORK will present an exclusive selection of these photographs for the first time in Europe.

Located in the Pacific Ocean, the private island of VIRGIN founder Sir Richard Branson served as the setting for the extraordinary photo shoot of Russell James and his team. Due to its lush vegetation, deep blue sea as well as endless white sand beaches, the island is described as paradise on earth. Thus it was the perfect setting for photographing, undressed, some of the most attractive women of the present. In dreamlike pictures, the South African model Candice Swanepoel is nestling up against a mighty tree with her body covered with leaves and sand. Meanwhile, Brooklyn Decker, who was elected »Sexiest Woman Alive« last year, is writhing in the ocean tide in the heat of the night, and Emanuela de Paula sensually and gracefully poses on a graphically balanced black and white photograph in front of the endless horizon. For wonderfully natural and private pictures, James Russell took Miranda Kerr, Orlando Bloom's girlfriend, to a neighboring island.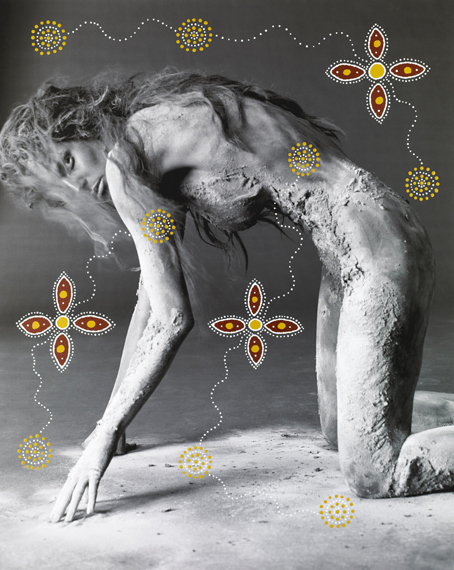 RUSSELL JAMES / CLIFTON BIEUNDURRY
DISCOVERY WALMAJARRI
(Wal-mah-jar-dee)
In addition to the series »V2«, works of the project »Nomad – Two Worlds« will also be on display – unique collages developed in collaboration with Australian artists. Russell James' breathtaking landscapes, his photographs of beautifully radiant women and charismatic personalities are artistically complemented and form a strong symbol of reconciliation of two formerly opposing cultures. The project launched by Russell James draws ever widening circles, resulting in additional collaborations with Native American and Haitian artists. »Nomad – Two Worlds« is supported by celebrities such as Sir Richard Branson, Heidi Klum, Hugh Jackman, and Donna Karan. Spectacular openings of the internationally touring exhibition, such as the opening in Los Angeles at the end of February, have become social events of a special kind also due to the presence of many celebrities.

Russell James' photographs regularly appear in magazines such as Vogue, W, American Photo, and GQ. Born in 1962, the Australian led an interesting life as a police officer of a special force unit and as a photo model before finally having his breakthrough as a photographer in New York at the age of 34. For many years now, he has been working together with the top models of the world. His participation in Heidi Klum's TV format »Germany's Next Top Model« also introduced him to a broad audience in Germany. In addition to his comprehensive illustrated book »Russell James« published in 2008, his new book »V2« has now been released by publisher teNeues. The book is available at CAMERA WORK gallery.